Zach & Kat's Bachelor Romance Includes A Social Media Shoutout
They had a one-on-one date during the Feb. 13 episode.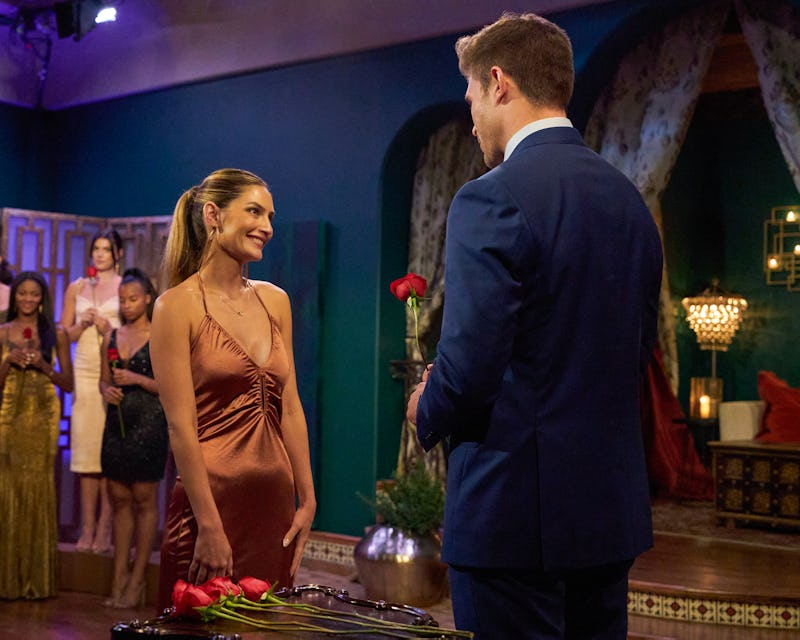 ABC/Craig Sjodin
Zach Shallcross' Bachelor season is four weeks in, and it just embarked upon its first international adventure, which means things are getting pretty serious. As Zach himself put it in the Feb. 13 episode, "This is the time where deep feelings start to rise." He chose Katherine "Kat" Izzo as his first one-on-one date in the Bahamas, and their on-the-water outing was smooth sailing.
During the daytime portion of their trip, both Zach and Kat remarked that it didn't actually feel like a first date. "It feels so natural with her," Zach told the cameras about snorkeling with Kat, adding that he knew "this is something that I'm looking for."
Between kissing, slathering each other in sunscreen, and dancing on the deck of their boat, Zach and Kat managed to maintain their connection during dinner, when things pivoted to a more serious topic. Kat explained that she had a fraught family situation growing up, and she was scared Zach might judge her for it. "I see where you come from, and I admire it so much, and it just makes me worried that someone like you that has such a healthy upbringing ... in the past, it's just made me feel really unlovable," she said.
Zach quickly dismissed those fears, though. "You deserve someone that will love you for you," he said. "And I want you to know that you hold this power — like, you are so incredible. You know your worth. You know it."
So, are Zach and Kat together after The Bachelor? During a recent interview with Bachelor Happy Hour, Kat said her friends recommended she go on the show for past seasons, but it never happened. "I think they had nominated me," Kat added. It wasn't until this season, obviously, that Kat decided to go for it. So if you believe in fate, that's definitely a clue Zach and Kat were meant to meet each other. "It ended up being a blessing, so I'm happy I decided to do [the show]," Kat said.
Another more tangible clue is the fact that Kat has already won a group date rose in Episode 2 — and when Zach gave it to her, he said it "means a lot," because he "didn't think ... [a connection] would be formed this early on."
Kat also posted a photo of her and Zach on Jan. 31 captioned, "sweet boy energy." It could be a reference to Zach's post the day before, when he got ahead of viewers' criticism by calling out his own "Boring Bachelor Energy."
If it is, indeed, an answer to Zach's post, then it could be Kat's way of subtly defending him from naysayers — which is definitely something a fiancée would do, right?