Zach Addressed His "Boring Bachelor Energy" After His Group Date With Latto
Viewers had a few things to say about his dance skills.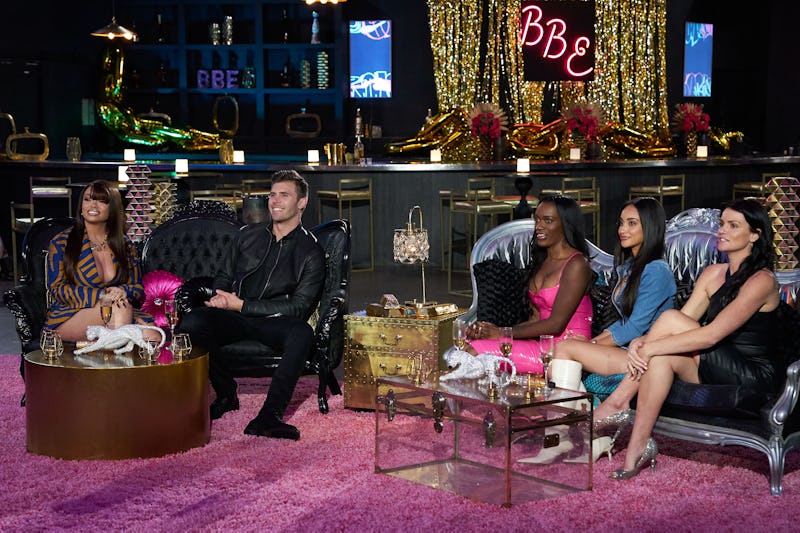 ABC/Craig Sjodin
During the Jan. 30 Bachelor episode, Zach Shallcross and his contestants embarked upon the first group date of the season, and it was delightfully chaotic. Zach enlisted the help of Grammy nominee Latto to bring out the inner bad bitch in every woman.
The group date began with Zach strutting out to the women from a stage door, dressed in a black leather jacket. "I'm ready to get loose," Zach said. "I can't wait to see how they respond and have fun with it." When asked by a producer whether or not he was a good dancer, Zach didn't hesitate to answer, "nope." Of course, the first activity on the group date was, indeed, dancing — and despite his self-described shortage of skills, Zach hit the floor anyway.
He seemed to know what was coming and got ahead of the criticism with his own post earlier in the day. "Boring Bachelor Energy ✌️," he captioned a pair of photos from the episode, including a selfie with Latto herself.
While Zach is a self-aware Bachelor, that didn't stop viewers from voicing their thoughts — and naturally, many took to Twitter to comment on Zach's performance during the date. Here are some of the best memes and tweets about Zach's baddie group date, starting with the dance.
The next component of the group date involved each woman walking down the runway, in baddie fashion.
Latto also asked Zach's Bachelor contestants to return to the stage and deliver a speech about a time they were a bad bitch. Zach, of course, interpreted the prompt a little differently — requesting that the women share a memory of when they stood their ground and said, "I'm gonna be me."
Several Twitter users wondered if Zach, in fact, possessed the same energy he was asking the women for.
However, several viewers were left with a pretty positive impression from Zach's second episode — even if the group date was a little awkward.
By the end of the group date, the term "bad bitch" might have been uttered so many times as to lose all meaning. But for several viewers, a bit of unexpected advice from a producer turned out to be the best use of the phrase all night. After Tahzjuan Hawkins made a play for Zach but was politely shut down, she was clearly upset. "Bad bitches don't cry," she said, disappointed.
However, a producer quickly offered a kind rebuttal: "Sometimes bad bitches cry." And, well, yes, they do!