Asha Bromfield Was Tired Of Seeing "One-Dimensional" Characters. So She Wrote Her Own.
"We can be who our younger selves needed."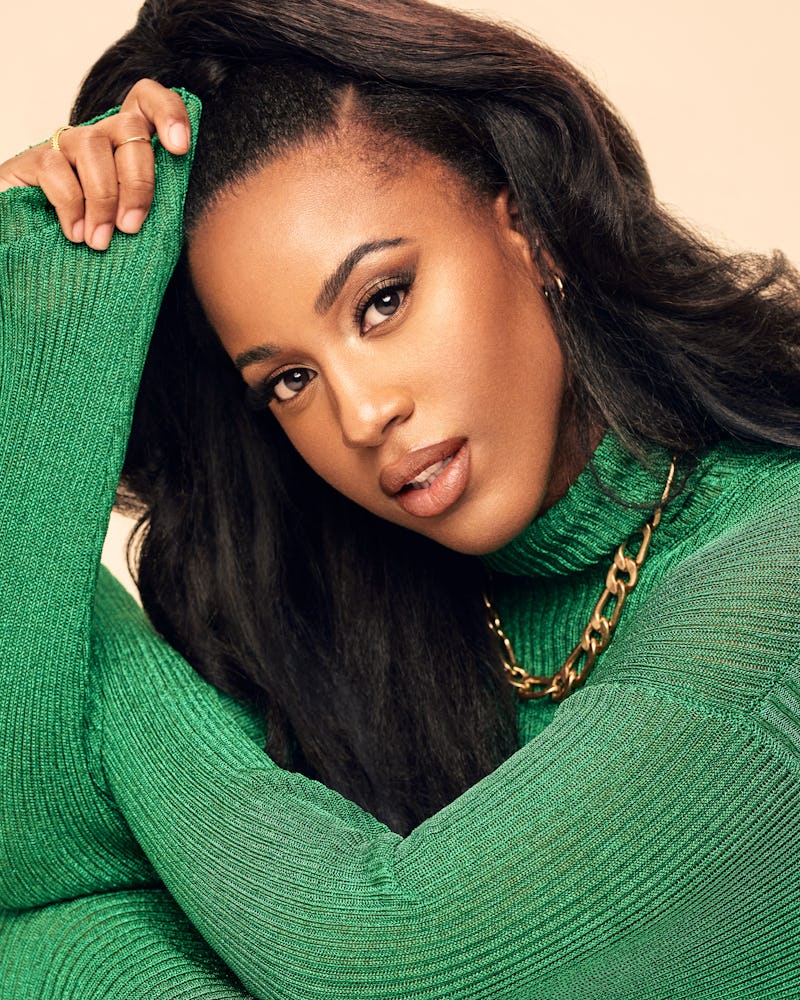 Kyle Kirkwood
Asha Bromfield came up with the idea for her debut novel, Hurricane Summer, in the back of an Uber. She was in Los Angeles for pilot season, and despite having made waves as Melody Valentine on the CW's Riverdale and in Netflix's Locke and Key, auditions for good roles seemed few and far between. "I was so frustrated because I wasn't working, I wasn't booking, and I was so sad. I had taken all my money, gone to LA, I was auditioning, and I would get so close, and it wouldn't work out," Bromfield tells Bustle. So instead of competing for small TV parts and the sidekick roles she has always spoken up against, she created the character she wanted to play.
"[The book] really burst out of this need or want to see more nuanced stories about Black girls, because especially as an actor, I constantly felt like I wasn't reflected in the material I was going out for," Bromfield says. "I was really tired of seeing one-dimensional archetypes."
Hurricane Summer is a coming of age story that follows 17-year-old Tilla during a summer visit to Jamaica. Over the course of the novel, she uncovers buried family secrets, explores her sexuality, and tries to reconcile her relationship with her father — all while an impending hurricane threatens to destroy the island. "Tilla shows a lot of softness and tender parts of what it means to be a Black girl. I love her emotionality because so often Black girls are told we have to be strong and tough, but we have a lot of emotions," says Bromfield. "I love being Black, I love being Jamaican, I'm so proud of it — I think those elements are important but they are not the full picture." Bromfield hopes to offer young readers the kind of meaningful representation she didn't see growing up, and to model a safe place — one where sexual desire isn't seen as shameful, and imperfections are celebrated.
While Bromfield couldn't be more excited about the release of her book, she's hardly done with acting. When we speak, she's on her way to the Riverdale set to shoot a hotly anticipated episode that welcomes Josie and the Pussycats back to the show (and will hopefully redeem their criminally small parts in the first two seasons). Bromfield will return as the group's drummer, and promises that "you will get to know the girls in a way you haven't before."
Below, Bromfield talks about her writing process and what she learned from her protagonist — and teases what we can expect from the new Riverdale episode.
How did make time for writing Hurricane Summer alongside your acting career?
Writing is such a ritual for me. I am very spiritual; I am very into being guided by God and my ancestors, so every time I would sit down to write I would pray. I would ask God to make me an open vessel for whatever story the universe wanted me to tell. Oftentimes when I sat down I didn't know what the story was going to be, and it took me years to even figure out what the story was.
Is this story something that resonates with you personally?
Completely. I think so much of Tilla's emotionality comes from my own journey, my own emotions, and forgiveness for my father and forgiveness for myself. And stepping into my power. This idea that we are supposed to know how to be these deeply sexual beings, but at the same time we are never allowed to express it or step into it authentically or make that transition. And we teach girls that their worth is in their desire, but then we scorn them and scold them for using it. I really wanted to start a dialogue for how we as a society could make healthy, safe spaces for young women to not only step into their sexual nature, but their power, because that is what it is.
It feels like this book asks the question, "Who are you and where do you get your self-worth?" Have you found it difficult to answer those questions yourself during your decade in the entertainment industry?
I always knew who I was from a very young age, but it was absolutely tested being in this industry. If anything, I have actually learned how to turn up the volume within myself and trust who I am and who I believe myself to be, because it is so easy for the world to tell you who you are. One of my favorite lines in the book is when Andre says to Tilla, "Don't let them make you forget who you are." That, to me, is so pivotal for everyone. That is what the world does to us, we forget who we are, we forget who we have been called to be, we forget the dreams we had as kids. One of the biggest things for me in discovering my self-worth and stepping into my own power was learning to trust that voice inside of me — the little girl who wanted to sing and dance and perform — and trust that that was planted in me for a reason ... I stopped leaning on the industry to tell me who I was, I stopped waiting for a gatekeeper to give me an opportunity. I started realizing that all my power was inside of me.
And speaking of teen stories, let's talk about Riverdale. Now that we know Josie and the Pussy Cats are coming back, what can we expect?
I think the fans are going to be really happy. You definitely will get to know the girls in a way like never before. I'm so excited to start shooting ... I think this episode is going to blow a lot of people away. It blew me away.
Do you have any fun memories from Riverdale set?
One moment that always sticks out — the girls and I we were performing "I Feel Love." It was the first time we were ever wearing the cat costumes. We were performing for the audience and I remember in between takes having this moment of, "Whoa, this is so crazy, looking at us being three women of color, playing Josie and the Pussycats." And just realizing that literally dreams are real, and you can have anything and do anything as long as you work hard for it. For me that was such a life-changing moment, and especially between the three of us. It was a really shared sacred moment of just realizing, "Wow, we can be who our younger selves needed." That was pretty powerful.
This interview has been edited and condensed for clarity.