Avril Lavigne Had A *Strong* Response To Topless Stage Invader
The 2023 Juno Awards were quite eventful, to say the least.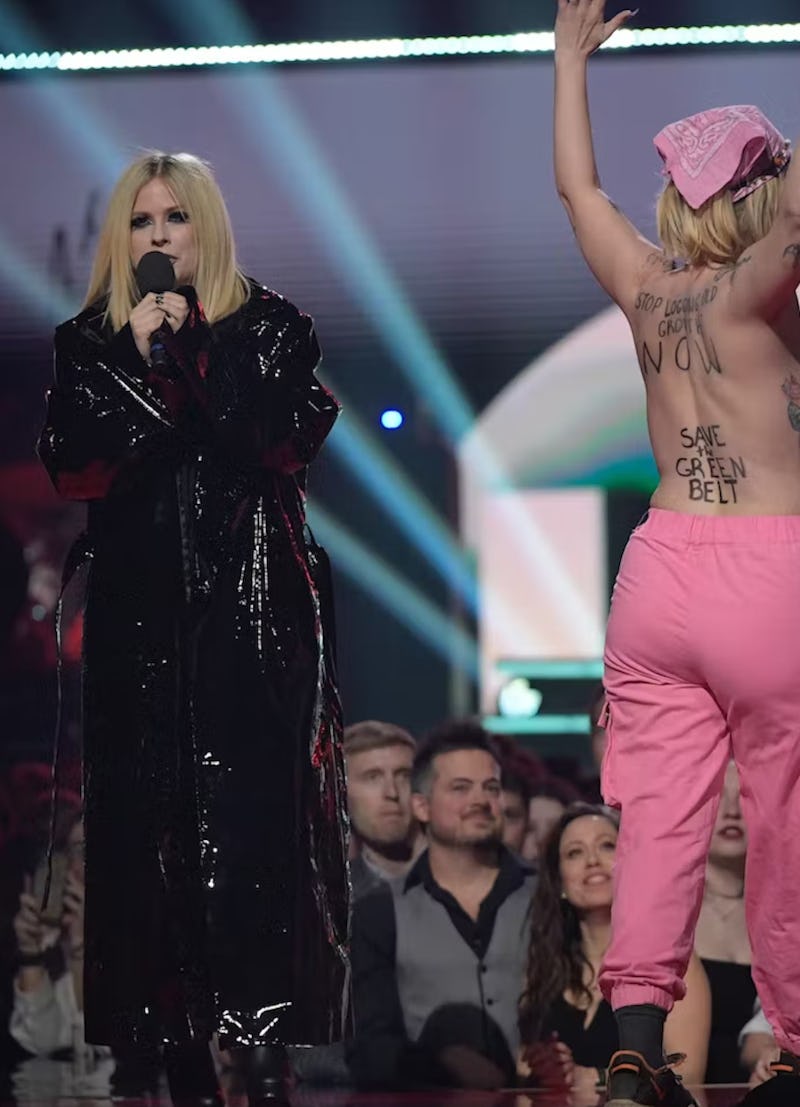 Dale MacMillan/Getty Images Entertainment/Getty Images
Well, it seems that singer Avril Lavigne had her own complicated moment at a recent awards show that saw a topless intruder join her on stage as she was introducing the next segment. On Mar. 13, during the 2023 Juno Awards in Edmonton, Canada, Lavigne was tasked with introducing rapper and singer AP Dhillon's performance but was interrupted by a topless young woman in pink running onto the stage. A message on the woman's back read "save the green belt" and "land back" on her arms, which appears to be a reference to a housing development plan being put forward by the Ontario government.
To begin with, the "Sk8r Boi" singer attempted to ignore the interruption and continue with her piece but when the environmental campaigner continued with her protest, Lavigne acknowledged the woman, telling her to "get the f*** off the stage." She then repeated her message as a security guard came to remove the campaigner from the premises.
The awards ceremony's host, Shang-Chi's Simu Liu alluded to the protest later in the evening for "handling that topless lady like a champion." And Lavigne also referenced it in her acceptance speech when she won the TikTok Juno fan choice award. "Now nobody try anything this time or the Canadian is going to come out of me, and I'm going to f*** a bitch up," she joked.
The "Complicated" singer also thanked fans for supporting her and her music for the last two decades saying, "I've seen the industry change so much — music change, the business change, technology change; trends come and go, artists come and go — but the one thing that's been most consistent for me is my fanbase over the past 20 years."