12 Quotes From The Parent Trap That Are Even Better In 2021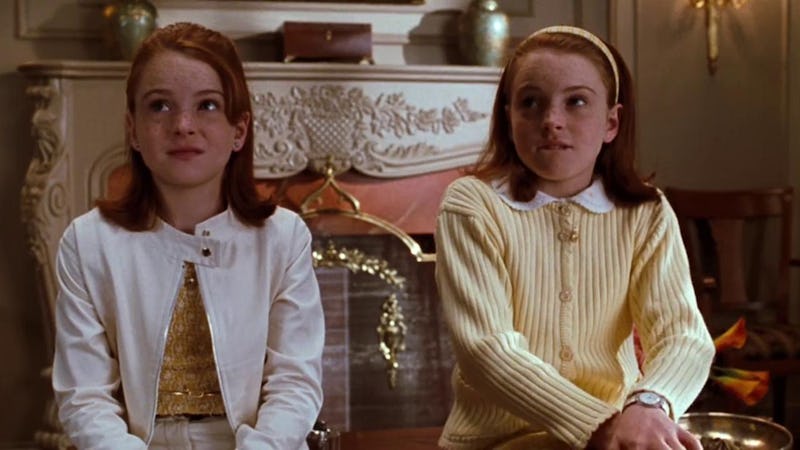 Disney
There's so much to love about The Parent Trap that it's difficult to choose a favourite part of what makes this iconic movie so special. Of course, there's the cast. The Nancy Meyers directorial debut was a starting block for a relatively unknown young Lindsay Lohan, who worked twice as hard to play both Hallie and Annie – that's right, despite the conspiracy theories and what many of the kids watching the film believed, Lohan didn't actually have a twin. Add acting royalty such as Natasha Richardson (Widow's Peak, Nell) and Dennis Quaid (Breaking Away, The Right Stuff) and you're onto a winner.
Then there are The Parent Trap locations. With the relationship between parents spanning two continents, we get the full experience of the Nancy Meyers aesthetic from Knightsbridge in London to Napa Valley, California, not forgetting the journeys between them – who could forget that hilarious plane ride? And then you have the style. The gloriously '90s style. From the polar opposite twins' London vs. Californian get ups, to Meredith Blake's evil-stepmother-chic style, The Parent Trap has it all. (Don't tell me you didn't want a matching Alice band for every outfit after watching it.)
And lastly, but by absolutely no means least, you have the story and script. Based on the 1961 film of the same name, which, in turn, was an adaptation of Erich Kästner's 1949 German novel Lottie and Lisa (Das doppelte Lottchen), it's a lovable story that has transcended generations and languages. I mean, who wouldn't love a heartwarming story about two long-lost twins reuniting at camp and getting their divorced parents back together after 11 years? Throw in the cheeky pranking antics at camp and hilarious quips from the ensemble cast, and the script really does make the story.
Relive the joy with the best quotes from The Parent Trap that are even better than you remembered.