Beyoncé Dedicated Black Is King To Her Son, Sir Carter, With A Sweet Family Video
"You are the keys to the kingdom."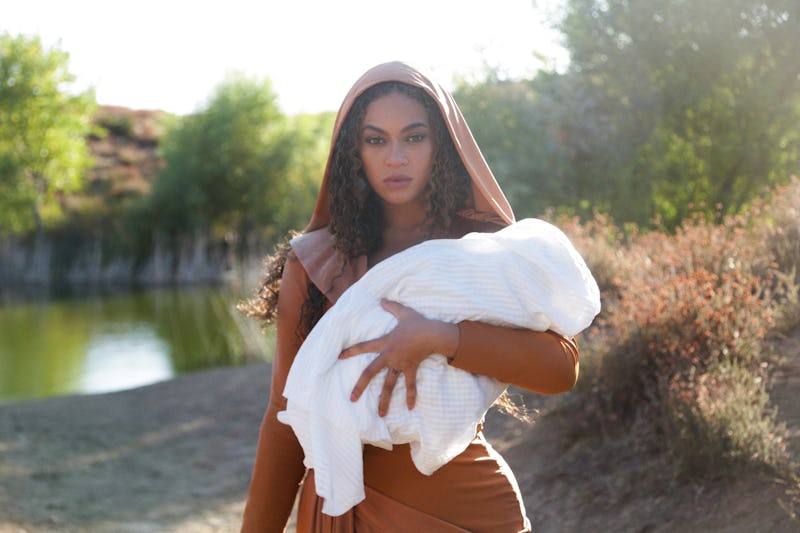 ROBIN_HARPER/Parkwood Entertainment
Beyoncé's newest project is truly a family affair, both onscreen and off. The singer released her new visual album on Disney+ on July 31, and at the very end of the film, Beyoncé dedicated Black Is King to her son, Sir Carter, who she shares with Jay-Z. Accompanied by sweet home footage of her dancing with her three-year-old son, the onscreen text explains that Black is King is "Dedicated to my son, Sir Carter," as well as, "to all our sons and daughters, the sun and the moon bow for you. You are the keys to the kingdom."
Black Is King — which was conceived as a visual companion to the music Beyoncé released on The Lion King: The Gift in 2019 — also features cameos from Beyoncé's two other children. Sir's older sister, Blue Ivy, and twin, Rumi, appear in "Brown Skin Girl," where they dance alongside their grandmother, Tina Knowles, while wearing coordinating floral dresses. 8-year-old Blue later appears in "My Power," where she steals the show in a rainbow dress and chic accessories. (Blue Ivy can also be heard singing on "Brown Skin Girl" and starred in the original music video, which was released in September 2019.)
When she unveiled the trailer for Black is King back in June, Beyoncé wrote on Instagram that the film was "a labor of love. It is my passion project that I have been filming, researching and editing day and night for the past year. I've given it my all and now it's yours." She went on to explain that the project, which was originally just meant to "celebrate the breadth and beauty of Black ancestry," took on a greater meaning in the aftermath of the death of George Floyd and the Black Lives Matter movement.
"The events of 2020 have made the film's vision and message even more relevant, as people across the world embark on a historic journey," she wrote. "We are all in search of safety and light. Many of us want change. I believe that when Black people tell our own stories, we can shift the axis of the world and tell our REAL history of generational wealth and richness of soul that are not told in our history books." Beyoncé continued by explaining that she was often "overwhelmed" by the process of making Black Is King, but that she felt it was important to push through in order to "create a film that instills pride and knowledge" in its audience.
"I only hope that from watching, you leave feeling inspired to continue building a legacy that impacts the world in an immeasurable way," she wrote. "I pray that everyone sees the beauty and resilience of our people.This is a story of how the people left MOST BROKEN have EXTRAORDINARY gifts." The singer also encouraged her followers to "watch it with your family," which makes the film's dedication even more appropriate.
Beyoncé and Jay-Z welcomed Sir and Rumi Carter in June 2017. "I want him to know that he can be strong and brave but that he can also be sensitive and kind," Beyoncé told Vogue in September 2018 about her goals as a mother. "I want my son to have a high emotional IQ where he is free to be caring, truthful, and honest. ... I want to create better representations for him so he is allowed to reach his full potential as a man, and to teach him that the real magic he possesses in the world is the power to affirm his own existence."