Bosch May Be Ending With Season 7, But The Story Will Continue
A spinoff series is already in production.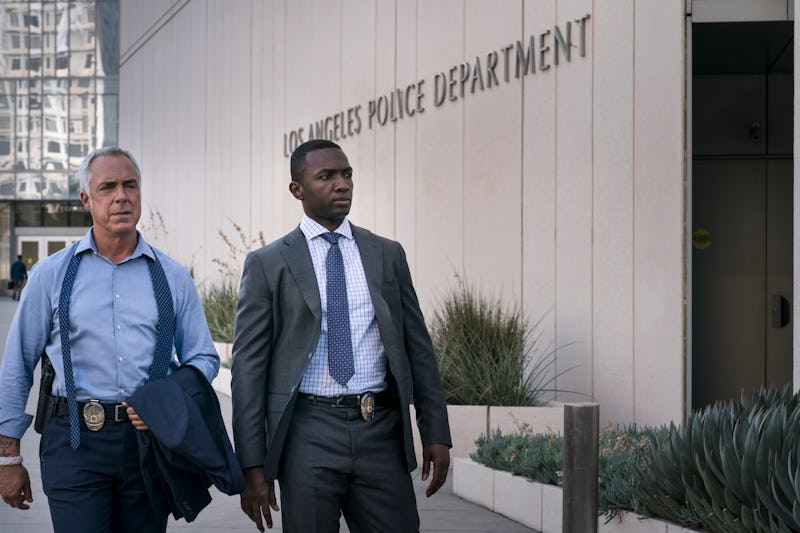 Hopper Stone/Amazon Studios
For seven seasons, Detective Harry Bosch has lived out his motto that "everybody counts or nobody counts." That journey is technically coming to an end with Bosch's seventh and final season on June 25, but fans won't have much time to miss him: IMDb is making a spinoff about Bosch's life after leaving the LAPD that began production just days before the new season dropped. In addition to Detective Bosch (Titus Welliver), the not-yet-titled spinoff will also feature Maddie Bosch (Madison Lintz) and Honey Chandler (Mimi Rogers).
"I shudder to call it a spinoff because it's really not; it's just the continuing saga of Harry Bosch," Welliver recently explained to Entertainment Weekly. "He's in a different place, but it's a continuation… A lot is revealed toward the end of this final season of Bosch — I do air quotes on that, 'final season' — which lays the foundation for where we will find these three characters as we open the new show."
Bosch's seventh season follows the titular homicide detective investigating the case of an arson fire that claimed five lives, including a 10-year-old girl and two mothers, one of whom is pregnant. While the Amazon series is based on author Michael Connelly's best-selling 2014 novel, The Burning Room, the new IMDb TV show will draw from another of his works: 2016's It's The Wrong Side of Goodbye. "It's one of my favorites, so I'm really glad we chose that," Connelly, who is also a writer and executive producer on the series, recently told the Tampa Bay Times. "We also have some leftover stuff and characters from Season 7, a little bit of unfinished business."
Noting that he's thinking of using the title Bosch PI, Connelly added that the upcoming series is "basically the same machine that's made seven seasons of Bosch." This time around, however, the IMDb TV version will include a small time jump to keep the plot current. "The last season [of Bosch] starts Jan. 1 of 2020. That was pre-COVID, pre-George Floyd. There were a lot of changes in the LAPD," he said. "Now we're jumping forward 18 months, not post any of that but on the other side of that. So we're able to bring all that into the storytelling."
As for the possibility that more Bosch alums will reprise their roles for the show, Connelly teased: "We hope we'll have like cameos and stuff. Nothing I can tell you that's rock-solid but I'd hate to do a show and not have Crate and Barrel show up."