The Ballad of Braunwyn
Braunwyn Windham-Burke has a husband, a girlfriend, and 12 months sober. Is she too real for Housewives?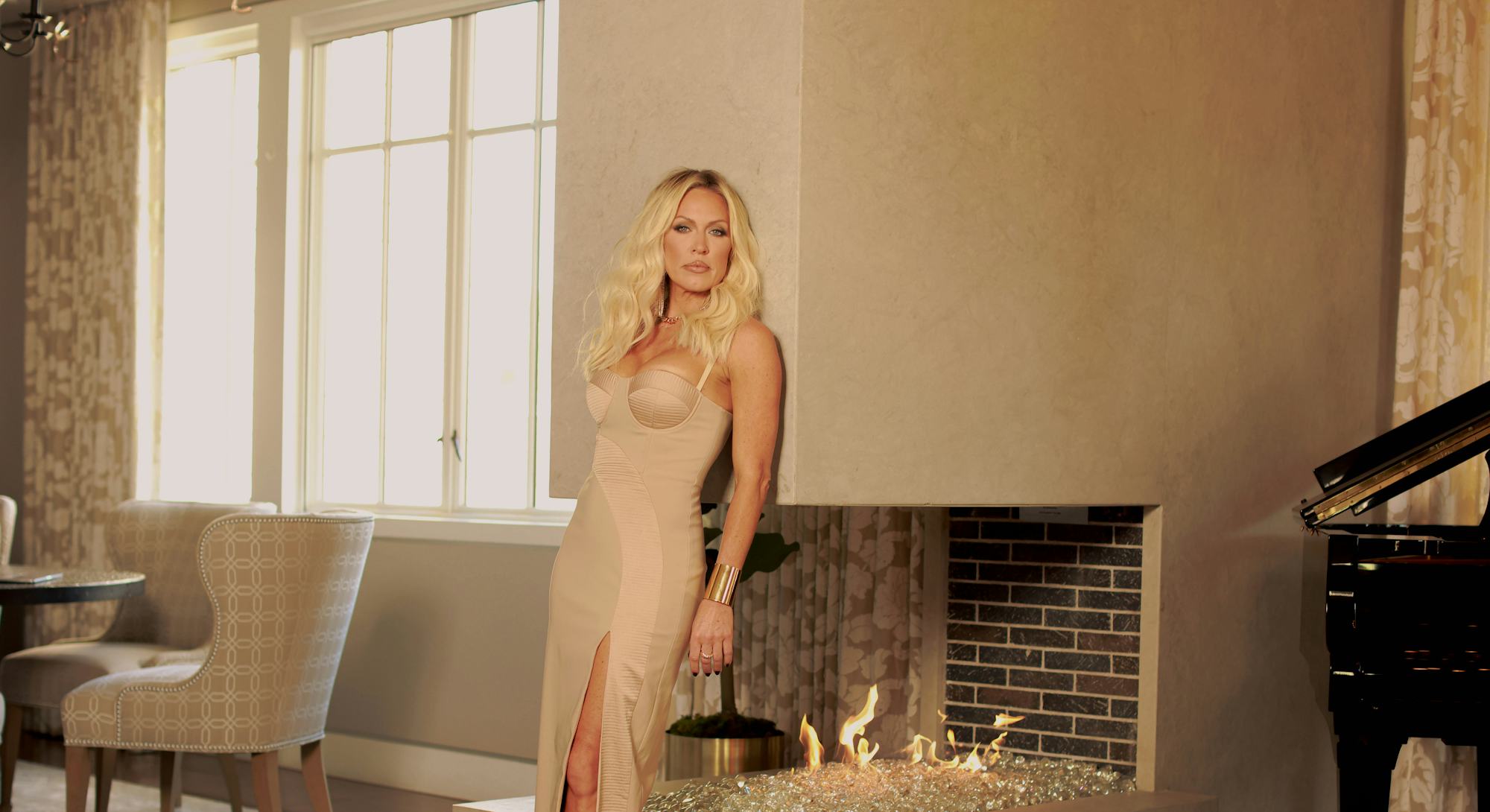 Tracy Nguyen
Braunwyn Windham-Burke always knew she wanted to be a housewife. Growing up an '80s latchkey kid on the coast of Southern California, she saw mothers picking up their children from school, shepherding them to Girl Scouts and youth theater rehearsals, always finding the time to whip up a hot home-cooked meal just in time for dinner — and felt pangs of envy. This was not a life she knew, but only she could change that.
So she did what she set out to do: She got the husband, the kids (seven of them), and the $6 million, five-bedroom house in Orange County, two miles from one of the apartments she grew up in. But, along the way, she found herself wondering what came next; where was the sense of fulfillment she thought went hand-in-hand with the suburban fantasy she'd spent years chasing? "I didn't know what my life's purpose was," Windham-Burke says on Zoom from her sunlit California bedroom, the 43-year-old's younger children playing outside her closed door. "I knew there was something more."
When producers for The Real Housewives of Orange County contacted her in fall 2018, it felt like the missing piece, delivered on a silver platter. Instead, the show magnified her dissatisfaction, sent her coping mechanisms into overdrive and, finally, revealed a new way forward. Over the course of two turbulent seasons, Windham-Burke has gone public with her open marriage, gotten sober, and come out as a lesbian. In last week's episode, she was accused of offering to supply drugs to fellow Housewife Shannon Storms Beador's then-14-year-old daughter (more on this later).
Windham-Burke's fans believe her vulnerability — and her progressive politics — can help drag the Real Housewives, a franchise rooted in heteronormativity and binge drinking, into the future. Before her arrival, Orange County had stagnated, recycling storylines and rehashing, in the words of former Housewife Heather Dubrow, "low-base bullsh*t." One of Orange County's longtime recappers noted that "the show's not only stuck in the past because its best days are behind it, but because so few other shows can claim such a history."
"We're not characters. We are real people dealing with real life issues."
But Windham-Burke's storyline also changes the stakes of a show whose primary pleasures are superficial and apolitical. Housewives take turns getting "hero edits" and "villain edits" on the basis of such low-consequence drama as whether they attempted to get one another "naked wasted" on camera. Windham-Burke, meanwhile, wants to talk about how addiction recovery helped her discover her authentic sexuality. "We're humans," she says. "We're not characters. We are real people dealing with real life issues. We are mothers, we are wives, we are daughters. This year, I have seen a very dark side to reality TV that I didn't know existed."
Following tonight's finale, Bravo and Windham-Burke, but mostly Bravo, will decide if she's coming back for another season of the show. Whether she can survive the recasting process, which weighs individual star power against group dynamics, will be an early answer to the question: Can reality TV get woke and stay messy?
The daughter of a single mother and musician, Windham-Burke spent her young childhood in Hollywood, wearing yellow footie pajamas in the Sunset Strip offices of the Roxy and the Rainbow as artists like The Go-Go's and Joan Jett played several rooms away. After a close friend of her mother overdosed, the family packed up and moved to an apartment complex in Newport Beach. She mostly fended for herself as her mother (then 28) pursued a degree in medicine at the University of California, Irvine, and later UCLA. "I remember looking at the kids that lived in my neighborhood... and thinking, 'I want this when I grow up. I want to live in these homes. I want this life,'" she says. "That's why I made a lot of decisions I have in my life. I wanted that perfect family, period."
By the time high school started, Windham-Burke had landed in a spare room at her grandfather's house in Laguna Beach and began socializing with upperclassmen, drinking, and having sex. "The first time I ever had a sip of alcohol was at the beach in Laguna, and I remember it like yesterday. I was like, 'This is it. Yes, I have found it.'" Alcoholism ran in the family. Her aunt, who lived with them in Laguna Beach, suffered an alcohol-withdrawal seizure when Windham-Burke was in sixth grade (overnight, all alcohol was removed from the family's home, and the incident was never discussed again), and her birth father, who had moved to Hawaii when Windham-Burke was in fifth grade, was an alcoholic, too. Her mother, sensing a problem, sent the teenager to boarding school.
Two years later, she enrolled as a business major at Santa Barbara City College and met her now-husband, Sean Burke. They moved in together after three weeks and were engaged after five months. She had no desire to finish school or enter the workforce, but family life didn't exactly go hand-in-hand with her newfound taste for partying. She broke up with Sean and moved to an apartment in Orange County, where, she says, "whatever [drug] you put in front of me, I was like, 'OK, yay!'" She began sleeping with women as she dated older men who helped pay her bills. "I put myself in some very dangerous situations," she says. "I got date-raped. You name it; it was bad. It was the worst year of my life."
Stage 2 malignant melanoma and radiation therapy prompted her to get her life together, and she briefly enrolled in cosmetology school. But meeting up again with Sean brought the couple back together, and three months later, she was pregnant (intentionally) with their first daughter, Bella; she and Sean were married the following January. "I remember vividly when we got back together that time, knowing that it was forever," she says. "I recall that day being even more important to me than the day we got married because that was the day I committed to being with him forever."
This would be the pattern for the next 20 years, played out across a number of cities and coasts as Sean's business, which created technology solutions for large public infrastructure projects, took off. Disillusionment and the gnawing feeling that she was playing a part, numbing with alcohol and extramarital sex, typically followed by a scare that brought her back to Sean, sober and often pregnant again.
First there was Santa Barbara, where, younger and broker than the other women in the mommy group, she took to bringing a sippy cup full of wine to the park. But Bella was diagnosed with a seizure disorder, and Windham-Burke stopped drinking because she was afraid she would be drunk when her daughter needed help.
When her husband's company relocated to Orange County, the family moved too. Braunwyn, a young mother of three, now had a luxury car and a newly built dream home in Carlsbad, California. The couple had money for the first time, enough that they could afford to take time off from the suburban good life, taking substance-fueled trips to Las Vegas, New York, and Miami, leaving the kids with babysitters and having threesomes with other women.
Each new pregnancy brought a break from drinking, a reason to push relationships with women back into the realm of fantasy, an impetus to focus on being the good mother and wife — "once again, in quotes," she says.
After a brief separation, during which Windham-Burke lived in Hawaii, the couple reunited and tried starting over in Washington, D.C. "I spiraled in D.C.," she says. "I got pregnant. I lost the baby. I got postpartum [depression]. I self-medicated." After waking up covered in her own vomit one morning, she checked herself into a psych ward and went to her first AA meeting.
But, in the early days of sobriety, she again chalked up her problems to location and uprooted the family to Miami for another fresh start. They lived walking distance from the beach and nightclubs, and Sean had just sold his shares in his company in order to step away, a period that lasted eight years. "You had two people not working, and we were having the time of our lives," she says. "But eventually, because I am an alcoholic, it wasn't fun anymore." After a day when she was so drunk she couldn't pick up her children from their school, her friends intervened and sent her to Mexico for ibogaine (a psychoactive ingredient found in tree bark) treatment that is illegal in the United States. It was immediately successful, she says, in curbing her multiple cravings for alcohol, shopping, and sex.
She returned a newly sober woman. "Instead of going to AA or working a program, I looked at Sean and said, 'Let's have a baby,'" she says. "Because I was not drinking, but I wasn't ready to address the reasons why I drank."
Heavy among those reasons was her sexuality. In one world, she was a happy stay-at-home mom. In another, she was sexually attracted to women in a way that extended beyond her and Sean's threesomes; those scratched an itch, she says, but didn't make the itch disappear. She'd caught a glimpse of another way to be before leaving California, where she'd fallen in love with another woman and considered moving her girlfriend into the family's house. It was intense and clarifying. "That's the first time I realized that this could actually happen," she says. "I could actually have a future with her. Anyone else I had been with, it was more fantasy, only about sex. This was the first person that I was like, 'I can build a life with her.'" But each new pregnancy brought a break from drinking, a reason to push relationships with women back into the realm of fantasy, an impetus to focus on being the good mother and wife — "once again, in quotes," she says.
From Miami, the family moved to a multi-level Newport Coast house in Orange County, and Windham-Burke gave birth to Hazel, the family's youngest child. Eight months later, she was interviewing to play herself on TV.
When The Real Housewives of Orange County premiered in 2006, reality TV was still in its infancy. The Bachelor and American Idol were early ratings hits; The Osbournes and The Simple Life proved that viewers had a healthy appetite for following the lives of the rich and semi-famous. America was two years away from the burst of the housing bubble; TikTok and Instagram were distant glimmers.
But by 2018, The Real Housewives was no longer the documentary-style series following the wives and children of Orange County millionaires it launched as. Housewives was never Ken Burns, but the early seasons managed to capture drama so real, you couldn't script it. (The second season of Beverly Hills dealt directly with the off-camera suicide of a cast member's husband, for instance.) Somewhere along the line, though, the show lost touch with reality and became its own ecosystem; realness made room for contrived storylines and a cast of women who'd studied the format, fully ready to perform for the cameras and for social media armies now at their disposal.
In her first season, Windham-Burke was the life of the party and a jolt of unfussy, unperformed reality. Based on what she shared on screen, it felt like nothing was too personal or off-limits. While established cast members were waging a months-long feud about whether or not one of them had physically fought with their own mother, Braunwyn was drunkenly making out with her castmate Tamra Judge, talking about her threesomes with Sean, and inviting audiences into "love shack," a condo the couple kept for the express purpose of having sex.
Last January, the day before production began for her second season, she made the decision to get sober for the third time in her life, and committed to being vocal about the process. Two days after she stopped drinking, she shared early in the season, she was detoxing (without help, which medical professionals advise against) on a family vacation. She tried to drink. Sean stopped her, and she struck him. "My reason for telling that story was to let people know that getting sober is hard and ugly," she says. "I wanted to drink, and I didn't care if I died. That's where my head was at because it was so painful, physically and mentally. ... Looking back, I don't know that person."
Months of sobriety, she tells me, begat uncomfortable truths and conversations she'd been avoiding by drinking. "Anyone that knows the program knows that there's steps you take," she says. "One of them is going through your resentments. When I got to the resentments with Sean, a lot of it came down to: I want to be with women. That was a lot of it. When I got the show, those crazy nights stopped. I couldn't go to Vegas and do that stuff." At the end of Season 15 (and in a moving GLAAD interview last month), just months after renewing her vows with Sean during the celebration of their 20th anniversary, she publicly came out as a lesbian, making her the first out gay housewife in the franchise's history.
In between blowing up her personal and private life, she brought her children and cameras to Black Lives Matter protests, prompting her castmates — who include a vocal Trump supporter and a COVID-19 skeptic — to accuse her of being performative. "I grew up protesting," she tells me. "I have been to Black Lives Matter protests in Miami. I grew up marching against Monsanto. When we were trying to get marriage equality, we were [marching] in D.C. with the kids. I marched to save Laguna Canyon back in 1989. I have been brought up with this."
The result has been a season that's vivid, captivating, often hard to watch — and largely driven by Windham-Burke. "I think people want something meaningful to latch on to," says Thomas Kelly, Orange County's Season 15 showrunner and former executive producer of The Real Housewives of Dallas and Potomac. "Braunwyn is exactly that. She's unconventional, and people are quick to dismiss unconventionality because it's not their cup of tea, but I think we all agree she can be very riveting to watch on television. It's polarizing because it's new. It's always healthy to ask people to step outside their comfort zone and have the conversation because we need to have it."
This is the part of the story where I have to tell you that many fans aren't buying what Windham-Burke is selling. Housewives viewers are a fervent bunch; divisions run deep among self-appointed teams. Last month, fans flooded social media with pleas that Bravo fire her for hitting Sean. Some say she's "using her sobriety as both a weapon and a shield." They don't think a "real" alcoholic would be able to handle cycling between sobriety and drinking through multiple pregnancies; they don't believe a husband would stand by his wife after she hit him, called him an enabler, and started dating another woman. "Sh*tty wife, sh*tty mom, sh*tty lesbian, sh*tty friend and all around just sh*tty person," one fan wrote.
She's similarly become the target of her cast's ire, both on camera and off. All but one of her current coworkers have suggested she's not being honest with them; several have called her sobriety fake. They've criticized her marriage, calling on Sean to file for divorce as his wife dates another woman while sorting out her newly open queerness. They've called her selfish, a hypocrite, a liar, and a fame-hungry wannabe.
"Braunwyn's sexuality is not a talking point," says Noella Bergener, a friend of Windham-Burke's who runs in the same circles as other O.C. Housewives. "Her sobriety is not a tagline. It doesn't get more real than this." She recalled having dinner with Windham-Burke, without any cameras, and Windham-Burke's terror when she briefly thought her mocktail was a cocktail. "She took a sip and thought that it had something in it. There were just tears instantly. She was panicked."
Which brings us back to the offering-a-teenager-drugs-allegation made during last week's reunion episode. Housewives reunions, filmed after the cast has seen the season's episodes, are a forum for dirty laundry from unaired and unfilmed scenes — sometimes years old — often shared with the aim of undermining a castmate's flattering edit. Windham-Burke's sobriety had thrown the rest of the cast's drinking into relief, and after Windham-Burke admitted that she thought co-star Shannon Storms Beador also had an alcohol problem, Storms Beador went on the offensive.
"I didn't know whether I was going to say this today, but as a mother, I'm going to," Storms Beador began, before telling Windham-Burke that at a beachside barbecue in the summer of 2019, "you went up to her and and said, 'Stella, if you want the good stuff, text me.'" Windham-Burke breaks down. She cries. She apologizes, saying she was drinking heavily at the time and has no recollection of the incident. It's her darkest moment in an already dark season.
"I've admitted to some really hard things. But now knowing the truth and what people are saying, I give up. I am waving the white flag. I can't keep doing this."
"Part of being sober is taking accountability for things that you said while you were drinking," she tells me over the phone before the reunion aired. "These are the stories I need to hear to help keep me sober. I apologized at the reunion. I reached out after we filmed to make amends with Stella, and Shannon said, 'No, that's not necessary; that would make her uncomfortable.' And I respected that because she's the mother." Later, she called her sponsor, who reminded her that the only thing she could control in that moment was not having a drink.
But when Windham-Burke recounted the story to her husband after the taping wrapped, he told her he remembered the conversation a little differently. During a conversation on the topic of experimenting with drugs, which he remembered as including children and adults, "Sean said, 'You said, in jest, "Don't do drugs in California, they're laced with things and you'll die. Call me first." But you said it in a joking way.'" (On Instagram, Storms Beador told a fan, "For the record, she and my daughter were the only ones present during the conversation.")
Now Windham-Burke finds herself virtually friendless among the cast, with few allies to share in her on-camera self-discovery, her efforts at radical transparency looking more like a liability, a weakness, or a reason to "cancel" her. Though Bravo won't comment on the show's all-but-assured renewal, she says she won't return if the cast remains the same next season. She's already told producers. "My castmates talk at me, they talk about me, but they never talk to me," she says. "I take accountability for everything I have done. I've admitted to some really hard things. But now knowing the truth and what people are saying, I give up. I am waving the white flag. I can't keep doing this."
Though no casting decisions have been made, "this season was so unique because in a lot of ways it feels like a to be continued season," Kelly says. "Braunwyn may have gotten a lot of criticism from some fans this year, but they're just starting to get to know who this 'new Braunwyn' is and where she's at in her journey. You want to see the continuation."
"I didn't know how much homophobia was still around until it's directed at you. I'm still getting used to that."
A potential third season promises, somehow, Windham-Burke's most exciting chapter yet, living her full-fledged sexual awakening in real time. Last fall, after filming wrapped, she knew she wanted to date women, so Bergener set up a Tinder profile for Windham-Burke under a fake name, which is how she met her girlfriend Kris, a 28-year-old private citizen (for now). "I still sometimes can't believe it," she says. "All the books you read about sex, I didn't get it. And I'm like, 'Oh, I get it now.'" Meanwhile, Sean is reportedly dating too, though the couple still live together — with no immediate plans to divorce — in separate bedrooms. (Sean joined our first Zoom in its opening minutes, introducing himself from the other side of the bedroom before giving his wife her privacy.)
Windham-Burke says that dating another woman sober has been eye-opening. "When I walk down the beach, holding Kris' hand, it's still very different than when I walked on the beach holding Sean's," she says. "I didn't know how much homophobia was still around until it's directed at you. I'm still getting used to that." Easier to get used to are Kris' friends, she says. "I hung out with [them] this weekend. We were having this really funny conversation about strap-ons and I was looking around the room and — I feel like such a lesbian — I was living in an episode of The L Word."
Other possible subplots: She's studying to become an alcohol and drug addiction therapist, holding monthly Zoom conversations with fans and expert guests to address everything from mental health to allyship to activism, and spending two hours daily, at her last tally, responding to DMs from fellow alcoholics in crisis who have turned to her for help after watching the show.
She claims the show has changed her as much as she's changed the show. "I have been so insecure my whole life, and I'm not now," she says. "Sobriety is a big part of it. ... [Last year,] I was able to be myself again. Whatever I was pretending to be — that same stay-at-home mom who was 22, emulating the moms at Mommy and Me — I had been doing that with Housewives. I had not been my authentic self, not really. But this is who I really am. I don't care if you like me or not. ... No offense to Housewives, but now I'm taking myself out of the Housewives and just being Braunwyn."
Photographer: Tracy Nguyen
Art Director: Shanelle Infante
Producer: Kiara Brown