Planning Permission For Bridgerton's Windsor Location Has Been Rejected
The borough council voted it down 7-2.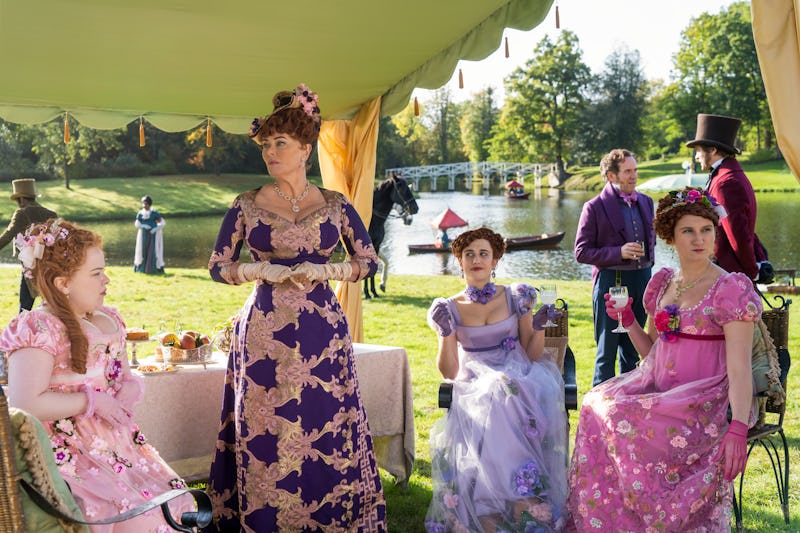 LIAM DANIEL/NETFLIX
The world of Bridgerton has been thriving this year. From becoming Netflix's biggest show ever to the announcement of further series and spin-offs, we've all gone wild for the franchise. But while it was all going so swimmingly, things have hit a bit of a wall for the team behind the phenomenon, as planning permission for a Bridgerton set in Windsor has now been rejected.
Back in January, it was unveiled that Shondaland (the team behind Bridgerton) had applied for planning permission to build a huge new film set near Ascot to shoot upcoming series. Documents filed to the Sunninghill & Ascot parish council were discovered revealing that the Bridgerton team requested space to construct a replica Mayfair road on land "adjacent to the Drawrey, Windsor Great Park." The land was once home to Prince Andrew and Fergie's former marital home.
However, the request was not met with enthusiasm even back then, with the parish council saying it "strongly object[ed]" to the proposed development.
"We are concerned that if permission is granted the site will be used as a filming facility for many years thereafter," they wrote in January. Concern was also stressed that the development could harm the areas green belt and ruin "the open vistas of open fields and trees."
And it seems as though these concerns were too great to suppress. The request was escalated and brought before The Royal Borough of Windsor and Maidenhead council, where it was officially rejected on May 20 by 7 votes to 2. The council said the plans represented an "inappropriate development of the green belt and could "harm to the rural character of the area." They also said there had been "insufficient information" provided to make sure protected species would not be adversely affected during the build and its usage (which was due to take place for five years).
This turn of events may be surprising to some, as the planning permission appears to have had the support of the Crown Estate prior to being passed through to the council.
Councillor Sayonara Luxton – who was in favour of the set being built – argued that the application would not even have reached councillors without "approval from Her Majesty." She also argued that the borough's local shops and hotels would benefit from the build. Despite this, councillors voted by 7-2 to support officers' recommendation for refusal.
It's so far unclear what Shondaland's backup plan is!
This article was originally published on