Britney Spears & Hannah Montana's Chaotic Exchange Was Not On Your 2021 Bingo Card
Hannah's social media is already pure chaos.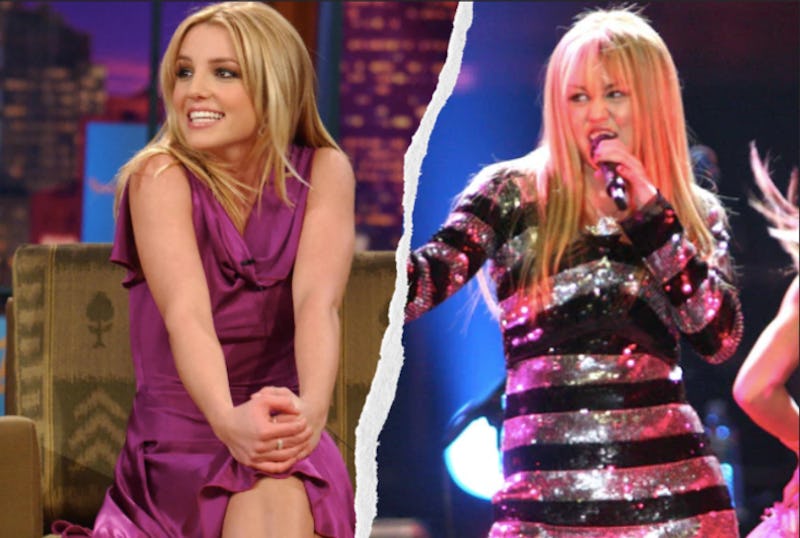 Lucy Nicholson/AFP/Star Tribune/Getty Images
This year may be continuing 2020's level of insanity, but it's also delivering high-quality nostalgia. Hannah Montana commented on Britney Spears' Instagram and Twitter posts, an interaction that definitely wasn't on anyone's 2021 bingo card. On Wednesday, March 24, to celebrate Women's History Month, Spears shared photos of some women that have inspired her, including Sharon Stone, Sarah Jessica Parker, Natalie Portman, Miley Cyrus, and her sister Jamie Lynn.
"These are the women that have truly inspired my life," Spears wrote. "'Being away from family and my boyfriend while quarantining was really hard for me but the good thing about social media is we can connect in a different way that helps us feel not alone in this crazy world!!!' These cool ladies always add a spark to my day!!!"
Cyrus' mention comes as no surprise, given how's she's a known fan, a #FreeBritney supporter, and even a past collaborator with Spears on the title track of her iconic 2013 album Bangerz. The singer has yet to respond to her shout-out from Spears, but someone very close to her did take notice. Hannah Montana commented from her newly verified Instagram and Twitter accounts, and she wasn't happy about her exclusion. "What am I? Chopped liver?!" she wrote on both social platforms, complete with the queen emoji. What can I say? Hannah knows her worth.
However, some of the other stars mentioned in Spears' post had less chaotic reactions. Sex and the City star Parker responded to Spears on Twitter, thanking the singer for her mention. "I think you know how I feel about you," she wrote. "For a long time. Sending all my best and touched that you included me to be companion." Cyrus' sister Noah, who Spears also acknowledged, left three fangirl comments on Spears' Instagram, as any rational person would. "MY JAW IS STILL ON THE FLOOR," she wrote. "You've been so inspiring to me since i was a kid and being able to grow up with your music WAS A BLESSSSSSINGGGGG."