In Paradise Square, Tony Nominee Joaquina Kalukango Tells A New Civil War Story
"[It's] literally the same rhetoric we're hearing now," she says of the musical's 1863 discourse.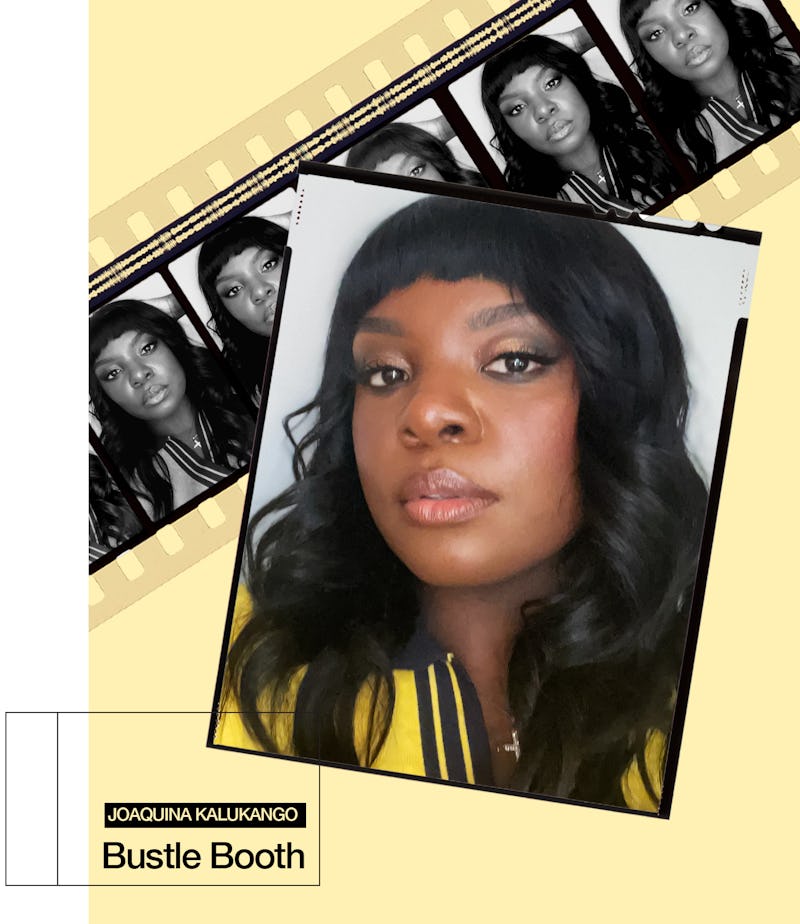 In early 2021, Joaquina Kalukango's agent emailed her with some news: The director Moisés Kaufman had sent her a Dropbox link with materials for a new musical titled Paradise Square, including an early script and some song demos. This is really fascinating, the actor thought upon reading the script, which traces the days before the New York City draft riots of 1863. She didn't know anything about them. The director, who previously led The Laramie Project, also name-dropped his creative team, including choreographer Bill T. Jones. "These were legends, geniuses who I really wanted the opportunity to work with," Kalukango tells Bustle. "I called him back and said, 'Do you need to see an [audition] tape?'" Kaufman replied that the Dropbox link was, in fact, a direct offer, a first in her career.
In Paradise Square, Kalukango plays Nelly O'Brien, a dynamic Black woman who runs the Paradise Square saloon. To prepare for the role, the Atlanta native read seven books on the history of abolition in New York. "It was a safe haven for African Americans fleeing slavery," says Kalukango, who's best known for her Tony-nominated performance in Slave Play, HBO's Lovecraft Country, and Amazon's One Night in Miami. "That excited me."
Last month, she earned her second Tony nomination for the new role.
Building Nelly required Kalukango to create a composite of a few historical women; however, "when you rehearse, you kind of forget it, it's somewhere in your brain, [but] you can't play facts," says the 33-year-old, who trained at Juilliard. "On stage, your body has to play to hundreds or thousands of people, whereas with film, the camera is so intimate, so the slightest movement is going to be picked up [by it]. But in terms of how you develop character, that's all the same."
The poignant moment every night is the second-act scene in which Nelly's community turns on her, threatening to burn down her saloon. "So she stands out front and sings this blaring alarm to those people called 'Let It Burn,'" says Kalukango. "To me, there are so many things that I can release in that moment. It speaks to so many things, like burning down systems of oppression, facing the fear of facing injustice. I think it provides the audience with this sense of urgency of courage to face your demons, to face the injustice in the world without fear."
Just before she was offered a role in Paradise Square, Kalukango watched the Jan. 6 insurrection play out on her television screen. "The rhetoric of the [1863 draft riots], demonizing certain groups — 'These people are taking your jobs, they're taking your women, they're going to take over the community' — is literally the same rhetoric we're hearing now," Kalukango says. "That's what intrigued me. We haven't learned our lesson."
Get to know more about Kalukango in her Bustle Booth questionnaire below.
Kalukango on Paradise Square's opening night.Bruce Glikas/Getty Images Entertainment/Getty Images
Kalukango with fellow 2022 Tony Award nominee LaChanze. Jenny Anderson/Getty Images Entertainment/Getty Images
In The Bustle Booth
What is your coffee order?
White chocolate mocha, with an extra pump.
What are the saved weather locations on your phone?
New York, Atlanta, and Vancouver.
What's your sign?
Aquarius.
Do you have a favorite overused movie quote?
"You have the emotional range of a teaspoon," from Harry Potter.
What was your favorite cartoon as a kid?
The Proud Family.
What is the one musical or song you're currently obsessed with?
"Wait for It" from Hamilton.
Who is your celeb idol?
Viola Davis or Reese Witherspoon.
If you had to be on a reality TV show, which one would it be?
The Real Housewives of Atlanta.
Go-to karaoke song?
"You Oughta Know" by Alanis Morissette.
What is something that's inspiring you lately?
All the young people speaking out [about] their safety and what's happening in our country right now. Their courage to be heard is really inspiring and moving.
What is something you would want people to say about you?
That she was kind.