Nicola Peltz's Wedding Dress Holds A Special Family Secret
And everything else to know about the heiress' wedding to Brooklyn Beckham.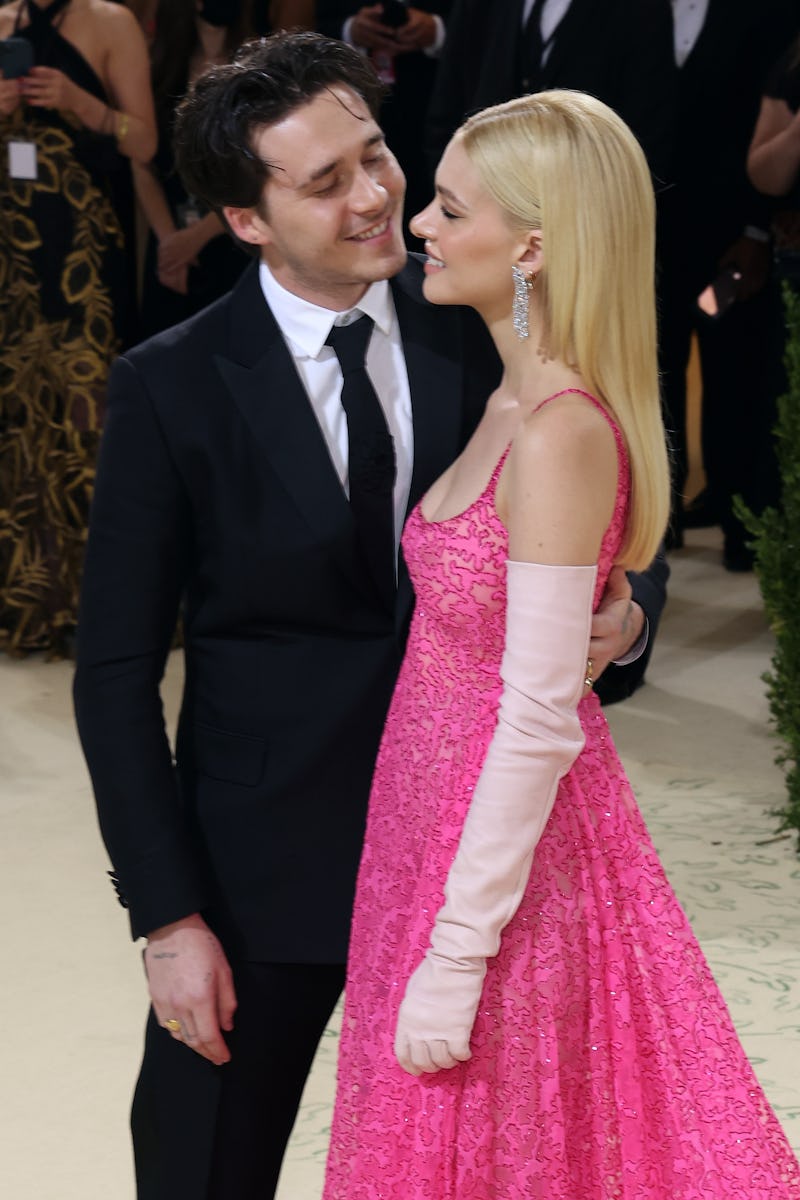 While we were sadly not invited to Brooklyn Beckham and Nicola Peltz's wedding, that doesn't mean we don't have all the highlights from the special day. According to reports, "no expense" was spared for the celebrations, and good job, too, as there were many high-profile guests at the soiree. In fact, it seems this particular celebration was even more extravagant than David and Victoria Beckham's 1999 wedding.
Find out everything you need to know about Brooklyn and Nicola's wedding weekend, below.
Brooklyn Beckham & Nicola Peltz's Wedding Date
A little under two years since the couple announced their engagement to the world on Instagram, Brooklyn and Nicola exchanged vows on Saturday, April 9, during a glamorous ceremony in Palm Beach, Florida, that was overseen by the renowned wedding planner, Michelle Rago.
As Vogue reports, celebrations officially kicked off the night prior on Friday, April 8, with a quiet dinner held on the eve of the wedding.
Brooklyn Beckham & Nicola Peltz's Wedding Venue
The wedding took place at Nicola's billionaire father's "sprawling" beachside estate in Florida. As per The Sun, the couple's Palm Beach ocean-front wedding venue is worth an estimated £76 million and boasts 27 bedrooms. Not bad, eh?
Following the ceremony, guests moved outside into huge white marquee situated in the gardens of the Florida estate for a grand reception. Per The Sun, the furniture inside the tent was provided by Pablo Oliveira at Nuage Designs, whose previous clients include the likes of former first daughter Chelsea Clinton. Meanwhile, the reception's floral decorations were reportedly created by Rishi Patel at HMR Designs, and included up to 400 orchids.
Nicola Peltz's Wedding Dress
Following months of speculation, Nicola Peltz's dress of choice was finally unveiled when she stepped out in a custom Valentino couture gown, complete with a "show-stopping train.
In the weeks leading up to the April 9 ceremony, Peltz's stylist, Leslie Fremar, assisted her in selecting the "dream dress," which also featured some subtle personal touches — including an evil eye talisman added by Peltz's mother, model Claudia Heffner, and a message stitched into the gown, using blue thread, from the Valentino design team.
The bride's hair and makeup were carefully curated by two of Peltz's longtime beauty collaborators, hairstylist Adir Abergel and makeup artist Kate Lee, who she later thanked on Instagram following her special day.
"Even after ten years of collaborating, it never gets old," she wrote in a caption, alongside a photograph taken during the ceremony.
Nicola Peltz & Brooklyn Beckham's Wedding Guests
As People reports, Brooklyn and Peltz tied the knot in front of an estimated 600 guests. Their families took pride of place, with mother-of-the-groom Victoria Beckham wearing a silver satin Valentino gown.
Per Vogue, the A-list guest list included the likes of Venus and Serena Williams, Eva Longoria, Gordon Ramsay, Marc Anthony, Rashida Jones, Kiernan Shipka, Michael Bay, and M Night Shyamalan, to name just a few.
Meanwhile, Victoria's former Spice Girls bandmates, Melanie B and Melanie C, also attended Brooklyn and Nicola's special day. Although, Geri Horner and Emma Bunton skipped the Florida nuptials.
Speaking on Instagram, Bunton, aka Baby Spice, sent the happy couple her best wishes, writing: "These two beautiful souls are getting married today! I'm so sorry i couldn't make it there to celebrate you both. We Love you all very much. Victoria and David, try not to cry too much."
As Page Six reports, Gigi Hadid, Nicole Richie, Elizabeth Hurley, Tom Brady, and Gisele Bündchen were also included on the wedding's celebrity-heavy guest list .
Nicola Peltz & Brooklyn Beckham's Engagement
Brooklyn has been referring to Nicola as his "wife" since they got engaged in 2020, and publicly promised his wife-to-be that he'd be the "best husband and best daddy one day."
Beckham and Peltz announced their engagement by sharing matching pictures on Instagram. "Two weeks ago, I asked my soulmate to marry me, and she said yes," the Beckham model and photographer wrote on Instagram, alongside a photo of himself and Peltz embracing lovingly in a garden.
This article was originally published on