The Pier In Episode 3 Of Time Is Perfect For A Daycation
The pier, which is situated on England's north coast, is the second longest in the UK.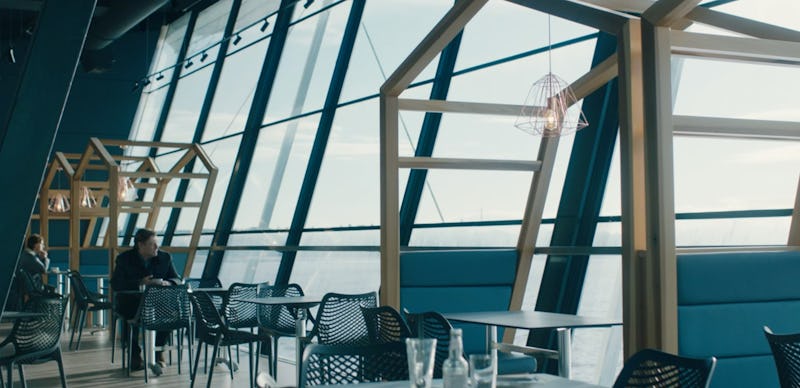 BBC One
With many Britons staycationing in the UK this summer, many will be on the lookout for places that they've never been to before. And if you've watched BBC One's latest drama Time, you'll have seen the stunning pier featured in its penultimate episode. But where exactly is the pier on Time, and how can you visit it?
Time was filmed in and around Liverpool, and the stunning pier seen in episode three can be found in the seaside town of Southport. The pier, which is situated on the Sefton coast, is the UK's oldest iron pier – and its second longest.
In Time, Sean Bean can be seen walking down the 1,000-metre-long pier before entering the stunning pavilion, which is surrounded by walls of panelled glass providing an almost 360-degree view of the coast. On a really clear day, you'll be able to see neighbouring Blackpool and the North Wales coast, according to Visit Southport.
The pavilion offers a variety of things to do, whether that's stopping for a cuppa, enjoying the vintage arcade with old penny slot machines, or perusing the history of the pier and Southport itself in a small exhibition.
Described as one of Southport's "must-see" attractions, a visit to the pier is the perfect excuse to soak up the sun and take in the amazing views of England's north coast. And if you're after more filming locations from Time to visit, there are plenty a short drive away from Southport.
The majority of the series was filmed in and around Liverpool, but the main attraction will be HM Shrewsbury Prison, which takes the form of the fictional Craigmore Prison. The actual jail closed in March 2013, and has since become a major tourist attraction in the Shropshire town. Described as the "world's most interactive prison," visitors can enjoy guided tours of the facilities and even take part in Escape Rooms inside the cells.