Cara Delevingne Says The Pandemic Made Her Split With Ashley Benson "Harder"
The model opened up about their breakup for the first time ever.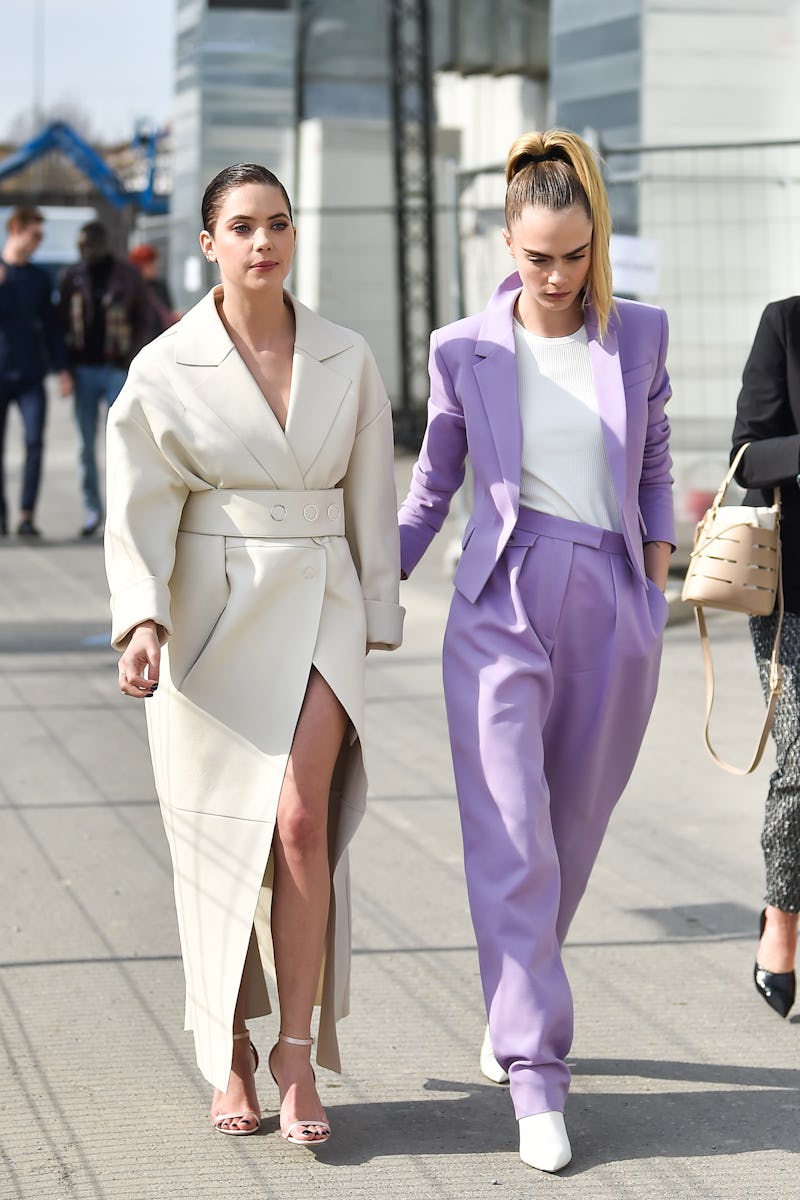 Jacopo Raule/WireImage/Getty Images
After more than a year, Cara Delevingne has officially broken her silence on her split with Ashley Benson. In a recent cover story for Cosmopolitan, the model spoke candidly about their two-year-long relationship, which ultimately ended in heartbreak. And although Delevingne had nothing but positive things to say about the Pretty Little Liars alum, she did reveal that — like many couples — their relationship simply couldn't weather the pandemic.
Without naming Benson directly, Delevingne hinted that their split was an amicable one, much like the breakups she's experienced in the past. "I don't feel like I've ever left a relationship so f*cked up that it's been like, 'I never want to speak to that person again,'" the Paper Towns star told the magazine. "'I just love all the people I was ever with and want the best for them, you know what I mean? I want to see them grow, see them happy.'"
Benson and Delevingne called it quits in April 2020. "Cara and Ashley always had their ups and downs before but it's over now," a source told People in May of last year. "Their relationship just ran its course." Dating rumors first surfaced in August 2018 when they were photographed kissing at London's Heathrow Airport. Throughout their relationship, they were spotted holding hands and cozying up to each other on several occasions. In June 2019, Delevingne made things Instagram official when she shared a video of them smooching in honor of Pride Month.
During an interview at the TrevorLive Gala that same month, Delevingne was asked why she decided to go public with their relationship. "I don't know because it is Pride, it's been 50 years since Stonewall happened and I don't know," she told E! News. "It's been just about our one-year anniversary so, why not?" A few months later, in October 2019, the model opened up about their romance again in an interview with Elle. "It just feels incredible when you're not alone," she said. "When you're facing the world with someone else."
In that same interview, Delevingne said that it just felt like time to stop hiding her relationship and to be proud of it instead. "I don't want to be so secretive that people think I'm ashamed of anything," she revealed. "But I've never been in a relationship where things are so public, or where I posted pictures of someone else. This seemed different. We had gotten to the point where we had kept it a secret, or at least not wanted attention, and now I feel like I'm not going to not be proud."
Unfortunately, their relationship hit a rough patch amid the COVID-19 pandemic. "It was the most trying time," the model told Cosmpolitan, adding that all that time hunkering down at home together "really makes or breaks you." But it wasn't just the relationship that was more difficult to manage in lockdown; it was the breakup, too. "[It] made me deal with it more, which was harder," she said. "Or better. I don't know. Everything is magnified in a pandemic."