Casey McQuiston Is In The Business Of Queer Happy Endings
The author behind the beloved romance Red, White & Royal Blue releases her sophomore novel — a sapphic love story with a sci-fi twist.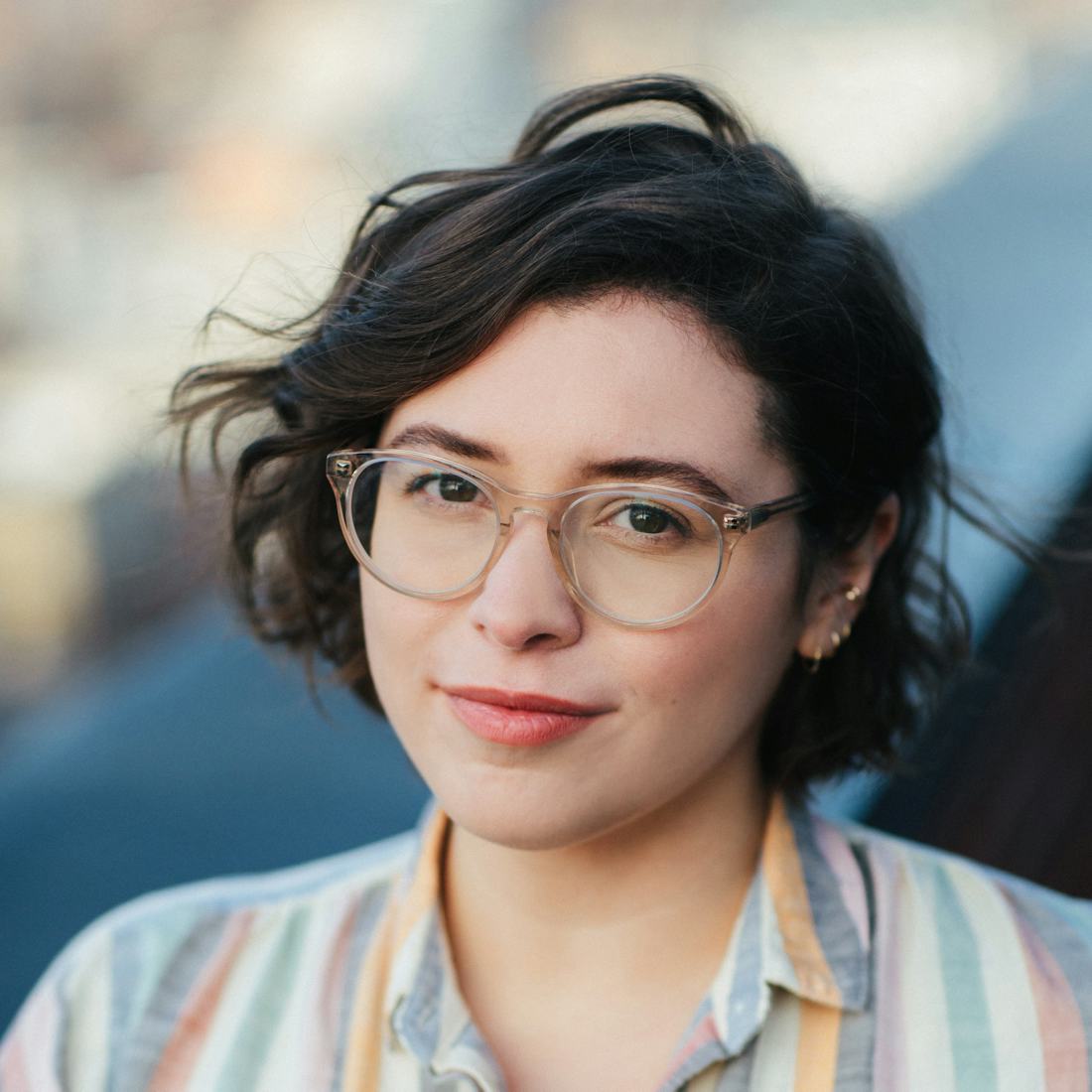 Sylvie Rosokoff
Casey McQuiston comes bearing gifts. When the bestselling romance author arrives at our meeting spot in Queens on a sunny 75-degree day, she's toting two cups of coconut fruit ice from a nearby stand.
As we chat, McQuiston riffs at a fast clip with animated hand gestures, weaving in self-deprecating asides and pop culture references. Pithy and energetic, she almost seems like an amalgamation of the protagonist and love interest from her brand new novel, One Last Stop.
A sapphic romance about an unmoored 23-year-old who falls for an immortal, subway-bound woman from the 1970s, One Last Stop is only McQuiston's second book. But given the unending excitement for its publication earlier this month, you'd think it was her twenty-second. "It's definitely a little bit of a mindf*ck no matter what expectations you have for your second book, especially when people assign the word 'hype' to you," McQuiston tells me. "That's when you start to really get freaked out."
The stakes were a lot lower back in May 2019, when she released her debut novel Red, White & Royal Blue — an unlikely love story between the prince of England and the son of the first woman president. Sending it to press was less of a lifetime wish-fulfillment and more of a happy accident: the whole thing came about after a 2015 breakup, when McQuiston was trying one identity crisis-fueled hobby after another. "I bought stuff to make soap, I was gonna make lip balms, I was gonna make candles, I got into lap loom weaving for a minute, I was gonna have an aquarium," she says. Finally she settled on writing a romance — and boy, are her fans glad she did.
The book sold well almost immediately. But unlike with the vast majority of releases, its initial hype didn't die out: the book has sat on the New York Times bestseller list for over two months of 2021 so far, two years after publication. The book also cultivated a fandom: Dozens of Tumblr accounts are dedicated to the novel's protagonists, Alex and Henry; the #RWRB hashtag on TikTok has over 36 million views; fan fiction sites like AO3 and Wattpad are flooded with posts about the two leading men. The whole phenomenon is impossible to think about "without your brain exploding," the author says — though she's hardly sat idly by as the book amassed its cult following. McQuiston is unabashedly a Very Online person, and she's continued to expand the canon around Red, White & Royal Blue, making expertly crafted playlists for key characters publicly available on Spotify, regularly reposting fan art, and even publishing a love letter "written" by one of her main characters this past Christmas.
So when McQuiston sat down to write her sophomore novel, even though she already had a concrete concept — the outline of One Last Stop emerged soon after she signed the deal for Red, White & Royal Blue — there was still pressure in following such a roaring success. What if people who wanted a repeat of Red, White & Royal Blue were disappointed? One Last Stop is a more meta book in some ways, and its characters, who are in their mid-20s, are slightly older and dealing with a different set of existential crises. There are also elements of sci-fi and magical realism, which may not be some readers' cup of tea. "I love [Red, White & Royal Blue] so much. But one of the reasons One Last Stop is almost as different as it can be is that I really wanted to show that I had range," McQuiston says. "We've only seen a very small amount of what I can do now."
Still, she's found something of a niche in LGBTQIA+ fiction, and takes her prominent position in the sub-genre seriously. While many of the author's fans are queer readers and lovers of queer romance, One Last Stop may be the first love story between two women that some people pick up. Sapphic romances have been part of the genre for over half a century, but they've often been pigeonholed as a niche. It's only in the past few years that mainstream publishers have commissioned more of them and marketed those books to wider audiences. "I hope that it will be a gateway drug to many, many, many, many more [books] from [other authors'] backlists," she says, giving a shoutout to author Alyssa Cole, whose works How to Find a Princess and Once Ghosted, Twice Shy have gained increased recognition. "I am very happy to follow in the hallowed footsteps of many, many sapphic romance writers."
As her popularity has soared, McQuiston has had to contend with her own queerness becoming a major part of her brand. She wasn't out to her family before she signed her book deal for Red, White & Royal Blue nearly half a decade ago; going from being closeted in parts of her personal life to being hyper-visible to anyone with an internet connection is equal parts exciting and anxiety-inducing. "There is that survival instinct in me because [it] can be dangerous, but the pro is that literally every day of my life I get to hear from people, especially young queer people, who feel like seen by me and my work and also feel encouraged seeing an openly queer person," she notes. "It would've been really, really exciting for me to see that as a teenager."
It's easy to see why LGBTQIA+ young adults are so drawn to her novels. Not only is McQuiston a master of queer happy endings, but she also intimately understands the simultaneous too-muchness and not-enoughness that comes with being a young person — when the world is both your oyster and the bane of your existence. "I want to make you feel the same way that you felt the first time you read a book by me, but I want to use a completely different formula to get there," she says. "It's the same answer, [but] a different formula."
Her desire to write queer coming-of-age stories is fueling her next project, too. She teases that her upcoming third book will be her YA debut and will take place in central Alabama at a conservative Christian high school — paying an obvious homage to her childhood in Louisiana. While it features an ensemble, the story is told from the point of view of a character whom McQuiston describes as a ferocious teenage girl gunning for valedictorian.
And even if it sounds like a departure from her preceding two novels, whatever McQuiston publishes next will still be as she says: the same answer, just a different formula.