All The Celebrities Posting About Voting In The 2020 Presidential Election
Including Lady Gaga, Bella Hadid & Cardi B.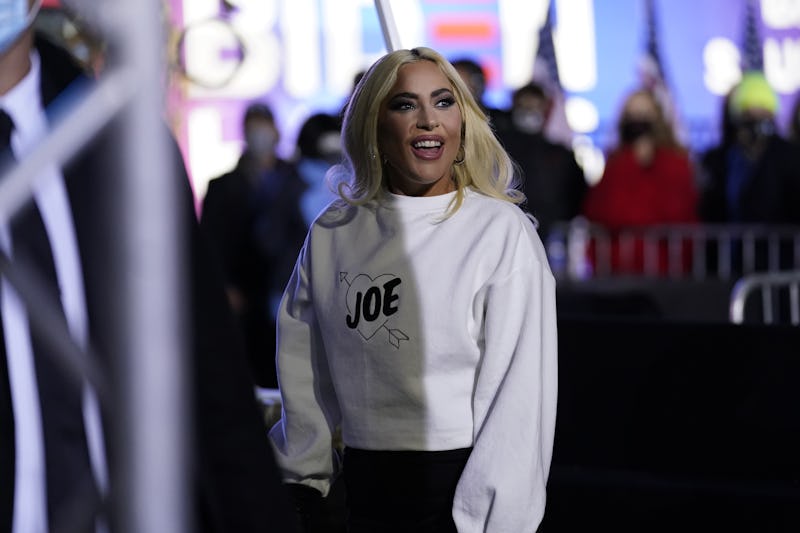 Andrew Harnik/AP/Shutterstock
As I am writing this, it is still unclear who will win the 2020 American election. While Trump has baselessly declared victory and claimed he will take the election to the Supreme Court, it's still early days given that key swing stat are yet to be called. But one thing is for sure: this year, celebrities who voted in style were out in force. From Lady Gaga to Ryan Reynolds, Bella Hadid to Cardi B, Hollywood's elite came out to the polling stations.
Proudly exercising their right to vote, stars all over the U.S. shared snapshots of how they had chosen to have their say. Against a backdrop of the ongoing coronavirus pandemic, many famous faces opted to vote early with mail-in ballots this year, as did millions of members of the public. But others made it down to the polls on the big day, and showed off their voting stickers in the hours after, encouraging their legions of fans to follow their lead and make their voices heard.
It may still be days before we know who won the 2020 Presidential race, but in the mean time, here are how some of the country's biggest stars voted, from postal ballots cast weeks ago, to on-the-day sticker wearing.