16 Celebrity Couples You Forgot Dated Including Helen Mirren & Liam Neeson
There are some pretty unexpected pairings in here.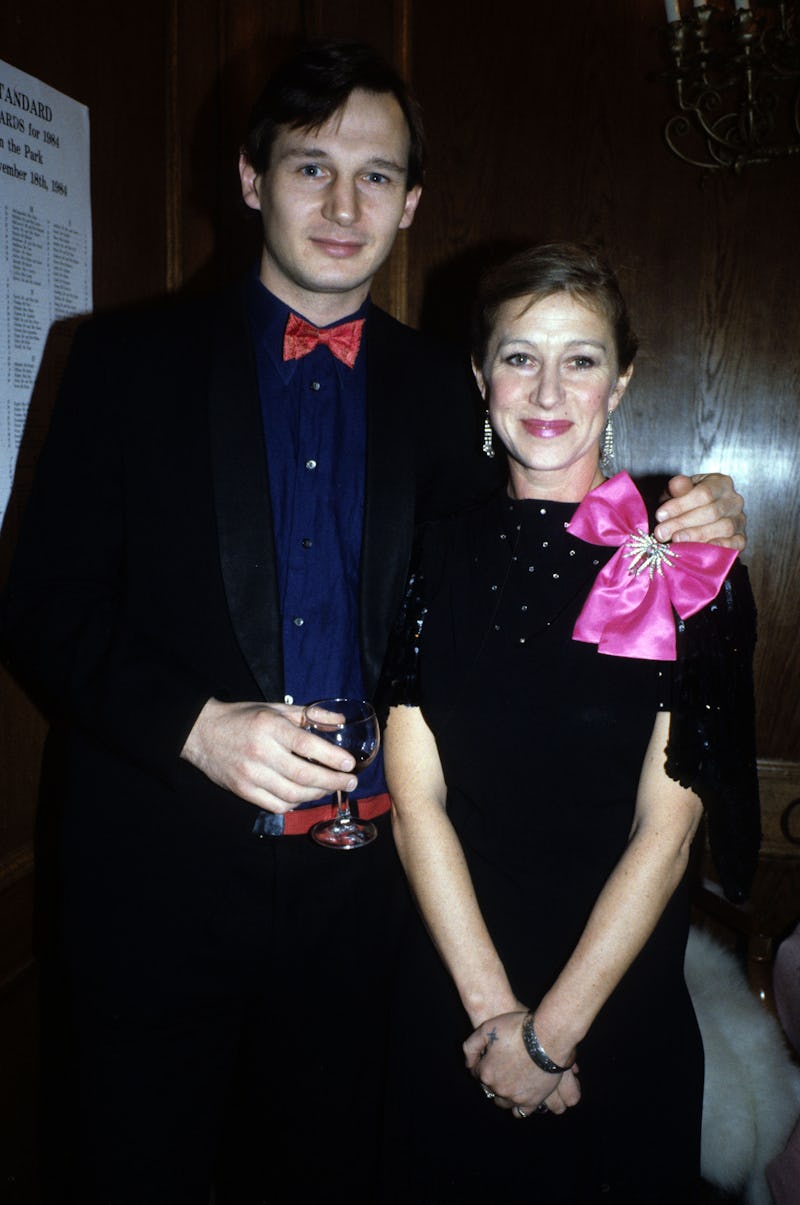 Alan Davidson/Shutterstock
If the "Bennifer" renaissance has taught us anything, it's that intrigue in celebrity courtships remains sky-high. Victoria and David Beckham, Penelope Cruz and Javier Bardem, Ryan Gosling and Eva Mendes, and Mila Kunis and Ashton Kutcher are just some of the A-list pairings that spring to mind while on the subject of notable celebrity couples.
Although, there are plenty of showbiz romances that you've most definitely forgotten were ever actually a thing. Throughout the decades, the likes of Madonna and Tupac, Rihanna and Shia LaBeouf, Mischa Barton and Jamie Dornan, and many more, have made headlines for their (oftentimes brief) dating histories.
With a lightning-speed celebrity news cycle, it can be hard to keep track of all these lesser-known showbiz link-ups from the past. Below, take a trip down memory lane and rediscover 15 of the most surprising and long-forgotten celebrity couples from years gone by.
Ryan Gosling & Sandra Bullock
Sandra Bullock and Ryan Gosling were introduced on the set of Murder by Numbers and briefly dated from 2002 until 2003, despite their 16-year age difference. As Radar Online reported, following their break-up, Bullock tried to avoid Gosling on the Hollywood circuit. "Sandy's the type to take things really to heart. If anyone hurts her, it's very hard for her to forgive and forget," a source claimed.
Madonna & Tupac Shakur
In 1994, two years before Tupac Shakur was fatally shot, the pop singer had a fling with the famed rapper. Speaking on The Howard Stern Show in 2015, the "Frozen" hitmaker confirmed she and Tupac had indeed dated in the 90s.
Referencing a 1994 appearance on The Late Show, Madonna revealed, "I was in a weird mood that day. I was dating Tupac Shakur at the time and the thing is he got me all riled up on life in general. So when I went on the show I was feeling very gangsta."
Julia Roberts & Matthew Perry
Following Roberts' memorable portrayal of "Susie underpants" during a guest appearance on Friends, she and Perry soon began dating in real life.
As People reported back in 1996, the Pretty Woman star described Perry as "cuuute" while on set, and the pair were later seen "snuggling" in Hollywood. At the time, a spokesperson for Perry confirmed the romance, stating, "They've been on a few dates."
Gisele Bündchen & Leonardo DiCaprio
Leonardo DiCaprio is well known to have a specific type, that type being model, and has reportedly dated the likes of Naomi Campbell and Bar Rafaeli, per Us Weekly.
One of the actor's longer relationships was with the Brazilian supermodel Gisele Bündchen. The pair dated for five years between 2000 and 2005, and despite their shared passions — including basketball and environmental campaigning — the A-listers eventually called it quits.
Nicole Kidman & Lenny Kravitz
Nicole Kidman and Lenny Kravitz were an item in the early 2000s, per Entertainment Weekly. Although, it wasn't until 2017 that the Moulin Rouge star revealed the pair were secretly engaged.
Referring to Lenny's daughter and her Big Little Lies co-star, Zoe Kravitz, Kidman revealed to The Edit , "I knew Zoe because I was engaged to her father. It's all in the family … I love Lenny. He's a great guy."
Rihanna & Shia LaBeouf
The unlikely romance between Grammy Award-winner Rihanna and Transformers star Shia LaBeouf was, unsurprisingly, pretty short-lived in the summer of 2007.
Speaking to Playboy in 2009, the actor opened up about his brief fling with the "Umbrella" hitmaker, revealing that he and Rih-Rih only ever went on one date. "The spark wasn't there. We weren't passionate about each other in that way, so we remain friends," LaBeouf disclosed.
Matthew McConaughey & Janet Jackson
After meeting at the 2002 Grammy Awards, Matthew McConoughey and Janet Jackson struck up a close relationship. At the time, McConoughey claimed he and Jackson were "just friends," per Entertainment Tonight.
Although, as Showbiz Cheat Sheet reported, the "Together Again" singer later confirmed the pair were indeed an item. "I guess we did date," Jackson told Upscale Magazine in 2006. "He is such a great guy and a sweetheart. It was just for a minute, that's why I'm so hesitant to mention it."
Helen Mirren & Liam Neeson
In 2018, during an appearance on The Graham Norton Show, Helen Mirren and Liam Neeson reminisced on their past romance that began on the film set of 1981's Excalibur. "We didn't [just] date, we lived together for four years," Mirren recalled. "We were a serious item for a while. Lucky me!"
Neeson went on to divulge further details about the couple's relationship. "Before I met her and we worked together, I had read somewhere that if she fancied a guy she would imitate his walk behind his back. And I turned around one day and she was doing that to me," the Taken star added.
Mila Kunis & Macaulay Culkin
Mila Kunis and Macaulay Culkin began dating in 2002 and, as per Us Weekly, the pair spent eight years together in a serious relationship before splitting in 2011.
Speaking to Blackbook in 2009, Kunis expressed that she had little intention of settling down with Culkin, who she was still dating at the time. "It's just not something that's important to me," the actress revealed.
Angelina Jolie & Billy Bob Thornton
Angelina Jolie walked down the aisle in a small Las Vegas ceremony with Billy Bob Thornton in 2000, despite the latter being engaged to Jurassic Park's Laura Dern at the time. As per The Mirror, Jolie and Thornton divorced three years later in 2003, shortly after Jolie adopted her first child Maddox. The actress later explained that the split was down to their "different paths." She added, "we just looked at each other one day and we had nothing to say to each other."
Mischa Barton & Jamie Dornan
Amid the height of Mischa Barton's post-The OC fame, the actress briefly dated a then-up-and-comer known as Jamie Dornan (Fifty Shades of Gray). As The Daily Mail reported, the pair dated briefly in 2007 and were photographed on several dates in and around London at the time.
Cher & Tom Cruise
Back in 2013, the one and only Cher appeared on Bravo's Watch What Happens Live. Speaking to host Andy Cohen during a segment called Truth or Cher, the Oscar-winner confirmed her relationship with Tom Cruise, joking that he "was in the top five" of her past lovers. "It's not a long list, just a good list. It could have been a great big romance, because I was crazy for him," she added.
Kristen Dunst & Jake Gyllenhaal
Kristen Dunst and Jake Gyllenhaal, aka Jirsten, first began dating in 2002 after being introduced by the Broke Back Mountain star's sister, Maggie Gyllenhaal. As per InStyle, the A-list pair eventually moved in together and even adopted a dog named Atticus.
Sadly, in 2004, Kristen and Jake split and went their separate ways. For many, the legacy of this short-lived Hollywood relationship is a paparazzi shot taken on the former couple's 2003 trip to London, during which the Bring It On actress famously ordered a salad — a viral snap that captured the attention of the internet years later.
Jennifer Aniston & Paul Rudd
The former Friends co-stars Jennifer Aniston and Paul Rudd reportedly began seeing each other during the production of the film The Object of My Affection back in 1998, Cosmopolitan reports.
More than a decade later, in 2012, the pair appeared to confirm the dating rumours. "I've kissed him for years," Aniston told GQ when asked if she found it strange kissing Rudd on set. "We've made out for decades," Rudd added.
Sarah Jessica Parker & Robert Downey Junior
Sarah Jessica Parker and Robert Downey Junior had a long-term relationship for eight years. As per Cosmopolitan, the duo met on the set of Firstborn back in 1984.
Speaking to Parade in 2008, the Iron Man star revealed how his drink and drug issues are what likely led to the downfall of their relationship. "I liked to drink, and I had a drug problem, and that didn't jibe with Sarah Jessica, because it is the furthest thing from what she is. She tried to help me. She was so miffed when I didn't get my act together."
Parker later admitted in 2016 that her relationship with Downey Junior taught her "how I love." Per Entertainment Weekly, the Sex and the City star added, "what's the difference between loving and taking care of people and what's necessary, and what grown-ups should and shouldn't do for one another."
This article was originally published on