11 Celebrity Interview Fails That People Will Talk About Forever
Interviews can be a fantastic way to promote a new movie or album — but they can go horribly wrong in an instant.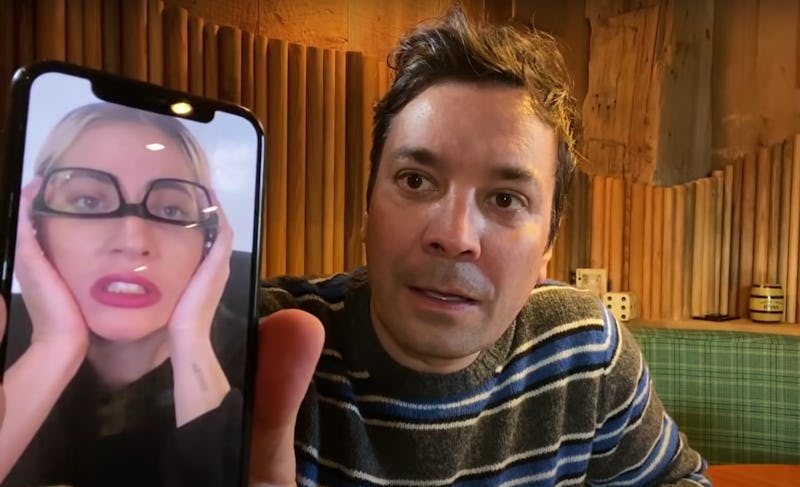 YouTube/NBC/Tonight Show
Interviews are part of a celebrity's job, whether they be TV actors, movie stars, recording artists, or something else in the entertainment industry. If they're promoting a new project, chances are they'll be asked to appear on late-night talk shows, sit in on radio chats, or speak to magazines and newspapers to get the word out. These can be excellent opportunities to interest the masses in whatever they're working on, but they can also go horribly wrong in an instant. Yup, celebrity interview fails are an inevitable part of the celebrity circle of life.
Countless examples of interviews going awry exist, but these 11 clips highlight how celebs — and sometimes the interviewer — can fail miserably during their time on the record.
Katy Perry
Katy Perry's 2017 interview with Ellen DeGeneres is a disaster from start to finish, and they're both partially to blame, though for very different reasons. For her part, the daytime TV talk show host forgets entirely that Perry was married, and then she comes off as annoyed over and over. One can't really blame her for feeling that way, as the singer keeps cutting her off. It's a mess, but a funny mess, and not the best showing for either seasoned star.
Rihanna
This is certainly not a fail on Rihanna's part, but it's an interview fail nonetheless. While at a junket promoting the film Battleship in 2012, the business mogul Rihanna was asked about relationship rumors involving Ashton Kutcher. The interviewer was clearly trying to suss out some tabloid fodder, and RiRi wasn't having it. The now nine-time Grammy winner didn't mince words, responding, "Wow. How disappointing was that question?"
Jimmy Fallon & Lady Gaga
During quarantine amid the COVID-19 pandemic, late-night shows had a difficult time making their programs seem exciting. Jimmy Fallon was clearly excited one day to have Lady Gaga on the show (via FaceTime) in 2020, as she was slated to make an announcement that the host hyped up more than he probably should have. When it came time for the pop singer to make her reveal, she had to admit to the comedian that she wasn't able to, and hopefully he could call back in a few days. This took all the wind out of Fallon's sails, and it's clear that Gaga wasn't thrilled either. A Fallon fail, indeed.
Harry Belafonte
OK, this one's just funny. The legendary EGOT winner Harry Belafonte appeared on KBAK's Eyewitness News to promote a documentary made about himself named Sing Your Song, but what viewers got out of the "interview" was a laugh. The star was fast asleep when the anchor tried to speak with him, and after a few attempts to rouse him, they simply made light of the situation and moved on. To Belafonte's defense, it was probably pretty early.
Kanye West
Kanye West has always been known as one to speak his mind, but there were a few years in there where he really let it all fly. Perhaps his most infamous fail during an interview took place during a 2018 chat at TMZ headquarters, and it's one that didn't have to happen at all. During the lengthy conversation, the hip-hop powerhouse made plenty of blunders, but the worst was when he insinuated — more like outright said — that hundreds of years of slavery in America felt like a "choice." The statement was so inflammatory, even a TMZ staffer was immediately offended, and West apologized to him at the time.
The Bee Gees
It's important to note that while late-night hosts do work hard to remember what projects every single one of their guests is promoting, they can easily get mixed up from time to time, especially when trying to recall older efforts. When '70s hitmakers The Bee Gees appeared on Clive Anderson's All Talk in 1997, the entire staging was slightly awkward, but it went OK until the host made a joke regarding one of their songs, saying he forgot it (which was actually funny because the tune was titled "Don't Forget to Remember"), but at least one of them wasn't in the mood. He got up and left, and even more awkwardly, the other two eventually did the same.
Paula Abdul
After rising to the top of the pop charts in the '80s, things slowed down for Paula Abdul, and it's been a rocky road ever since her days leading the Hot 100. The singer and dancer has been known to have health issues, and there have been a number of instances when medications allegedly may have caused her to act erratically, with one particular interview coming to mind. The American Idol judge went on local TV in Seattle to discuss the reality singing program, and many of her answers were completely nonsensical. She also gesticulated wildly, and though it wasn't necessarily offensive (except when she agreed that the worst singers were from that market), it was certainly a big fail when it came to actually promoting the competition.
Jessica Simpson
Of all the celebrity interview fails, this may be one of the funniest — as long as you're not Jessica Simpson. The pop singer appeared on The Ellen DeGeneres Show to promote something (perhaps her very lucrative fashion empire), and she comes off, well, a bit off. When asked if she's making more music, she claims that she is but struggles to remember how many songs she actually has. Ellen looks at her blankly before calling her out. The talk show titan exclaims she doesn't believe she has as many tracks as she mentions, and she looks to the camera for comedic effect.
Naomi Campbell
ABC News offended supermodel Naomi Campbell backstage at a charity fashion show. There were rumors she had accepted a blood diamond from a politician, and when she was asked about those claims, she insisted she wasn't going to speak about them. Not long after her dismissal, Campbell stood and left, but that wasn't all. She purposefully knocked over a camera, possibly damaging it. Not very professional, even if she didn't want to talk about any certain subject. "Oopsy."
Vin Diesel
There have been many instances when interviewers act inappropriately toward their celebrity subjects, but the opposite isn't seen all too often since most celebrities are media trained. While promoting his film XXX: Return of Xander Cage in an interview with Brazilian YouTuber Carol Moreira, the actor had a difficult time answering questions, as he was distracted by her beauty. He continually avoided saying anything of substance, instead insisting on commenting on her physical appearance over and over, at one point asking her out. Eventually, the interviewer herself ended the event politely and left. Celebs, don't ever do this to reporters.
Tony Danza
Many stars have made this gaffe before, but that doesn't make it any less unprofessional. While appearing on a local news program years ago, the actor didn't realize he was live as he tore into the program. He made fun of local news everywhere and repeatedly exclaimed that he didn't want to do this. The anchors smiled through the ordeal, trying to get his attention, but to no avail. Always assume that if you're sitting for an interview with a microphone, it's on and someone's listening.
Liam Neeson
Maybe the worst fail on this list, Liam Neeson nearly ruined his career several years back when he spoke to The Independent about how he created the character he played in the film Cold Pursuit. In the movie, he's notably angry, and the actor admitted that in order to discover that emotion and portray it realistically, he recalled an incident decades prior when a female friend of his was sexually assaulted. At the time, Neeson found out the assailant was reportedly Black, so he went "up and down areas with a cosh, hoping some 'Black bastard' would come out of a pub," so he could "kill him." The comments were rightfully called out as horrific and disgustingly racist, and his star hasn't been quite as bright since.