Chris Pratt Is Fully Aware He's Not The "Better Chris"
It seems the actor has finally seen the light.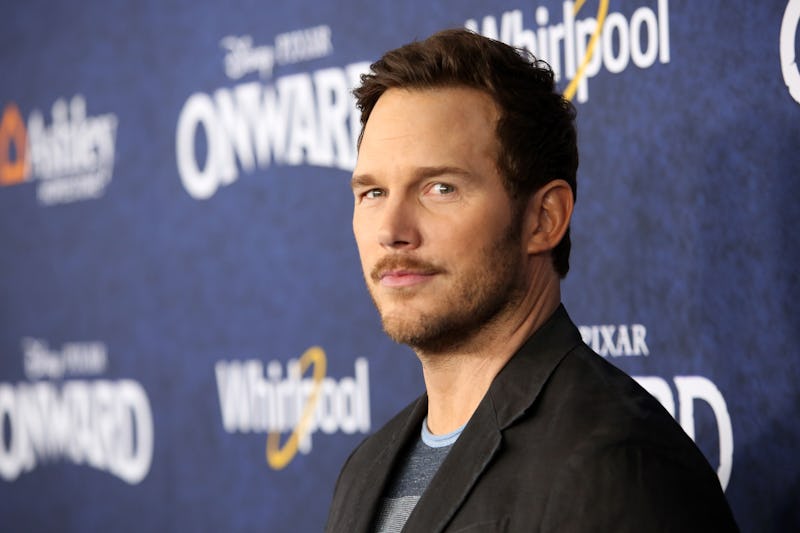 Jesse Grant/Getty Images Entertainment/Getty Images
The most contentious debate in America has finally come to an end: Chris Pratt has admitted that he's the "Best Chris" in Hollywood. The discourse first started in October when filmmaker Amy Berg asked Twitter users who was the best between Pratt, his Marvel co-stars Chris Hemsworth and Chris Evans, and Chris Pine. Most users agreed that Pratt was their least favorite option, citing his political silence and his reported decision to attend an anti-LGBTQ church.
On Monday, Dec. 21, Pratt took to his Instagram Story to let fans know that he made it into the finals of the AGBO Superhero League, which is a fantasy football league comprised of several famous actors including Hemsworth and Evans. "How did this happen?" he asked in a video shared by the league. "It's a 14-man league. I had 14th draft pick. You know how hard that is? I was last. It was very traumatic. Anyone who's been picked last knows how that feels."
Pratt said that to get into the finals, he managed to fend off his fellow Marvel stars. "I snuck two very, very close victories off, the most recent against Chris Evans," he explained before admitting that it still isn't enough to earn him the "Best Chris" title. "He had beat Chris Hemsworth last week, so I guess we can finally put an end to that debate. Who's the better Chris? It's one of them." Although he admitted defeat, Pratt does claim victory in one area. "I do have them in body fat content though," he said. "So I am more buoyant. Take that, gang."
While Pratt might be in a joking mood about the "Best Chris" debate now, he didn't comment at the time, letting many celebrities defend his honor on social media instead. Pratt's wife Katherine Schwarzeneggar called the discourse "bullying" and said it was not needed. "There's so much going on in the world and people struggling in so many ways," she wrote on Instagram. "Being mean is so yesterday. There's enough room to love all these guys. Love is what we all need not meanness and bullying. Let's try that."
Several of Pratt's Marvel co-stars also publicly supported him after the backlash. Robert Downey Jr. sent a message to Pratt's detractors on Instagram. "If you take issue with Chris, I've got a novel idea," he wrote. "Delete your social media accounts, sit with your OWN defects of character, work on THEM, then celebrate your humanness." Mark Ruffalo called the Jurassic World star "as solid a man there is" and explained that he is not political "as a rule." Zoe Saldana also tweeted Pratt: "Everyone who's ever crossed paths with you knows your heart and your worth!"