Chrissy Teigen Reveals Meghan Markle Reached Out After The Loss Of Baby Jack
"She is really wonderful and so kind — just as kind as everyone says she is."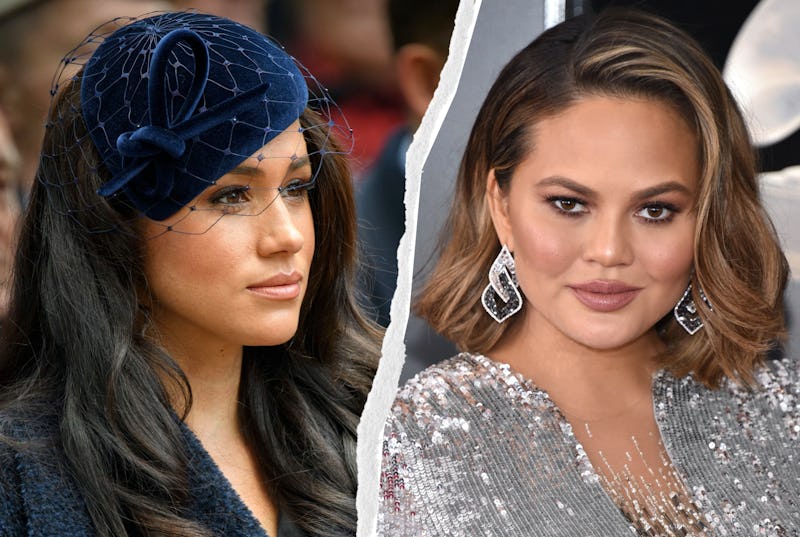 Tim Rooke/Shutterstock / John Shearer/Getty Images Entertainment/Getty Images
Chrissy Teigen has revealed that Meghan Markle reached out to her following the loss of her son Jack. The two woman both suffered miscarriages in 2020 and opened up about their experiences publicly.
Speaking on the Watch What Happens Live! after show, Teigen responded to a fan's question, explaining that she and the Duchess had been in touch recently. "Yeah, she's been so kind to me ever since we connected," the Lip Sync Battle star began. "She had written me about baby Jack ... but, yeah, she is really wonderful and so kind — just as kind as everyone says she is."
She continued, "That's why you look at everything and you're like 'My god, what is absolutely wrong with people that they have to make this person out to be so malicious or so crazy?' when it's just as simple as them being as kind as everyone says they are."
On the show, Teigen also shared that she had spoken with the Duchess following the airing of her tell-all Oprah interview last month. She said of the interview: "I think when I ended up watching it, it was like 'Holy sh*t this is big,'" Teigen said, adding: "But also I waited a long time to watch it, so I'd already heard so much about it."
When asked if she knew anything more about the Duchess' situation that the public did not, Teigen responded: "No. I think she's been very honest [and] open," she said. "I think her truth has been her truth since the very beginning."
Teigen has always been open in her support for the former Suits actor. The two have previously crossed paths in DirecTV's Beach Ball game, as well as on the U.S. version of Deal Or No Deal, which Teigen has previously touched on when she said that the Duchess "was lovely."
"Everyone asks me what she was like and I say, 'Sorry, no dirt. She's gorgeous,'" the model said.
More recently, Teigen has been an advocate for defending the Duchess, especially in light of the harsh press coverage. For example, following the bullying allegations against the royal earlier this year, Teigen tweeted: "This Meghan Markle sh*t is hitting too close to home for me. These people won't stop until she miscarries. F*cking stop it."
She also spoke out when the Duchess' father Thomas had been criticising his daughter in the media, back in 2018. "This guy... this guy sucks," she tweeted in response to headlines. "What is wrong with him? ;et your daughter be happy, please. This is embarrassing."