Chrissy Teigen Has 'No Dirt' To Share About Working With Meghan Markle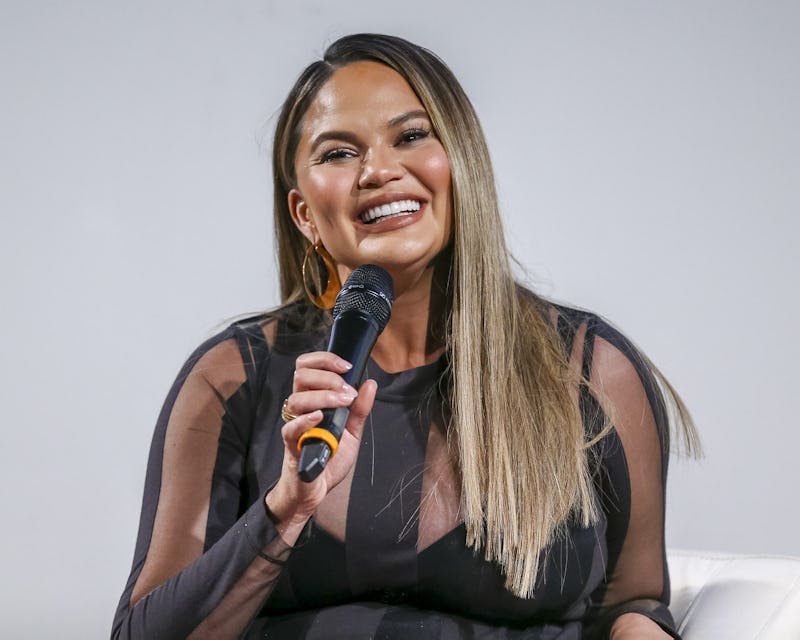 Rich Polk/Getty Images Entertainment/Getty Images
It turns out that everyone is obsessed with the British Royal family — and that includes America's favorite outspoken celebrity. Chrissy Teigen opened up about working with Meghan Markle on Deal or No Deal back when they were both aspiring stars, and revealed that the Duchess of Sussex is, indeed, as lovely as you've imagined.
In an interview with the Daily Mail, Teigen revealed that she has a soft spot for the new duchess, as she found her to be "gorgeous" when they both appeared as briefcase models on the game show in the early aughts. "Your first family are the opposite of ours: we have reality TV stars and you have royals. I am especially a fan of Meghan," Teigen admitted, while discussing the difference between the British royals and President Trump and the first family. "I was on Deal or No Deal with her and she was lovely."
But if you're hoping the always outspoken Teigen might have some secrets to share about the Duchess of Sussex, guess again. "Everyone asks me what she was like and I say, 'Sorry, no dirt. She's gorgeous,'" Teigen admitted.
Markle appeared on 34 episodes of the Howie Mandel-hosted game show back in 2006 and 2007, before she landed her breakout role as Rachel on the legal drama, Suits. Tiegen, meanwhile, appeared on just eight episodes between 2007 and 2008. In 2014, the pair also faced off for DirecTV's Beach Ball game, proving that their paths were always meant to intersect.
But while Teigen didn't remain close enough with Markle to score an invitation to her May wedding to Prince Harry, the Lip Sync Battle host still supports her former fellow briefcase model — especially when it comes to their mutual love of food.
Tiegen, who has written two cookbooks herself, admitted that she pre-ordered Together, the cookbook that the duchess worked on in collaboration with women who survived the Grenfell Tower fire in London. "I love the freshness she brings, and her cookbook Together is my only pre-order of the year," Teigen told the Daily Mail. "It's beautifully done and you can tell how important it is to her. You see how she interacts with people and gets down to eye level with kids."
And though we might not see Teigen and Markle cooking together any time soon, it's clear that the cookbook author and model looks back on her time with Markle fondly. After all, in February, she joked on The Ellen DeGeneres Show that she will never forget working with Markle on Deal or No Deal, for one important reason.
"I tell John [Legend] all the time: 'That could be me. I could be Princess Harry,'" Teigen said.
Markle, however, doesn't hold the same kind of affection for her Deal or No Deal days — although we're sure that she's just as big of a fan of Tiegen as the rest of us. In a 2013 interview with Esquire, the duchess revealed that she took the job on the game show as a way to help pay bills while trying to make it as an actress in Hollywood.
"I would put that in the category of things I was doing while I was auditioning to try to make ends meet. I went from working in the U.S. Embassy in Argentina to ending up on Deal," Markle said during the interview. "It's run the gamut. Definitely working on Deal or No Deal was a learning experience, and it helped me to understand what I would rather be doing."
Markle also joked that she always hoped that someone would choose her briefcase, just so she could relax for a while. "I was the ill-fated number 26, which for some reason no one would ever choose," she said. "I would end up standing up there forever in these terribly uncomfortable and inexpensive five-inch heels just waiting for someone to pick my number so I could go and sit down."
It doesn't sound like fans will ever see Tiegen and Markle reprise their briefcase opening roles, but we can always hold out hope that the royal family will invite Teigen and John Legend over for dinner in the future.