These Bachelor Spoilers Suggest Christina Mandrell Is The New Villain
The next few episodes will be interesting.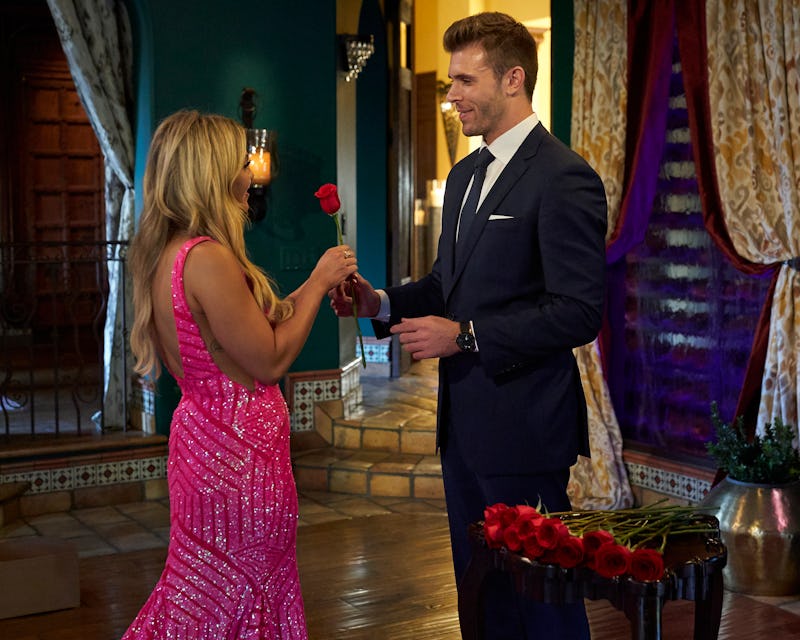 ABC/Craig Sjodin
During the premiere of Zach Shallcross' Bachelor season, Christina Mandrell quickly became a contestant to watch — which is hard to avoid when you show up in a literal party bus. "I'm actually just coming from my bachelorette party," she joked. Their first meeting during September's After the Final Rose "went so well," Christina said, that she figured she'd "go ahead and get that out of the way." So, might there indeed be a wedding in Zach and Christina's future? Spoilers ahead!
According to Reality Steve, the go-to source of Bachelor spoilers and commentary, Christina doesn't get Zach's final rose. In fact, she reportedly leaves the show well before hometowns. He writes that while he hesitates to use the word "villain" (and acknowledges that there are "levels of villainy" on The Bachelor, anyway), Christina served as somewhat of an "instigator" in an incident that led another contestant, Brianna Thorbourne, to send herself home.
Sometime before the third rose ceremony, Reality Steve writes, Christina reportedly told Brianna that her first impression rose during After the Final Rose wasn't from Zach but from viewers who voted at home.
Whatever was said, specifically, seems to have had a hurtful effect — because Brianna self-eliminated, according to Reality Steve. However, Christina herself was sent home at the next formal rose ceremony, which "goes to show Zach wasn't too thrilled with her behavior," the Bachelor expert adds.
Some fans already predicted Christina might get a villain edit this season, due in part to one unusual factor — she's the only contestant using her full name on the show.
During the premiere of Zach's Bachelor season, Christina actually compliments Brianna on her rose-themed dress, telling her it's "beautiful." However, she did joke that the floral ensemble must mean something was "rigged," and while she clarifies she's kidding, it is an interesting exchange given the reports.
Several viewers pointed out that Christina actually acted like a non-villain during the premiere — like when she saw another contestant wearing the same dress as her and made it a funny moment instead of inviting any awkwardness.
In a fun moment at the end of the premiere, Christina could also be seen teaching her fellow contestants about kegels — which doesn't preclude her from becoming a villain, obviously! But it definitely shows that she was friendly with her fellow contestants, even if that changes in the next few episodes.