Yes, The Urban Riding Club In Concrete Cowboy Is Very Real
To portray the club accurately, the filmmakers even cast real club members alongside established actors Idris Elba and Caleb McLaughlin.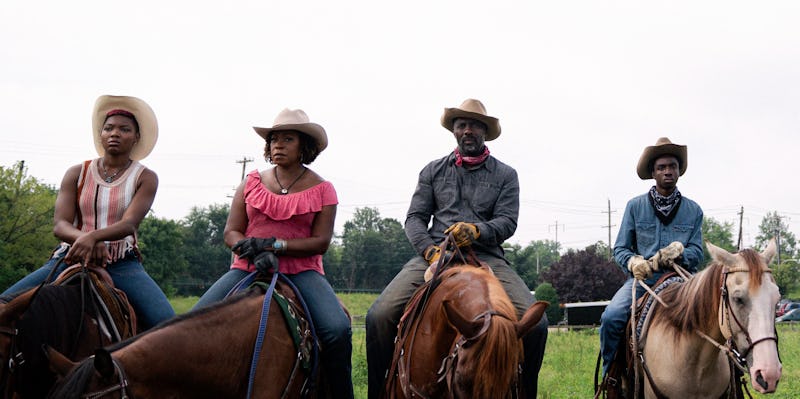 Netflix
In the new Netflix film Concrete Cowboy, Idris Elba rides a horse and wears a cowboy hat — but this is no standard-issue Western. Elba plays Harp, a member of the Fletcher Street Stables, an all-Black urban cowboy club in Philadelphia. The film shows how Harp's equestrian lifestyle helps him bond with his estranged son, Cole (Stranger Things' Caleb McLaughlin), after Cole moves in with him. Some viewers might be surprised by Harp's urban rider lifestyle — Cole certainly was — but it's hardly a Hollywood invention: Concrete Cowboy's Fletcher Street Urban Riding Club is very much a real organization.
Concrete Cowboy is inspired by the riding club and the novel Ghetto Cowboy by G. Neri, which itself was partly based on the Fletcher Street Stables. The club emerged as a part of the century-old horse-riding subculture in North Philadelphia's Black community, but the club as it exists today was founded by one man: Ellis Ferrell.
Ferrell first began renting and riding horses on the streets of Philly as a boy in the late '40s. In 1980, he opened a stable with roughly five horses on 31st and Master Street, hoping to use the animals to teach life lessons and discipline to youth in the city, while also lifting the kids' spirits. "Horse-riding... enables a sense of empowerment to the disenfranchised and those living in communities of hopelessness," Ferrell says on the club's website. In 2004, Ferrell moved the stables to Fletcher Street, where it attracted more members and, eventually, media attention. Now in his 80s, Ferrell still runs the club, which is enjoying more notoriety than ever — a trend that's likely to increase following Concrete Cowboy's release.
As far as the movie is concerned, the filmmakers made it a priority to portray the club as authentically as possible — so they went straight the source, and hired dozens of actual Fletcher Street Riders to join the cast. Among them is club member Ivannah Mercedes, who plays Esha in Concrete Cowboy. "The script was a genuine portrayal of the actual Fletcher Street guys so that was really cool for me because I know them," Mercedes said in the production notes for the film. As for the horses, real Fletcher Street animals were used for wide and establishing shots, but that's about it. The film largely features trained set horses for liability reasons.
Sadly, even as the Fletcher Street Urban Riding Club is becoming more well-known than ever before, its existence is still under threat. The Philly-based organization has long had a tumultuous relationship with its city, and the stables are in near-constant danger of being razed by developers looking to cash in on the land. But thankfully, the club has been able to avoid closure thus far, and is currently classified as a 501(c)(3) non-profit organization. It relies on donations to stay active and take care of the horses in its stables — and you can make a donation of your own here to help keep Black cowboy culture alive and thriving in North Philly.