This Bachelorette Contestant Is A Former Pro Baseball Player
Plus everything else to know about the Oklahoma native.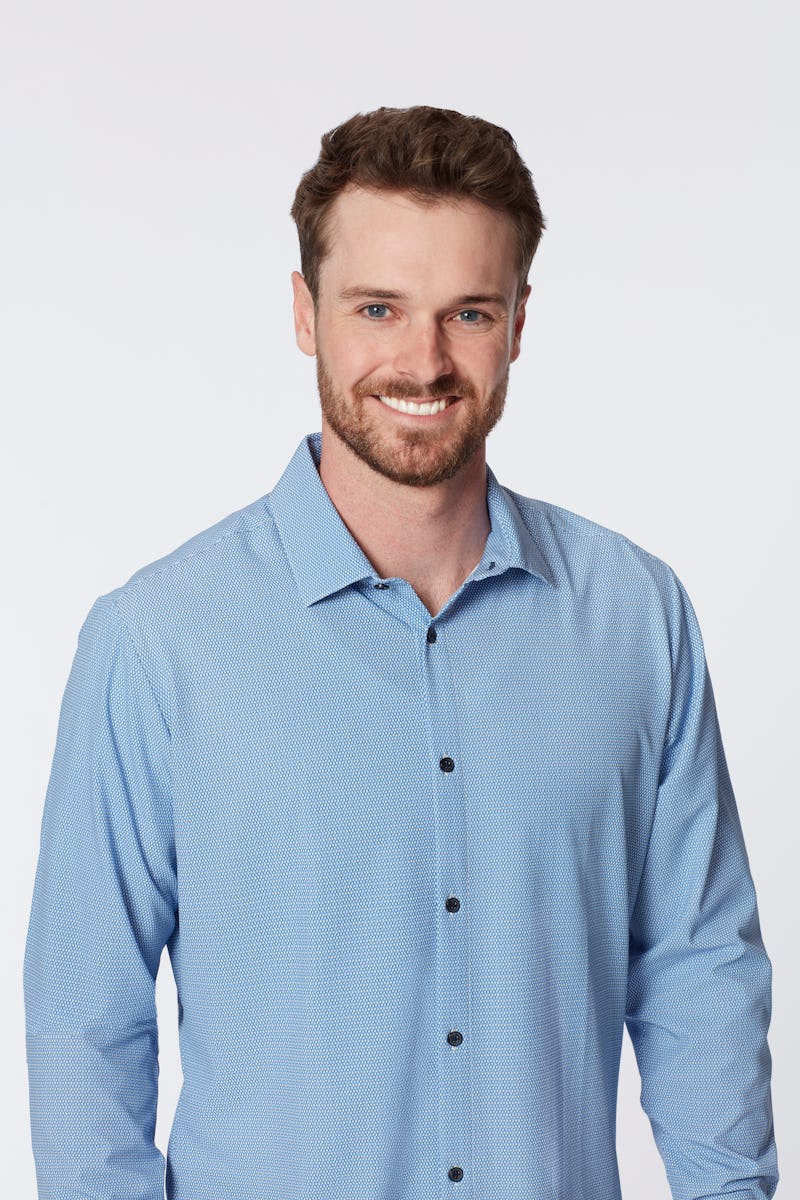 ABC/Craig Sjodin
When meeting Katie Thurston for the first time on The Bachelorette, contestant Conor Costello showed off his first baseball glove before making a punny joke about catching feelings. So far, the humor has worked, as Conor and Katie have continued to explore their relationship over the past several weeks. Described by ABC as "an athletic stud with a Midwestern heart of gold," the 28-year-old former baseball player and Oklahoma native currently resides in Southern California, where he "spends as much time as he can at the beach."
For Conor (not to be confused with castmate Connor "The Cat" Brennan), home is where the heart is, and he's now dreaming of "moving home to Oklahoma to settle near his family and build a life with his wife by his side." Though it remains to be seen if Katie will be that partner, he's everything else to know about Conor in the meantime.
Conor C.'s Baseball Career & Job
While attending Edmond Santa Fe High School in Edmond, Oklahoma, Conor was an all-district and Metro Conference All-Star, who led his baseball team to three regional titles and a second place state title. Also a high school football player, he was drafted in the 16th round of the 2011 MLB Draft by Cincinnati, but instead enrolled at the University of Arkansas and then Oklahoma State, where he majored in business management.
The 6-feet-3-inches-tall Oklahoma State baseball player listed NBA star Kevin Durant as his favorite athlete and called his 2014 Big 12 championship win his "favorite baseball moment." After graduating, Major League Baseball's Los Angeles Dodgers drafted Conor in July 2016 as the 971st overall pick. Later that month, he was assigned to the AZL Dodgers' rookie-level minor league team as a designated hitter, right fielder and relief pitcher, before eventually landing on the Ogden Raptors team, which is a separate MLB partner. Conor played for the Raptors for two seasons before the team released him in December 2017.
Since his pro baseball career ended, Conor has been working as a technical recruiter and account manager at Orange County's Apex Systems, which "provides organizations with scalable IT staffing solutions to address critical gaps in their current workforce and augment workforce management strategies," according to his LinkedIn account. His other previous jobs include working as a Lululemon retail sales educator in Oklahoma City from November 2017 to May 2018, followed by a brief stint as a land acquisition and data analyst for an Oklahoma City energy company.
Conor C.'s Instagram
Dating back to 2012, Conor's Instagram posts, though sparse, largely highlight his love of sports, including throwback photos to his days playing baseball and soccer in elementary school. (He even jokingly describes himself as a "Former Professional Baseball Thrower" in his Instagram bio.) "Officially a Dodger! Ready to get this new chapter going!" he captioned a July 2 2016 post to celebrate signing with the MLB team.
Throughout the course of his pro baseball days, he once even got to meet actor Sean Astin in 2016, and referenced classic films such as Rudy, The Goonies, and The Lord of the Rings, in his photo caption. At the end of his second and final season, he seemed to relish all the great memories with his teammates, too. "Nothing better than finishing off the season with a W!" he captioned a September 2017 shot with a championship trophy. "Couldn't have asked for a better summer with a great group of guys."
Conor's love of sports and recreational activities isn't limited to baseball, however. Over the years, he's shared photos of himself snowboarding, golfing, and kayaking, in addition to duck and hunting and fishing. He's also said he's never left the country, loves breakfast burritos and blueberry pancakes, and loved his puka shell necklaces growing up.
What Conor C.'s Looking For
In his ABC bio, Conor described his dream woman as "a giver who genuinely cares for others and wants to see those around her succeed," and finding someone who has similar religious beliefs as him is "very important" because "raising his future family in the church is a huge priority." When it comes to dating, though, he's "always up for a good time," whether that means going out for a night of bowling or enjoying an intimate night in.