Conrad Khan's BAFTA Nomination Story Is Almost Too Serendipitous
The 20-year-old actor is in the running for an EE Rising Star Award.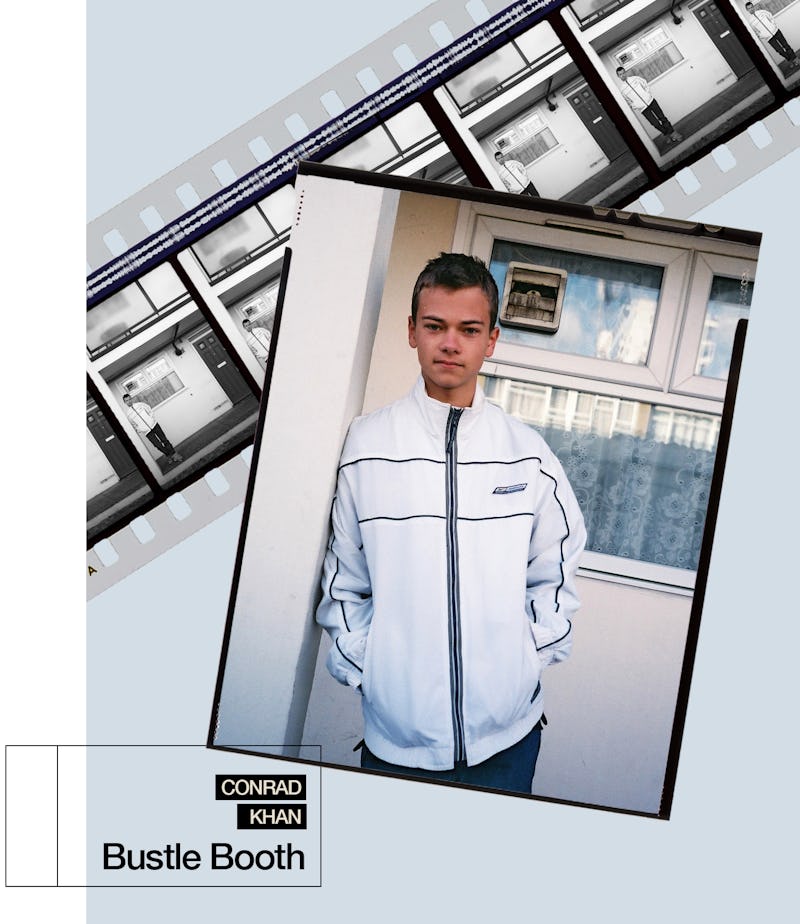 Lauren Sissons & Gus Walsh
Conrad Khan would have never believed his BAFTA nomination story if it hadn't of happened to him. "I was in a taxi, on my phone, looking at the other nominees," he says, telling me what happened over Zoom a few weeks later. "And while I was looking at it, my agent called me."
The call made it clear that the next name he would have seen would have been his own. Khan had been nominated for a prestigious BAFTA EE Rising Star Award. The 20-year-old is certainly in good company considering previous winners include Tom Hardy, Daniel Kaluuya, John Boyega, and Letitia Wright.
"I still can't explain how amazing it is," he tells me. "When I was doing County Lines — the film which probably got me the most recognition for the award — this is something I never even dreamt of."
County Lines — a coming-of-age film about a young boy who is groomed by a criminal network that facilities the illegal transportation of drugs — has received several other BAFTA nods. The film, directed by Henry Blake, was Khan's first major project since he began to take an interest in acting at a young age and joined a youth theatre group in Hackney, East London.
Since then, Khan has picked up a couple of other impressive credit for his CV, including a part in BBC One's Baptise. Right now he's on set to film the new series of Peaky Blinders, which is expected to arrive on screens in late 2021 or early 2022. Khan can't tell me much yet – not even his character's name – but he does say "there have been videos with me where you see I didn't get the peaky undercut, so you infer I am not one of the gun handling gang members."
That's not the only thing that's been keeping Khan busy, however. He recently began a course in film at Queen Mary University in London, where he's been enjoying remote classes. "As much as it is probably frustrating for others, [online learning] has worked out quite well because I've been on set this past year," he explains, before adding: "but I do feel like I missed out on the whole university experience for sure."
As Khan looks to the future, he speaks of the industry greats he'd love to work with, most notably Austrian director Michael Haneke. When it comes to fellow actors, it's Fiona Shaw who he's enjoyed working with most so far. "[She] is incredibly talented and dedicated to her craft and I learnt a lot from her, not just about acting but about life too," he tells me, speaking about the time they spent together on set for Baptise.
Someone he's not worked with who he looks up to most at present is Robert Pattinson. "I think the calibre of films he has been a part of in the past five years has been really impressive, and he's worked with some really cool directors," Khan says.
With his career going how it currently is, I'm thinking both Pattinson and Haneke may be knocking on Khan's door any day now...
In The Bustle Booth
What's your coffee order?
A cup of tea, I only drink coffee when I need to
What are the saved weather locations on your phone?
London, New York, Paris, Lahore
What's your sign?
Libra
Favourite overused movie quote?
"Are you talking to me?" From Taxi Driver, of of the first films which made me interested in acting and filmmaking. Apparently the line was improvised, which makes it even better!
What was your favourite cartoon as a kid?
Tom & Jerry
What's one movie or TV show you're currently obsessed with?
Currently re-watching all the episodes of Curb Your Enthusiasm
Who is your celeb idol?
Lord Byron
If you had to be on a reality TV show, what would it be?
If I had to pick, Love Island
Go-to karaoke song
Depeche Mode, "Enjoy The Silence"
What's something that's inspiring you lately?
The thought of Summer
What is something you would want people to say about you?
I try not to let what people think or say about me worry me too much. This can be hard sometimes, especially in a time where image is important and social media so prevalent. There is a stoic proverb which says "If you are ever tempted to look for outside approval, realise that you have compromised your integrity. If you need a witness be your own."
Public voting for the EE Rising Star Award is now open at ee.co.uk/BAFTA and the winner will be announced at the EE British Academy Film Awards on Sunday April 11, 2021.