Brendan Fraser Moves Fans With His Emotional Critics' Choice Awards Speech
"I was in the wilderness... but you found me."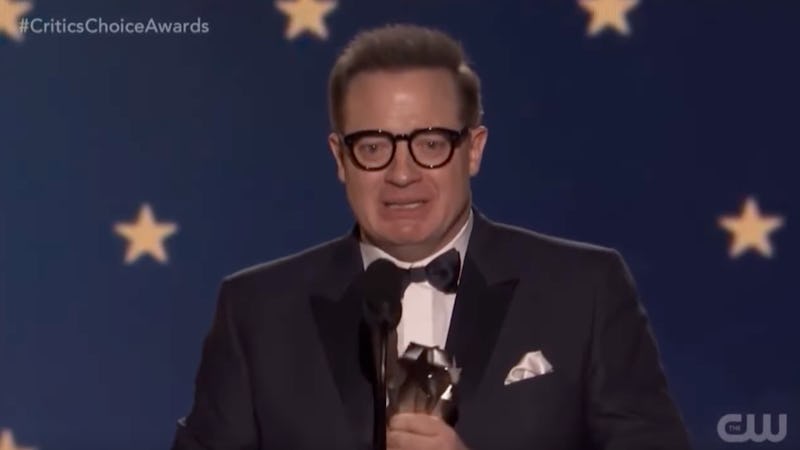 The CW Network
Collecting yet another prestigious gong for his starring role in The Whale, Brendan Fraser was moved to tears as he gave an emotive acceptance speech at the Critics' Choice Awards. The American-Canadian actor has been hotly tipped for several major awards following his leading part in the Darren Aronofsky film, including a decent amount of Oscars buzz. His award for Best Actor at the CAA, meanwhile, marks his first big prize this season after receiving a 6-minute standing ovation at Venice Film Festival.
"This movie, The Whale, is about love. It's about redemption. It's about finding the light in a dark place," Fraser said at the CCA ceremony, visibly emotional as he accepted his trophy for Best Actor. An adaptation of Samuel D. Hunter's 2012 play of the same name, The Whale focuses on college lecturer Charlie, who has become depressed and morbidly obese following the death of his partner Alan, and follows his attempts to reconcile with his estranged daughter in the final days of his own life.
"I was in the wilderness and probably should have left a trail of breadcrumbs," Fraser continued, addressing the film's director Aronofsky. "But you found me, and like all the best directors you merely just showed me where I needed to be."
The actor then addressed viewers who might identify in some way with The Whale's lead character, played by Fraser. "To those like Charlie, who I played in this, if you in any way struggle with obesity, if you find yourself in a very dark sea…I want you to know that it's good to have the strength to just go to the light. Good things will happen."
Known for starring in The Mummy action trilogy and George In The Jungle, and appearing as a guest star on Scrubs, Fraser has been on a kind of Hollywood hiatus for over a decade. In 2018, the actor alleged that he had been sexually assaulted by Philip Berk, the former head of the Hollywood Foreign Press Association, at a lunch in 2003, and later told GQ that he believed he may have been blacklisted following his decision to speak out. "The phone does stop ringing in your career, and you start asking yourself why," he said.
In addition, the actor had to undergo several surgeries for injuries caused by physically demanding stunts earlier in his career, and split from his partner of nine years, actor Afton Smith, in 2007. The Whale meanwhile marks his first major film role in years.