'90s Kids Will Love This Nostalgic New Thriller Series
Your guide to the cast and characters of Freeform's Cruel Summer.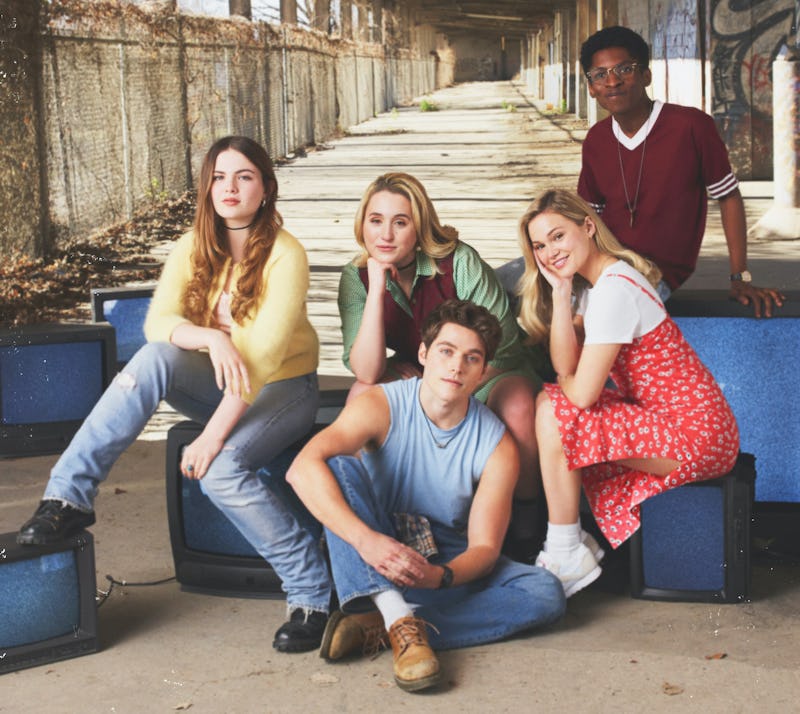 Frank Ockenfels/Freeform
Calling all '90s kids: Freeform's new thriller Cruel Summer is taking viewers back in time. Set between 1993 and 1995, the series follows what happens after popular high schooler Kate Wallis goes missing. When awkward teen Jeanette rises to take her place, she becomes a prime suspect in Kate's disappearance. The series rotates between each girl's perspective, revealing that the truth of what happened isn't as clear-cut as it may appear.
"We looked to women in the '90s who kind of got skewered in the media. We looked to Monica Lewinsky or Lorena Bobbitt… they were pure villains in the media. That's it, one side to the story," showrunner Tia Napolitano told TV Line of their approach to the story. "With Cruel Summer, we get to live with these actual human beings and learn that the reality is much more of a gray area than just a black-and-white hero/villain story."
In addition to drawing inspiration from '90s figures, Napolitano filled the series with throwback songs, technology, and outfits to really set the tone of the decade. She said the lack of things like smart phones helped make things more challenging for the characters. "Maybe if you were really wealthy, you had a car phone. But you can't just whip out your GPS, you can't track someone or text someone or Google anything on the fly. So that made it very compelling as far as a setting for a mystery show," she said.
As the mystery unfolds, these are going to be a number of big players involved beyond Kate and Jeanette. Here's your guide to the Cruel Summer cast and their characters.
Olivia Holt as Kate Wallis
Kate's the one who goes missing at the start of the series, clearing the way for Jeanette to take her spot as Queen Bee. She's played by Olivia Holt, who you may know from Freeform's short-lived Marvel show Cloak & Dagger. Holt also starred in the Disney Channel series Kickin' It.
Chiara Aurelia as Jeanette Turner
Jeanette has always longed for the attention Kate receives, and with her now AWOL, this is Jeanette's chance to shine. She's played by Chiara Aurelia, who previously appeared in Amazon's Tell Me Your Secrets and Netflix's thriller Gerald's Game. It's also not her first time acting in a Freeform teen mystery: she appeared in one episode of Pretty Little Liars.
Froy Gutierrez as Jamie Henson
Jeanette has a crush on Jamie, one of the popular boys in town. He's played by Froy Gutierrez, who you may know from Teen Wolf or One Day at a Time.
Harley Quinn Smith as Mallory Higgins
Jeanette's friend Mallory is similarly quirky, so she feels left out when Jeanette becomes the new talk of the school. Before playing Mallory, Harley Quinn Smith appeared in Once Upon a Time... In Hollywood and Supergirl.
Allius Barnes as Vince Fuller
Vince is Jeanette and Mallory's best friend. He's played by Allius Barnes who's known for Netflix's Unbelievable and Hulu's PEN15.
Nathaniel Ashton as Ben
There aren't yet a lot of details about Nathaniel Ashton's character, but in photos for the series, he seems to be getting along with Jamie. Prior to Cruel Summer, Ashton played a young Ryan Phillippe in the TV series The Price of Fame. He also appeared in Mr. Mercedes and Ashes.
Blake Lee as Martin Harris
Mr. Harris one of the students' teachers, and it sounds like he may get a little too close to them. He's played by Blake Lee, who starred as April's ex-boyfriend Derek in Parks and Recreation.
Michael Landes as Greg Turner
Greg is Jeanette's dad, who's keeping some big secrets of his own. Fans may know actor Michael Landes from his roles as Chadney on The Fresh Prince of Bel-Air or Jimmy Olsen on Lois & Clark: The New Adventures of Superman. More recently, he appeared in the BBC show Silent Witness.
Sarah Drew as Cindy Turner
According to Deadline, Drew plays Jeanette's mom who tries to shield her family from the town's gossip mill. If you've ever watched Grey's Anatomy, you'll recognize Cindy Turner as none other than April Kepner.
Barrett Carnahan as Derek
Derek is Jeanette's protective older brother. Prior to Cruel Summer, Barrett Carnahan had roles in Cobra Kai, Alexa & Katie, and Grown-ish.
Andrea Anders as Joy Wallis
According to Deadline, Andrea Anders appears as Kate's mom Joy, who will do anything to figure out what happened to her daughter. Anders most recently had roles on Ted Lasso and Young Sheldon, but she's also starred in Modern Family, The Stepford Wives, and more.
Benjamin J. Cain Jr. as Rod Wallis
Per Deadline, Benjamin Cain Jr. plays Kate's stepfather Rod who's also a former football player. Cain Jr. has been acting since the '90s, with small roles on dozens of shows like Mixed-ish, Days of Our Lives, Lost, and NCIS.
Brooklyn Sudano as Angela Prescott
As the local bartender, Angela is always willing to listen to her patrons' woes. She's played by Brooklyn Sudano, who's known for her turns on TV shows including Taken and My Wife and Kids.
Nicole Bilderback as Denise
According to Deadline, Denise is Jeanette's attorney. She's played by Nicole Bilderback, who fans may recognize as Janet from The Fresh Prince of Bel-Air or Heather from Dawson's Creek. More recently, she appeared in Brooklyn Nine-Nine as Captain Julie Kim.