Daniel Kaluuya's Mom's Reaction To His Oscars Speech Is Really Something
"It's incredible. My mom and dad — they had sex!" Kaluuya said, marveling at the miracle of human reproduction.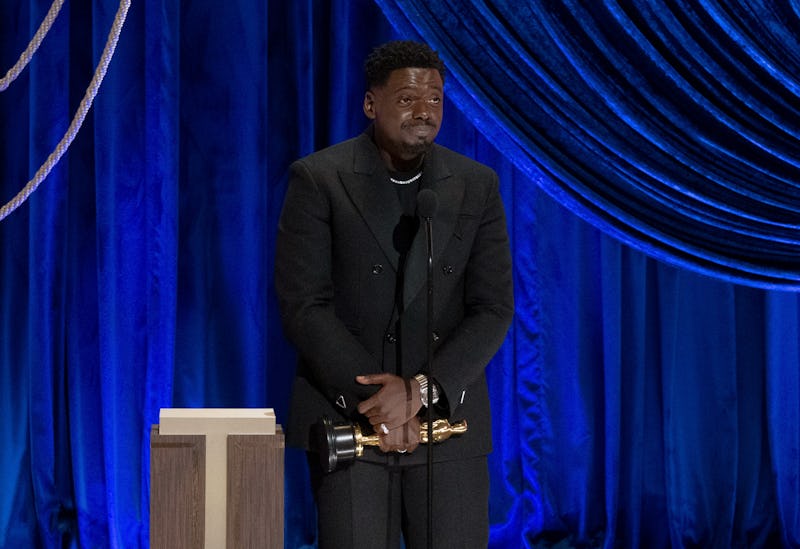 Handout/Getty Images Entertainment/Getty Images
Most people just thank their parents when they win an Oscar. Daniel Kaluuya was a little more specific.
Kaluuya won the Oscar for Best Supporting Actor for his portrayal as Fred Hampton in Judas and the Black Messiah. In his acceptance speech, he said, "It's incredible. My mom and dad — they had sex!" The camera then panned to his mother and sister, who watched the ceremony live from the British Film Institute in London. His sister put her head in her palms, while his mother just looked confused, saying, "What is he talking about?"
That wasn't the only comment geared toward his parents. Others were more sentimental, particularly at the beginning of his speech. "I thank my mom, thank you so much for pouring into me," Kaluuya said. "You gave me everything. You gave me your factory settings so I could stand to my fullest height."
In the press room following his win, Kaluuya was asked about his tongue-in-cheek comment. "I think it's pretty obvious my parents had sex. But here we are" exclaimed Kaluuya. "I probably shouldn't have said that!"
Regardless, Kaluuya thinks his mom will have a laugh.
"I haven't talked to my mom yet. I'm gonna avoid my phone for a bit. But she'll be cool. She has a sense of humor," Kaluuya said.
Other parts of Kaluuya's speech were more earnest. He went on to thank Fred Hampton and other members of the Black Panther Party for showing him "how to love himself."
"To Chairman Fred Hampton. Bro, man, what a man," Kaluuya said. "How blessed we are that we lived in a lifetime where he existed, know what I mean? Thank you for your light. He was on this earth for 21 years ... him, Huey P. Newton, Bobby Seale, the Black Panther Party, they showed me how to love myself. And with that love they overflowed it to the Black community and into other communities."
Twitter also had a field day with Kaluuya's speech.