David Beckham Posted A Shirtless Selfie That Oozes Classic British Dad Vibes
But Victoria's reaction may be the most relatable part.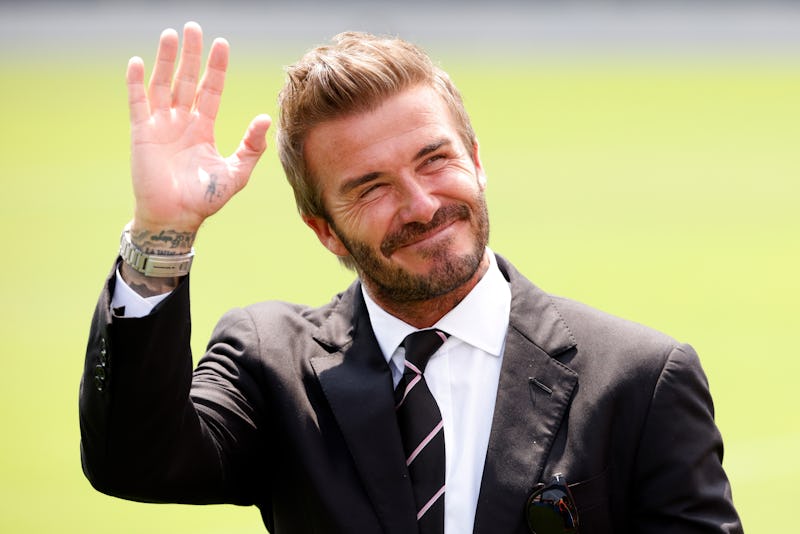 Cliff Hawkins/Getty
What's that old saying? "Sun's out, guns out?" Well, as temperatures continue to surge across the UK this week, it seems David Beckham got the memo and posted a shirtless pic in the heat. And it's quite possibly the most British snap you'll see today...
While the former Manchester United and England star has lived everywhere from LA to Spain, he proved he's still a true Brit when he whipped off his shirt to walk his dogs (which apparently Victoria Beckham finds hilarious).
The Instagram snap has garnered more than 500,000 likes and sees the heavily tattoed 44-year-old wearing shades, jeans, and not much else whilst posing with a cane.
"Yep this is England. It's what we do, comes out we take our shirts off. Even walking the dogs when @victoriabeckham is laughing at me," he posted in the caption.
To be fair, the footballer has a point, as everyone from my neighbour to the postman is sans t-shirt as I type.
Unsurprisingly, the picture has been popular with Beckham's fans, especially fellow Brits who are more than familiar with the shirt-off action.
"There are many examples in London right now," replied one person in the comments.
"Even David is at it!" wrote another fan in the comments.
Of course, the former Calvin Klein model is no stranger to baring his bod for advertising campaigns but he'd probably cause a stir down on the local high street.
Let's just hope he's wearing sunblock...
The football star has been spending a lot of time in the UK recently, posting lots of pics from his Cotswalds mansion this past year.
Back in April, Disney + announced that David Beckham will front Save Our Squad,a new series that will see former Manchester United and England star mentor young footballers.