Will There Be A Dead Ringers Season 2? The Creator Explained The Finale
Here's what to know about the potential future of the show.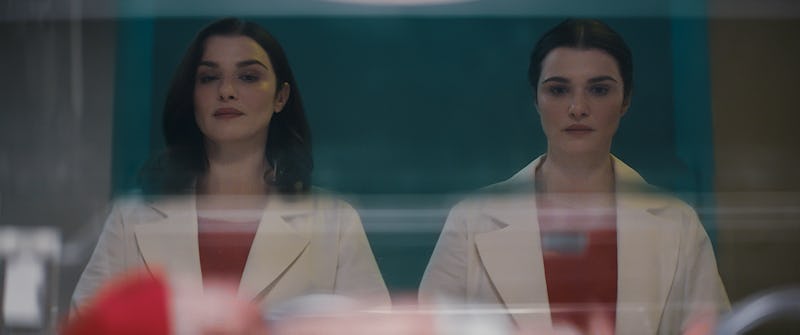 Prime Video
Spoilers ahead for Dead Ringers on Prime Video. If you've just finished watching Dead Ringers on Prime Video, you're probably feeling, well, a lot. In the show, Rachel Weisz plays twins and fellow gynecologists Elliot and Beverly Mantle in a bit of Parent Trap-esque double duty. Of course, that's probably the only thing the two titles have in common, because the new series is based on a David Cronenberg film — guaranteeing a dark, twisty ride driven by body horror.
In the final episode of the season, which dropped in full on April 21, Elliot and Beverly permanently swap places. Beverly suggests Elliot take over her life and parent her twins, and dies in a C-section surgery after her sister performs the same surgical maneuvers on herself to make it look like she's Beverly.
We then see the new "Beverly" living with partner Genevieve and the babies in New York. She's approached by someone in a grief group that the real Beverly used to attend — the stranger thinks she's talking to the real Beverly, of course — and learns that her sister used to talk about Elliot as if she were dead already, hinting that the real Beverly had been in the headspace of a bereaved twin for quite a while.
The concept of "Beverly" secretly living the life of her dead sister is definitely interesting territory. But is it enough for a potential Dead Ringers Season 2?
For now, there aren't any official plans for Dead Ringers to continue. Not that the show has been received anything but warmly — Weisz has garnered rave reviews. As Collider puts it, she deserves two Emmys. However, Dead Ringers has been described as a limited series ever since the project was first announced nearly three years ago. And in recent interviews, creator Alice Birch has described the finale as a conclusion — not a cliffhanger.
"It feels like the ultimate twin swap, the ending," Birch told io9. "It felt like a good thriller ending."
Birch voiced similar sentiments in a recent interview with Games Radar. "The idea for the ending was there from quite early on," she explained. "I was really interested in the ultimate twin swap; that felt like a fun, super thriller-y type ending. We didn't want to just mimic the film, at any point really, but we wanted to borrow from it and be respectful towards it. We're fans and we love it, but we wanted to tell a new story."