Demi Lovato Came Out To Their Family As Non-Binary A Long Time Ago
The pop star hinted that not everyone was accepting of their gender identity.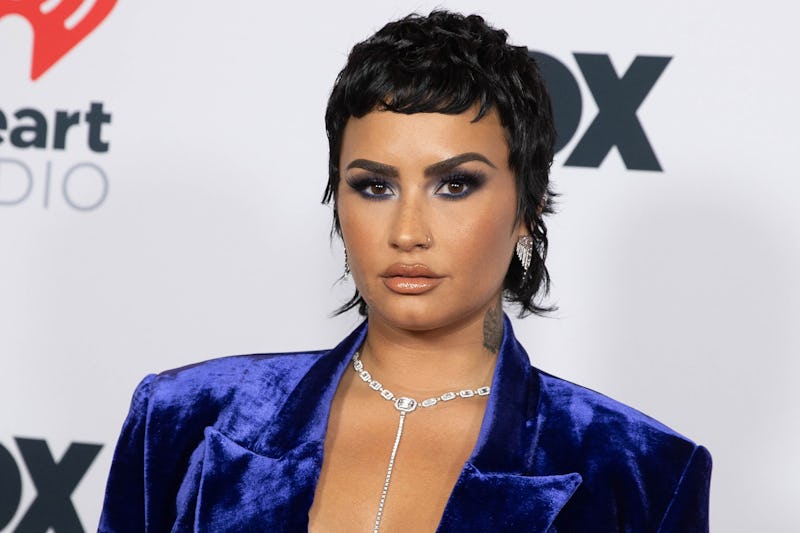 Emma McIntyre/Getty Images Entertainment/Getty Images
Demi Lovato came out to the world as non-binary in May, but the pop star's family has known about their gender identity for much longer. On Friday, June 25, Lovato spoke openly about coming out to their close family and friends in an interview for YouTube Pride 2021. "I actually had come out to loved ones and friends last year, but this year I made it public," they said. "I felt it was really important for me to share that with the world."
The singer made the announcement and shared their new pronouns in an Instagram video on May 19. "Today is a day I'm so happy to share more of my life with you all — I am proud to let you know that I identify as non-binary and will officially be changing my pronouns to they/them moving forward," Lovato captioned the post. "Sharing this with you now opens another level of vulnerability for me. I'm doing this for those out there that haven't been able to share who they truly are with their loved ones."
In their interview with YouTube Pride, the former Disney Channel star said that "holding it in any longer just didn't feel right," especially since their family had known for such a long time. "People have been so... well, most people have been so wonderful, and that's the reality of coming out," Lovato said, hinting that some people they told weren't as accepting. "But I am grateful for the progress that my family members have made in using my pronouns, team members, friends."
Lovato paid homage to their coming out journey by wearing yellow, purple, and black — the colors of the non-binary flag — during their performance of "Cool for the Summer." They also spoke about how happy they are to see how their story has helped others. "I love the conversation that it has begun to spark — I think that's really important," they said. "So, I have officially changed my pronouns to they/them, and I feel better than ever."
Despite being a role model to other LGBTQ+ individuals who are in the process of coming out, Lovato said in May that they are still learning so much about who they are. "I'm still learning and coming into myself, and I don't claim to be an expert or a spokesperson," they said. And on their 4D With Demi Lovato podcast, the singer shared the life events that helped them realize their true identity.
"In 2018, when I overdosed, I feel like the reason why that happened was because I was ignoring my truth, and I was suppressing who I really am in order to please stylists or team members or even fans," they told their friend Alok Vaid-Menon. They also explained that coming out as non-binary was only the first step of living their truth. "For the first time in my life, I'm putting my wellbeing before my career," they added.
Lovato has been a vocal advocate for LGBTQ+ rights throughout their career. In March 2021, they came out as pansexual on the Joe Rogan Podcast. "I heard someone call the LGBTQIA+ community the alphabet mafia," they recalled. "I'm part of the alphabet mafia and proud."