Demi Lovato Has Some Regrets About That Bigg Chill Yogurt Shop Controversy
"I'm still learning as well as the rest of the world."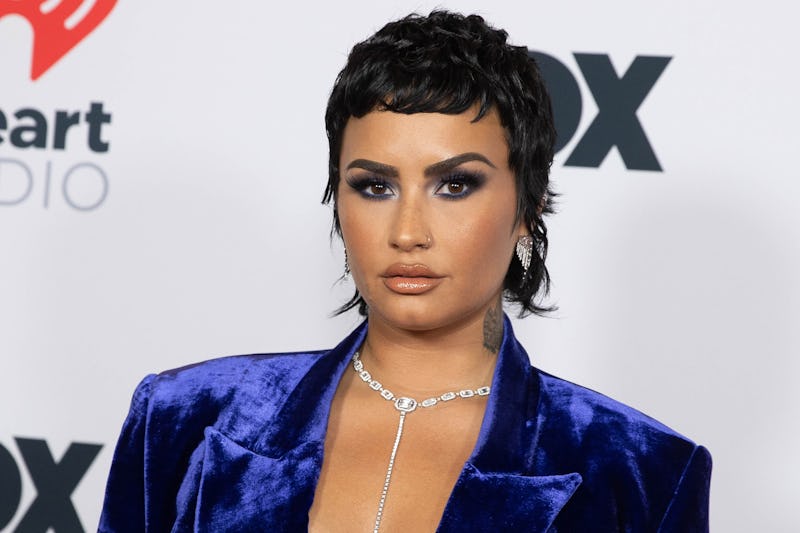 Emma McIntyre/Getty Images Entertainment/Getty Images
Demi Lovato has some regrets about the frozen yogurt shop controversy that made headlines in April. During an "Audacy Check In" interview on Facebook Live on June 17, the "Dancing With the Devil" singer admitted that they could've been more clear when they slammed The Bigg Chill on social media for its wide variety of diet-friendly options. At the time, Lovato claimed to have had a very "triggering" experience at the shop and accused the Los Angeles-based small business of being "diet culture vultures."
"Every time I've made a statement over Instagram or Twitter, I felt like it's gotten lost in translation a little bit," the former Disney Channel star said without directly mentioning the froyo shop at all. "It was me talking about something I was very passionate about pertaining to the diet culture, and I realized that because I was so passionate … I let my emotions get the best of me and it didn't allow me to explain where I was coming from as easily as it would have been on a podcast."
In May, the pop star debuted 4D With Demi Lovato, a brand new podcast for the singer to say "what's on my heart and in my mind." And while Lovato didn't specifically mention if the podcast was born out of the Bigg Chill controversy, they made it clear that it would be how they would be addressing the things that bother them in the future. "I just thought going forward, I want to have conversations where people can see my face, they can hear my voice and they can see that I'm still learning as well as the rest of the world."
It's probably for the best. Two months ago, Lovato came under fire on social media for blasting the shop to their 107 million Instagram followers — especially during a pandemic when many businesses are struggling to stay afloat. "Finding it extremely hard to order froyo from @thebiggchillofficial when you have to walk past tons of sugar free cookies/other diet foods before you get to the counter. Do better please," the "Anyone" singer wrote before adding "#dietculturevultures" to further drive home their message.
The Bigg Chill was quick to respond to Lovato's allegations and explained that they carry many different options to cater to many people's dietary restrictions. "We are not diet vultures," they wrote. "We cater to all of our customers needs for the past 36 years. We are sorry you found this offensive." The company added that they carry "items for Diabetics, Celiac disease, Vegan and of course have many indulgent items as well."
After a lot of back and forth, Lovato felt they could get their message across better on Instagram Live, where they suggested that the frozen yogurt shop relabels its various items with clearer messaging. "Maybe it would help if you made it more clear that the sugar free options and vegan options are for that," they said. "Labeling the snacks for celiac or diabetes or vegans. When it's not super clear, the messaging gets confusing and being in L.A. it's really hard to distinguish diet culture vs health needs."
Elsewhere in the Live, Lovato clarified that their intention was not to "come in and bully a small business." Rather, the artist has an extensive history of disordered eating and wanted to help make other customers' visits to the establishment less triggering. "I walked into a situation that didn't sit right with me, my intuition said speak up about this, so I did and I feel good about that," they said before making the point that unfortunately got lost. "People with eating disorders should be able to go in and feel safe wherever they go to eat — that's all I'm asking."
In hindsight, the "OK Not to Be OK" singer said on the Facebook Live that they know where they went wrong and that they are by "no means an expert on many things." However, that doesn't mean the pop icon doesn't feel a certain responsibility when it comes to shedding light on different issues. "I'm willing to learn about it and I'm willing to continue to have conversations that either educate me or others on how to make this world a better place," they said. In other words, if you're looking for Lovato's hottest takes, tune into their podcast STAT.