Demi Lovato's Impressive Tiny Desk Concert Includes An Update On Her New Squirrels
"I just wanted to let you know that was on my mind."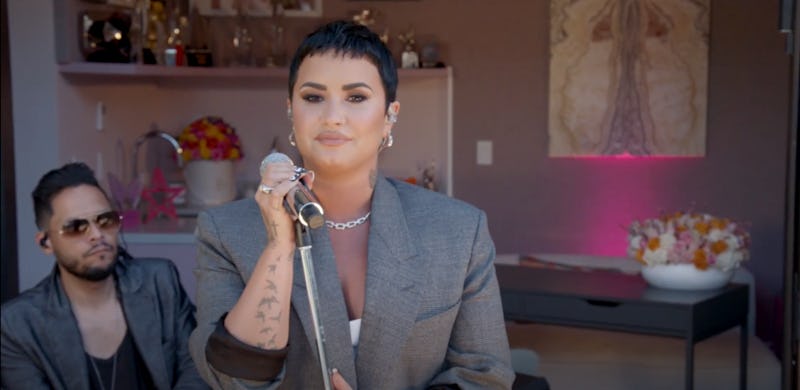 YouTube / NPR
Fans have never heard Demi Lovato's hits like this before. Lovato gave a Tiny Desk Concert (safely from home), which NPR posted on Wednesday, April 14. And like with most Tiny Desk concerts, someone should really make the singer's new renditions available for streaming.
Accompanied by only her keyboardist, Lovato kicked off her set with a stripped-back rendition of her 2017 hit "Tell Me You Love Me," performing it for the first time since her world tour of the same name, right before her near-fatal overdose. She went on to perform the two tracks that comprise the title of her new album, Dancing With the Devil... The Art of Starting Over, belting out both with confidence and giving vocal runs for days.
Lovato shared the performance on Twitter, teasing, "#TinyDesk live from my backyard with my squirrels." While viewers sadly didn't get a cameo from the squirrels (you can see them in the tweet at the bottom of this story instead), she did give an update on how they're doing between songs. "My squirrels are out here, you can't see, but I have now taught them how to eat from my hand, and that's a big accomplishment," she said. "So I just wanted to let you know that was on my mind."
"Dancing With the Devil" was inspired directly by the relapse after six years of sobriety that led up to Lovato's overdose, as she sings about going from "a little red wine" to a "little white wine," and eventually, a full-on glass pipe. "That could trigger somebody in their addiction," she told Entertainment Weekly about the song in March. "Sometimes being descriptive can be triggering, but that's the sad, sad truth of how dark it can get. That's important to give people, too."
"The Art of Starting Over," however, is the flip-side of that journey, as she sings about navigating her new beginnings and finding happiness within herself. "She is — I'm cautious to use the word happy, because no one's ever happy 24/7, but I'm content," she told EW about her state of mind today. "I do have a lot of joy in my life today that has really come from spending so much time with myself." From her intimate Tiny Desk show, that's very evident.