Do Alina & Mal End Up Together In The Shadow And Bone Books?
Darklina fans may be disappointed.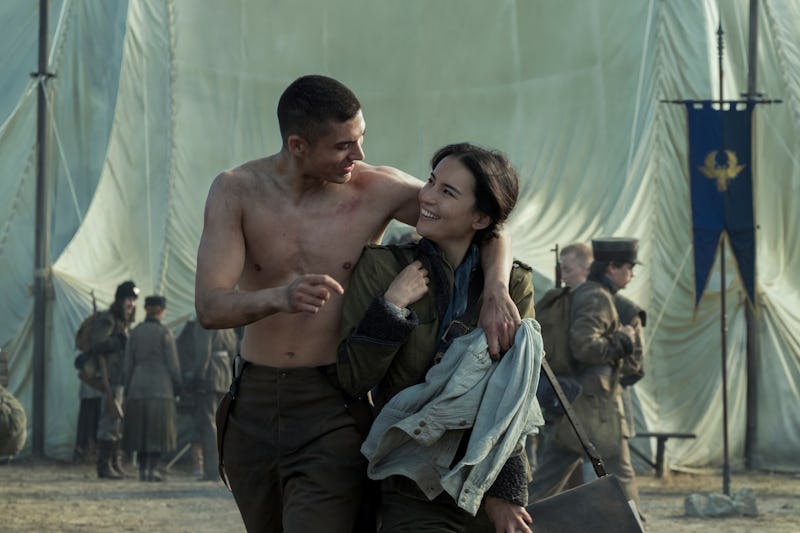 Netflix
The Hunger Games. An Ember in the Ashes. The Beautiful. It's no secret that a whole boatload of YA fantasy novels have a female protagonist caught between two equally attractive young men, and Leigh Bardugo's Shadow and Bone is no exception. And now that Bardugo's Grishaverse novels have been adapted into a Netflix original series, a new contingent of fans are finding themselves between Alina's two love interests. If you're wondering whether Mal and Alina end up together, curious if she spurns her childhood friend for the Darkling — looking at you, Reylo shippers — or trying to figure out who the heck Nikolai (Alina's third prospect) is, we've got the answers you're looking for here. Major spoilers for Leigh Bardugo's Shadow and Bone trilogy follow.
The Shadow and Bone trilogy — the first installments in Bardugo's Grishaverse — center on Alina Starkov: a 17-year-old girl who finds herself whisked away to her country's royal court after learning that she has unique magical powers. Her talents as a Sun Summoner are discovered when she crosses the Shadow Fold, and — to save her best friend, Mal, from certain death — unleashes a blast of light that kills their monstrous attackers.
Over the course of Shadow and Bone and its sequels, Siege and Storm and Ruin and Rising, Alina forms romantic attachments with Mal and two other men: the Darkling and Nikolai. Keep reading to find out more about them, their relationships with Alina, and which one she chooses in the end.
Who Is Mal?
Born in the same village as Alina and raised alongside her at the orphanage in Keramzin, Malyen Oretsev is the Sun Summoner's only childhood friend. They join Ravka's First Army together — he as a tracker, and she as a cartographer — but are separated soon after, when her Sun Summoner powers are revealed.
Alina's carted off to the Little Palace to live with the other Grisha, but Mal is never very far behind. The Grisha who heads up Ravka's Second Army, a man known as the Darkling, wants the First Army's best trackers to hunt down a legendary creature known as Morozova's Stag, whose antlers he plans to use to amplify Alina's powers. Mal ships out to Fjerda to hunt it down.
After his mission is compromised, resulting in the deaths of his two friends and teammates, Mal reunites with Alina in the capital. Although he already knows how he feels about her, Mal can't help but be hurt that Alina hasn't written to him in all the time they've been apart. He leaves angry and alone — but when Mal later learns that Alina has fled the Little Palace, he wastes no time in making his way back to her.
Together in the wilderness, Mal and Alina's relationship deepens. Their happiness is not to last, however.
Kidnapped by the Darkling once they find the Stag, Mal and Alina are taken back to the Shadow Fold, where the Darkling plans to use Alina's powers to eliminate the volcra (the monsters that inhabit the Fold). He almost succeeds, but Alina reacts to the threat on Mal's life, wresting control of her powers back from the Darkling — and leaving him to reckon with the volcra on his own.
As Shadow and Bone draws to a close, Mal and Alina board a ship across the western sea, leaving Ravka far behind.
Who Is The Darkling?
Alina's journey to the Little Palace puts her in close proximity to the Darkling, who, at first glance, appears to be her natural counterpart. As a Sun Summoner and a Shadow Summoner, respectively, Alina and the Darkling are the only Grisha of their kind, and they bond over their shared mission to destroy the Shadow Fold.
The Fold has been a major feature of Ravkan geography for the last 400 years, ever since the Black Heretic opened it. As the great-great-great-grandson of that powerful Grisha, the Darkling tells Alina it's his duty to find a way to destroy the Fold. With her Sun Summoner powers, which can kill the bloodthirsty volcra who live there, the Darkling's mission can finally be realized.
Unfortunately, everything Alina knows of the Darkling's plans is a lie. He's actually the Black Heretic himself, and has been alive for hundreds of years. Although he does need her to kill the volcra, he doesn't intend to destroy the Shadow Fold: instead, he wants to use the Fold to take control of Ravka, and the volcra are the only thing standing in his way.
Although Alina and Mal left the Darkling to die when they fled the country, their efforts to kill him were in vain. In the early chapters of Siege and Storm, he tracks them across the sea and kidnaps them yet again, this time forcing them to join his search for another amplifier.
Who Is Nikolai?
The Darkling doesn't anticipate an act of betrayal from the captain of their ship, Sturmhond, who forbids him to torture Alina. When they meet another ship crewed by Grisha, Alina, Mal, Sturmhond, and his crew change vessels, again abandoning the Darkling.
When they reach West Ravka, Sturmhond reveals himself to be Nikolai Lantsov: the second son of the Alexander III, the King of Ravka. His plan to save their country from the Darkling involves putting Alina in charge of both armies... and making her his queen. She declines the proposal, but agrees to take over the Darkling's role as the leader of the Second Army.
Working together to keep Ravka safe, Alina and Nikolai grow closer. Mal's jealousy and feelings of inferiority cause his relationship with Alina to suffer, and he becomes more and more convinced that she'll choose to marry the Ravkan prince.
Alina's choice between them will have to wait, however. Nikolai's older brother, Vasily, isn't particularly savvy, and bad call on his part gives the Darkling the opportunity to infiltrate Ravka. And infiltrate he does.
Vasily dies in the Darkling's attack, making Nikolai their father's heir. As Siege and Storm draws to a close, the prince escapes aboard a ship with his parents. In doing so, however, he's separated from Alina, who is ushered to an underground safehouse by a group of cultists who worship her as a saint.
Do Mal & Alina End Up Together?
So that's the real $64,000 question, right?
Both of Alina's less-villainous paramours are present for her final confrontation with the Darkling — though by this point, the Darkling has turned Nikolai into a volcra-like creature. Meanwhile, Mal has learned that he's related to the Darkling, however distantly, and that makes him an amplifier.
In a last-ditch effort to destroy the Black Heretic, Nikolai leads a flock of volcra to assault the Darkling, which buys Alina enough time for her Hail Mary. She kills Mal and her amplified powers pass to members of her personal army, turning them all into Sun Summoners. When she finally kills the Darkling, Alina ends his spell on Nikolai, who becomes human once more, and leaves for the capital to claim his rightful place on the Ravkan throne.
Alina's lost her Sun Summoner abilities, so she remains behind with Mal, who's revived after the revelation that he has the chance to live twice — once as an amplifier, and once as an ordinary man. With few people in Ravka aware of their fate, Mal and Alina head back to Keramzin, where they reopen the orphanage in which they grew up, and settle down for a new, uneventful life as husband and wife.
Shadow and Bone is streaming now on Netflix.