All The Clues Zack & Bliss Get Engaged On Love Is Blind Season 4
"I made the wrong choice, and now I'm going to propose to another woman."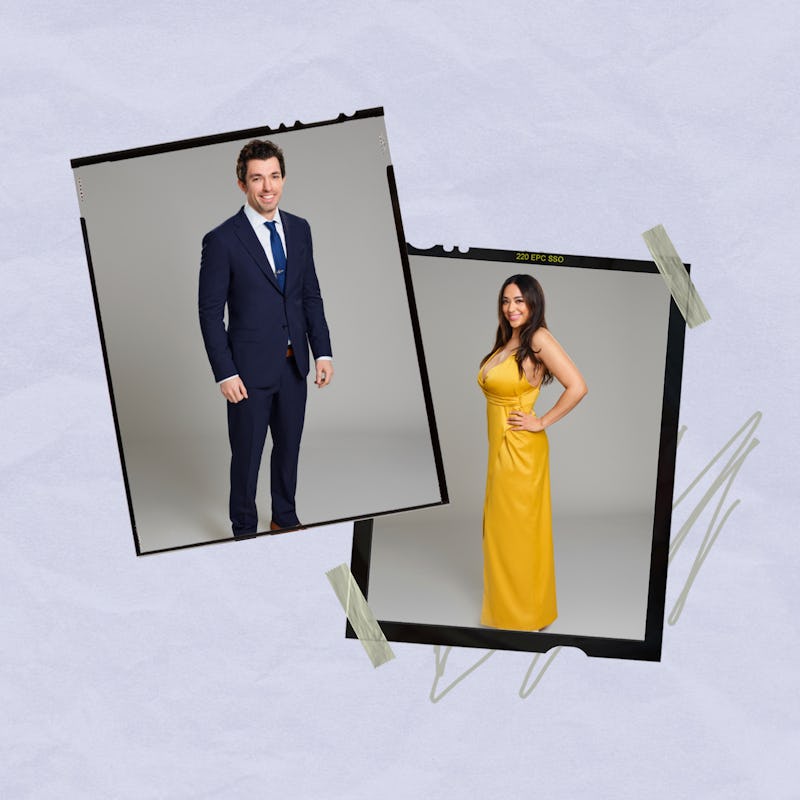 Netflix
During his time in the Love Is Blind Season 4 pods, Zack Goytowski was torn between two women: Irina Solomonova and Bliss Poureetezadi. Aware that the two women were butting heads in their separate living quarters, the 31-year-old criminal defense attorney followed his heart and chose Irina. When the engaged pair met face-to-face for the first time, however, it seemed that love might not have been so blind for Irina, who didn't exactly hide her lack of attraction to her fiancé. So, by the time Zack and Irina arrived in Mexico, the honeymoon phase was already over before it even began.
After reuniting with the other couples in Mexico, Irina flirted with another connection, Paul Peden, who was already engaged to her friend, Micah Lussier. By the end of the trip, the 26-year-old event planning business owner told Zack they should sit separately on their flight back home to Seattle. "Yeah, I think we're on the same page. I think we should call it. I don't think it's gonna work out," Zack replied, adding that their time together in Mexico had been "absolutely horrible."
Irina, for her part, admitted that she'd been "a complete jerk" to him and wanted to break up the moment she saw him for the first time. "I'm literally treating you so poorly," she said, recapping how she wouldn't even look at or touch him. "I hope you get a chance to see [Bliss] when you go back to Seattle. . . . Just because it didn't work out with me, like, maybe she was the one. Like maybe you did get the wrong choice."
Zack didn't exactly disagree and confessed that he'd been thinking about Bliss while he and Irina were together. Once back in Seattle, he arranged to meet Bliss, a 33-year-old senior program manager, at a Seattle restaurant. In the final moments of Season 4's first batch of five episodes, Zack told Bliss, "I made the wrong choice. You know I did, and I do, too," before the screen faded to black.
Though viewers will have to wait to see how that conversation plays out, the Season 4 trailer hinted that Zack and Bliss might get engaged. "I made the wrong choice, and now I'm going to propose to another woman," he can be heard saying in voiceover. Another clip shows what appears to be Zack and Bliss from behind on the deck of a boat. That doesn't necessarily mean everything will be smooth sailing, though. "I don't want to be in a marriage where your parents hate me," Zack told a group of guy friends in another preview clip, cryptically adding, "You know, Romeo and Juliet didn't work for a reason."
Given that you can see mens' garment bags on a rack in the background as the group sat around a poker table, it seems that this could have been a pre-wedding conversation. Even if Zack and Bliss get engaged and make it to the altar, however, there's still no guarantee that either will actually say, "I do." Still, Zack has no regrets about his split from Irina. "I'm proud of the way I handled the situation in Mexico," he tells Bustle. "It might not have been the way I wanted to handle things in Mexico… I think there was probably more that I would have wanted to have said, but I'm glad that I didn't."
On Instagram, Zack hasn't offered many clues about his current relationship status, though he's had plenty of compliments for his male co-stars. "I feel incredibly honored to have heard so many of their stories. Stories of men who faced seemingly insurmountable challenges such as poverty, illness, discrimination, and loss of loved ones, yet overcame them to become the successful men they are today," he captioned a March 8 post, in part. "The type of men who will make you believe that love really can be blind! This season will be unlike anything that has come before it."
Bliss, for her part, has also looked back fondly on her time filming the Netflix series. "Being a part of this experiment was truly one of the most amazing experiences!" she captioned a March 10 Instagram post, adding, days later, that she was "so excited to represent all [her] ethnicities," describing herself as a "Persian, Black, White, Mexican American."
Though she missed the opportunity to travel to Mexico with the Love Is Blind cast, Bliss vacationed in Cabo San Lucas in February 2023. Only time will tell, however, if Zack joined her on the trip.