Meredith's COVID Battle On Grey's Anatomy Could Take Another Bad Turn
"Just because she's waking up does not mean she's completely out of the woods."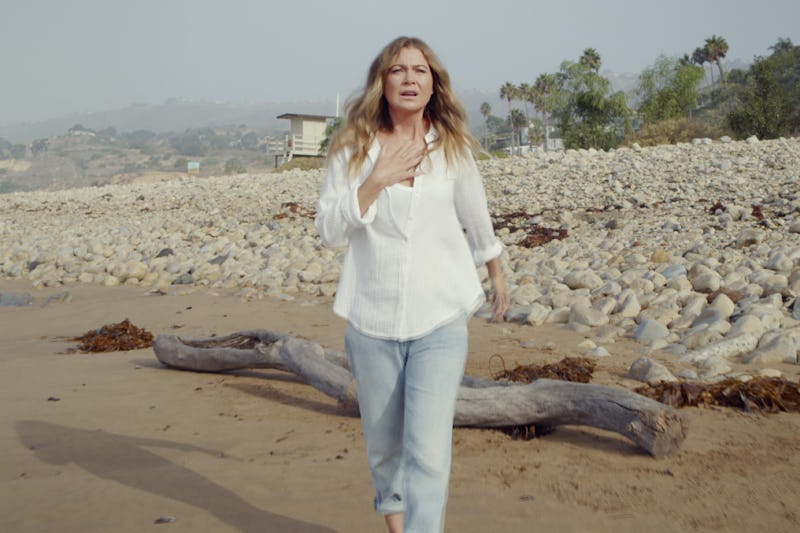 ABC
Ever since she was diagnosed with COVID-19, fans have been worried that Meredith will die in Grey's Anatomy Season 17. The virus can be deadly even for seemingly healthy people, and Meredith was on a steep decline for a while, even having to be put on a ventilator. But in the April 1 episode, she was taken off the ventilator and began breathing on her own. And the promo for the April 8 episode shows that she finally opens her eyes after being unconscious for so long.
"She's really starting to come out [of it], have consciousness, conversations, be sort of cognizant again," Giacomo Gianniotti, who directed the April 8 episode, told TV Insider. However, he warned that Meredith waking up doesn't mean she'll immediately bounce back. "It's also touch-and-go [with] COVID: You can have an amazing day and then you can have a horrible day. So just because she's waking up does not mean she's completely out of the woods."
Indeed, Meredith's road to recovery is only beginning. She was unconscious and confined to a bed for a long time; just because she's breathing and opening her eyes doesn't mean she'll be stepping into the OR any time soon. We'll likely see her return home to continue her recovery in the next few episodes. Meredith may also suffer from long haul COVID symptoms and find herself dealing with continued brain fog, fatigue, and other issues that could keep her from getting back to work.
This mirrors the real struggles of millions of people over the last year, and making it part of Meredith's storyline — particularly as one of Grey's most important characters — was a very intentional choice. "Health care workers are on the front lines of this crisis, living through a war for which they were not trained," showrunner Krista Vernoff told The Hollywood Reporter in November 2020. "We saw an opportunity to dramatize and illuminate their plight through the incredibly well loved and well-known character of Meredith Grey."
Vernoff added that Meredith would go through a "fight," as so many real coronavirus patients have had to do. Now, it seems like Meredith is finally winning that battle. Seeing her get better echoes the hope we feel in real life as vaccines are finally becoming more widely available to help stop the spread.
That's not to say the show won't kill Meredith off later in another way: the series has yet to be renewed for Season 18, and there's been speculation that this could be its final run. But COVID may not be the thing that does her in. For now, it's looking like Meredith will be able to add beating COVID to the list of things she's dealt with on the show — including surviving drowning, a bombing, a hospital shooting, and a plane crash. What's one more near death experience for her?
This article was originally published on