The Heartbreaking Reason The Queen Gave Up Breeding Corgis
Her Majesty has been a fan of the breed since she was a child.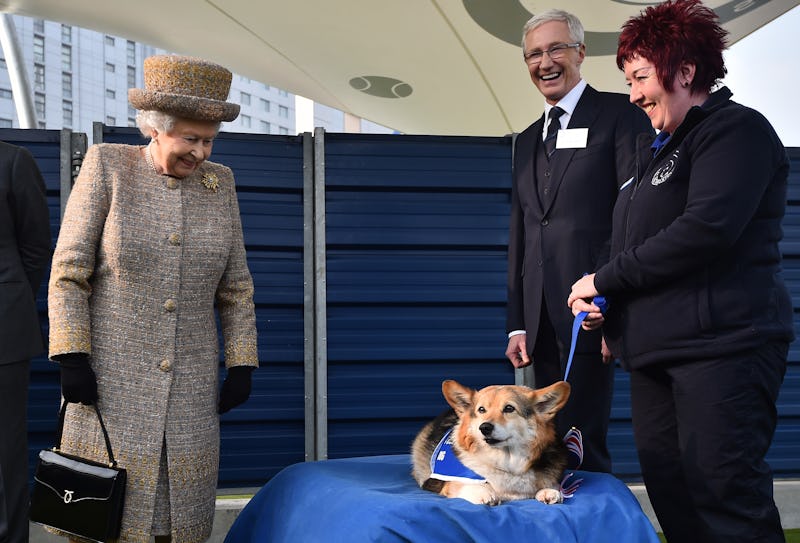 WPA Pool/Getty Images Entertainment/Getty Images
If you're familiar with Queen Elizabeth II, then it's likely you're also familiar with her corgis. The famous — and sometimes infamous — breed has been by the Queen's side since she was just a girl. The Platinum Jubilee is fast approaching and during her 70-year reign, she's owned a reported 30 corgis. All of the pups have descended from Susan, the corgi that King George VI gifted her for her 18th birthday. But does the Queen still own corgis now? And if so, how many?
In 2003, shortly after the death of the Queen Mother, her majesty stopped breeding her own corgis. According to Marie Claire Australia reports, this is because she didn't want to leave any behind when she died, but also because the young and boisterous dogs can prove to be a trip hazard, per The Sun. The last two remaining relatives of Susan — Holly and Willow — died in 2016 and 2018, respectively. Living an admirable 15 years, they even made the front cover of Vanity Fair in their lifetimes. The cover shoot was a celebration of the Queen's 90th birthday, and photographer Annie Leibovitz took the shots. In an interview with Time magazine, Leibovitz said of the images:
"She [Queen Elizabeth] wanted to be photographed with her grandchildren and great-grandchildren; her husband, Prince Philip, the Duke of Edinburgh; her daughter, Anne, the Princess Royal; and her corgis."
In 2021, Prince Andrew, Duke of York, gifted his mother a corgi puppy, Hello magazine reports. This wasn't just another lockdown puppy though. The new dog arrived when Prince Philip was in hospital. Prince Andrew then sent a second corgi puppy following the tragic death of the Queen's husband of 73 years. The dogs, Muick and Sandy, have been keeping the Queen company ever since. She also currently has a "dorgi" called Candy. A dorgi is a breed that the Queen bred herself, per People magazine, and is a cross between a daschund and a corgi. She previously had a dorgi named Vulcan who passed away in 2020 and one named Fergus who died in 2021.