A Royal EastEnders Cameo & All The Other Platinum Jubilee Telly To Have On Your Radar
Here's your breakdown of the broadcasting action.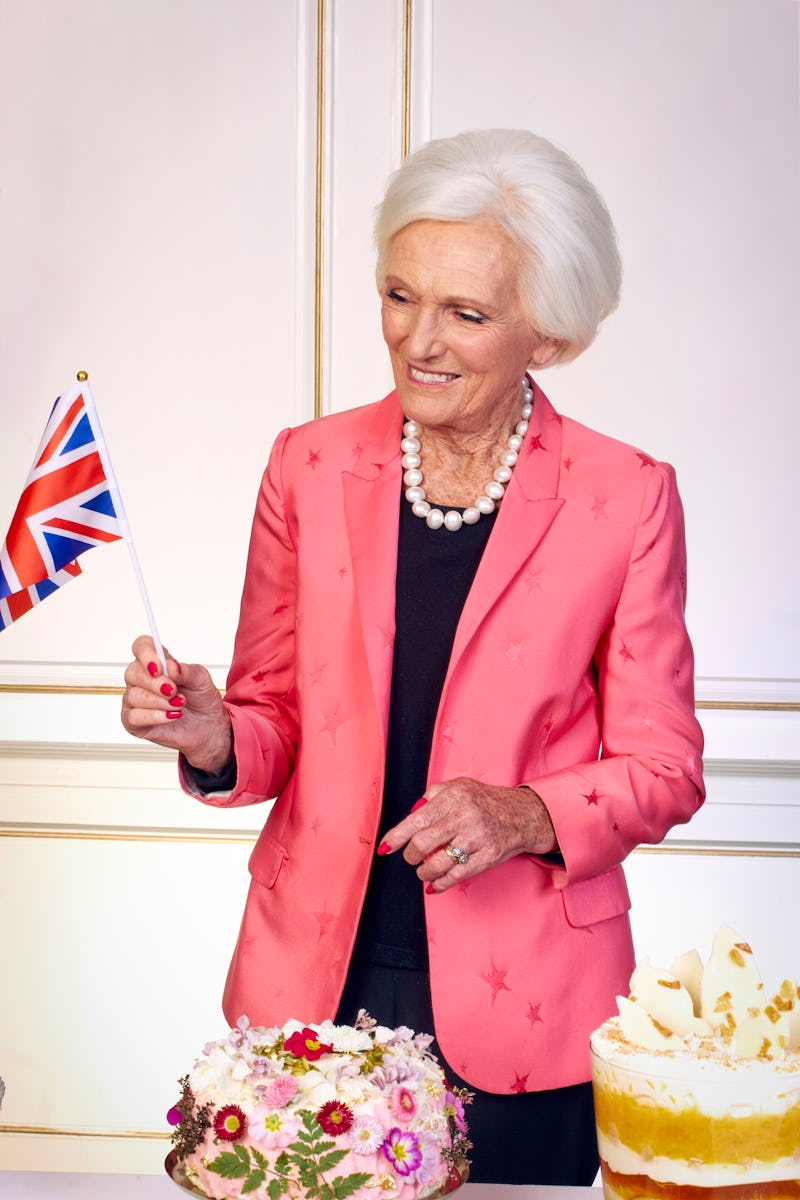 BBC/Sidney Street Productions/Nicky Johnston
With the wait almost over and the long bank holiday now upon us, now is the time to plan your Platinum Jubilee TV and radio plans. Back on the BBC for the first time in four years, Kirsty Young will present across the BBC's main coverage of the celebrations. Meanwhile, Royal Correspondent Rhiannon Mills will be at the helm of Sky News' coverage. She'll be joined by "royal insiders" from June 2 to June 5. The Sky News website and app will go interactive for Jubilee celebrations, too. You can find out what The Queen was up to the year you were born and find local street parties using the Sky postcode checker.
So, here's everything on offer from the BBC in celebration of the Queen's 70-year reign, plus highlights from Sky.
June 2
Trooping the Colour: The Queen's Birthday Parade, BBC One
Starting at 11 a.m. on June 2, the Trooping of the Colour seeds the 1st Battalion, Irish guards, and more than 1,200 officers and soldiers from the Household Division hold a military pageantry display on Horse Guards Parade before parading towards by Buckingham Palace. They'll be joined by hundreds of army musicians and roughly 200 horses.
EastEnders, BBC One
The Albert Square locals will gather at the Queen Victoria pub for celebrations in an EastEnders special on June 2. Mick Carter and Linda Carter plan a celebratory street party to honour the Queen's 70 year reign and it looks like they might have a couple of unexpected guests. As the Guardian reports, Prince Charles and Camilla, Duchess of Cornwall will guest star in the EastEnders Jubilee special.
June 3
A Service Of Thanksgiving, BBC One
Attended by royal family members, The Platinum Jubilee: A Service of Thanksgiving will air live on Friday, June 3 from 9.15 a.m. The broadcast of the service will be hosted by David Dimbleby, Kirsty Young, and Sophie Raworth from St Paul's Cathedral in London. The synopsis explains the special service will acknowledge the Queen's "dedicated service as monarch in the presence of senior members of the royal family."
It adds, "From the BBC's platinum jubilee studio at St James's Park, Kirsty Young will be joined by special guests who share their experiences of spending time with the Queen and reflect on how important her faith has been through the years."
Platinum Jubilee All Day PopMaster, BBC Radio 2
Radio 2's Ken Bruce will host an all-day PopMaster special show from 7.30 a.m. to 5.30 p.m. This special will see a handful of platinum-selling artists go head-to-head against members of the public to be crowned PopMaster champion.
BBC National Orchestra Of Wales, BBC Radio 3
You can also tune in live to the BBC National Orchestra Of Wales on Radio 3. The orchestra will be led by conductor Ryan Bancroft and play in St David's Cathedral, Pembrokeshire. The show will feature "Britten's Courtly Dances from Gloriana; Beethoven's Concerto No. 3 in C minor for Piano and Orchestra, with soloist Stewart Goodyear; Schumann's Symphony No. 1 in B flat major, op. 38 (Spring); and the world premiere of Alex Mills' Landsker."
The Crown Jewels, BBC One
Clive Myrie has been given special access to the crown jewels, which have played an integral role in the coronation of monarchs for centuries. Myrie travels across the whole of the UK in this documentary to uncover the stories behind these iconic jewels, stretching all the way back to the coronation of William the Conqueror in 1066. The Crown Jewels will air on Friday, June 3, at 7.30 p.m.
June 4
Platinum Party At The Palace & Backstage With Zoe
Airing on BBC iPlayer, BBC Network, and BBC One, Capital FM's Ronan Kemp will head live coverage of the Platinum Party At The Palace, alongside Kirsty Young, on Saturday, June 4. Over on Radio 2, Zoe Ball will take on all the BTS party, from 6 p.m to 8 p.m — live from Buckingham Palace. George Ezra is set to perform as part of the Queen's Plantinum Jubilee Concert line-up, too.
The Day I Met The Queen & The Queen: 70 Glorious Years
Winifred Robinson will lead News: The Day I Met The Queen on Saturday, June 4, and Julie Walters hears from British icons about the changes they've lived through over the past seven decades for The Queen: 70 Glorious Years. The latter is available to watch on BBC iPlayer now, with David Attenborough, Paul McCartney, Lulu, Trevor McDonald, Joan Bakewell, Brian Blessed, Cameron Mackintosh, Alan Bennett, Len Goodman, Floella Benjamin, Twiggy, Cliff Richard, Boy George, Alesha Dixon, Nina Wadia and Sue Johnston all making appearances.
June 5
Songs Of Praise & BBC Orchestra
A Jubilee special of Songs Of Praise will air. "As the Thames Pageant prepares to head for Greenwich, Aled Jones introduces hymns from the beautiful Old Royal Naval College Chapel, operatic quartet Amore and Laura Wright," teases the BBC. Wright will perform a Commonwealth song titled 'Stronger As One'.
Elsewhere, Radio 2 will be covering the street party action and will also be airing a Carly Paoli BBC Orchestra recording at 7 p.m.
Playing The Queen & BBC 1Xtra's Queen's Day
Actors who've played the Queen appear in a Radio 2 feature, including Helen Mirren (The Queen), Claire Foy and Olivia Colman (both The Crown). Meanwhile, BBC Sounds will speak to platinum-selling British stars. BBC 1Xtra's Queen's Day will only platform music by women, while Radio 1, Asian Network, and CBBC will air royal and Jubilee-themed content including collabs and guest hosts.
June 6
The One Show
And in case you miss out on any Jubilee-themed content, the One Show has you covered with a special show on Monday, June 6, dedicated to having a final look back at the best Jubilee highlights on the BBC.
Sky
June 2
Trooping the Colour: The Queen's Birthday Parade, Multiple Sky channels
Sarah-Jane Mee will present coverage of the event, across Sky's channels from 10 a.m. to 1 p.m.
Jubilee Breakfast
Sky's Kay Burley will present live from outside Buckingham Palace "as events to mark Her Majesty The Queen's Platinum Jubilee get underway", from June 2, 7am-10am. On June 3, the Jubilee Breakfast and Service of Thanksgiving with Kay Burley special will air at St Paul's Cathedral, from 7 a.m. — 1 p.m. On June 4, Kamali Melbourne will present Jubilee Breakfast outside Buckingham Palace, as third-day celebrations go ahead, from 6 a.m. to 10 a.m. On June 5, Sophy Ridge will host the show, live from Buckingham Palace again, 6 a.m. to 10 p.m. She'll look ahead to that day's Jubilee pageant and other celebratory events.
The Jubilee Beacon Show
Sky's Gillian Joseph will bring us coverage live from Buckingham Palace, "as more than 2,000 beacons are lit around the United Kingdom and Commonwealth to mark 70 years of Her Majesty The Queen's reign" — on June 2 from 9 p.m. to 10 p.m. The last time these beacons were lit was at the Queen's 90th birthday in 2016. Per the Evening Standard, they were also lit in 1977, 2002 and 2012 as part of the Queen's Silver, Golden and Diamond Jubilee celebrations. In 1897, they were also lit for Queen Victoria's Diamond Jubilee.
The Platinum Jubilee Flypast
Over on Sky, Dame Joanna Lumley will feature as a special guest for the iconic balcony flypast at Trooping the Colour, on June 2. The Platinum Jubilee flypast includes Royal Navy, army and Royal Air Force aircrafts, who will be part of the showcase for around six minutes. Meanwhile, the Queen will watch the action as it happens from the Buckingham Palace balcony, per Sky News.
The Jubilee Big Lunch
Over on Sky, Dame Joanna will once again join Sky's coverage, as a guest of Kay Burley and Sky royal commentator Alastair Bruce from 11 a.m. to 1 p.m., on June 5. As for what else to expect, a Sky synopsis reads: "With decades of knowledge and close connections to the Royal Family, the group will provide entertaining insights and reflective commentary on The Queen's reign, with Sky News correspondents reporting live from street parties up and down the country for  The Jubilee Big Lunch."
June 5
The Platinum Pageant
Bringing together performers, dancers, musicians, as well as key workers and volunteers, The Pageant will tell the story of the Queen over the last 70 years, both here in the UK and across the Commonwealth. The show will be presented by Kirsty Young, Clare Balding, AJ Odudu, Anita Rani, Sophie Morgan, and Anton Du Beke, and will air on Sunday, June 5, on BBC One, iPlayer and other BBC channels.
On Sky, from 2 p.m. to 6 p.m., Kay Burley is joined by Dame Joanna Lumley again, plus Sky royal Events commentator Alastair Bruce. Together, they will take viewers through the weekend's biggest event, The Platinum Jubilee Pageant. It will see hundreds of artists, musicians and schoolchildren come together to perform different chapters of Queen Elizabeth's reign.
This article was originally published on