You Could Soon Be Hearing"UK Hun" Live At One Of These Drag Race Shows
Because watching them on TV just isn't enough.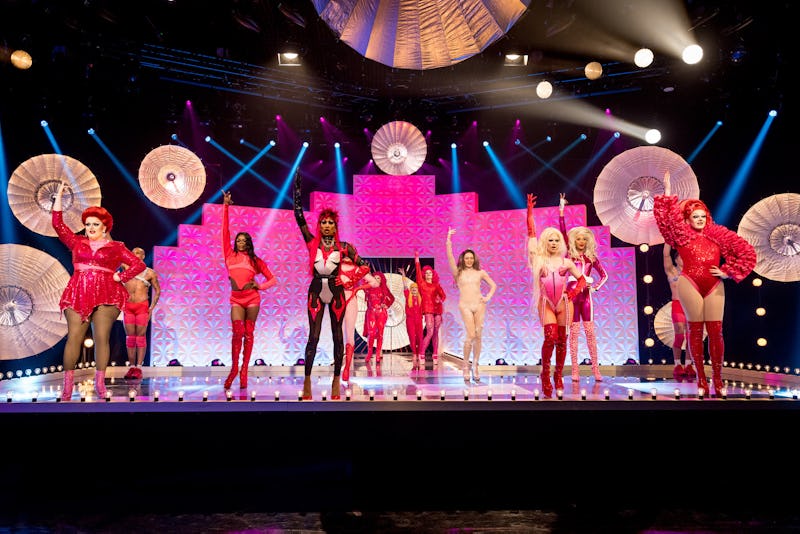 BBC/World of Wonder/Guy Levy
It's been months since Lawrence Chaney was crowned the winner of Ru Paul's Drag Race UK Season 2 and, let's face it, Thursday nights haven't been quite as entertaining since. With the promise of a third UK series this November, there's a lot to live up to (no shade). Stans of the show will no doubt be wondering whether the cast of Drag Race UK will tour in 2021 – and indeed, how to get tickets if so.
Well, there are some opportunities to clap for the UK huns now that live events have been given the green light in the UK this summer. This month, Tayce, Bimini Bon Boulash, A'Whora & Lawrence Chaney have reformed their one-hit wonder pop group the United KingDolls to tour the UK. Starting July 21, The United KingDolls Tour will be dazzling venues across the UK, including Manchester, Birmingham, London, Liverpool, and Bristol.
As Drag Race fans will remember, the four Queens were challenged to create a Eurovision style pop hit in the Drag Race challenges and they smashed it. Their song "UK Hun" even made it onto the UK charts back in March, and, months later, I can still hear "bing bang bong" ringing in my ears.
As expected, tickets – which cost £35 each – are selling out fast for the "sickening" drag show, so it'd be wise to purchase ASAP.
The upcoming shows are the perfect opportunity to see the drag stars IRL, especially if you missed the huge drive-in drag tour back in April 12 and May 2, per Pink News.
There's expected to be plenty of other opportunities to be left "gagged" by Ru Paul's Drag Race alumni from both the U.S. and UK in 2022, too. RuPaul's Drag Race UK: The Official Tour hits the road in February 2022, with nineteen dates around Scotland, England, and Wales. Featuring the Drag Race season 2 finalists, it's a chance to see their "charm, uniqueness, nerve and talent" in the flesh.
The Drag Race: Werq The World tour also hits UK shores in May 2022, having been rescheduled due to the pandemic. Hosted by Michelle Visage, it will feature the likes of Asia O'Hara, Jaida Essence Hall, Kameron Michaels, Plastique Tiara, Vanessa Vanjie Mateo, and Yvie Oddly in what is described as an "all-new production" for 2022. Stars from the latest UK series are expected to make an appearance also.
American faves Adore Delano, Bianca Del Rio, Courtney Act, Darienne Lake, Latrice Royale, Manila Luzon, and William will be headlining The Main Event UK tour next summer. From June 28-31, when the UK will hopefully allow live events, the Drag super force will perform in Manchester, Glasgow, and London.
This article was originally published on