Ed Sheeran Came Clean About The NSFW Prank He Played On Courteney Cox
Be careful with those Amazon Alexas!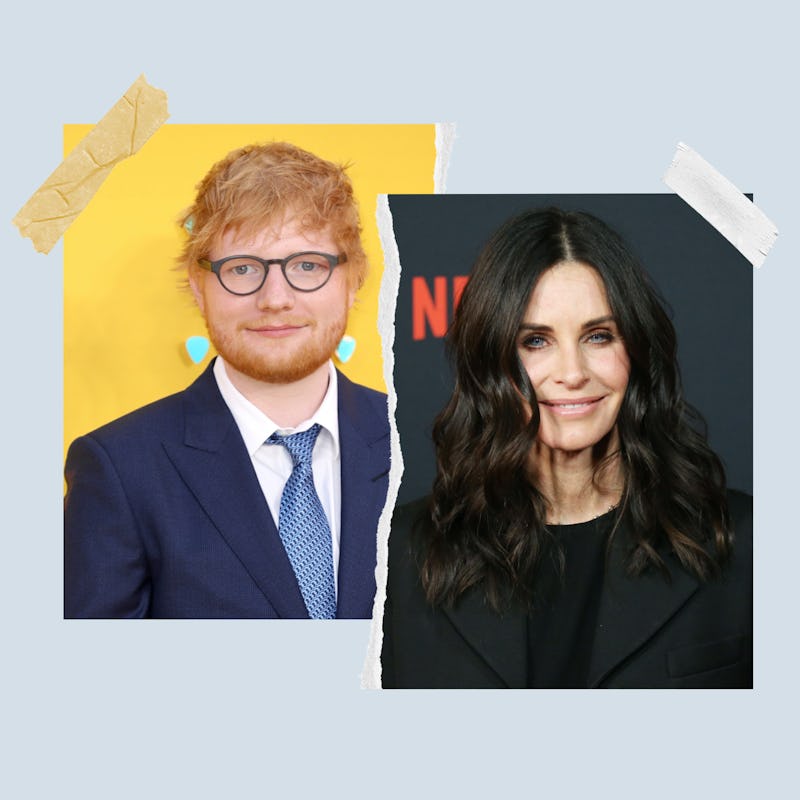 (Mike Marsland/WireImage/Getty Images)/(Michael Tran/FilmMagic/Getty Images)
Ed Sheeran is more than just a singer-songwriter — he's an expert-level prankster, too. During a recent interview on The Late Late Show with James Corden, the "Shape of You" musician revealed that he particularly enjoys playing tricks on his good friend Courteney Cox when he crashes at her place in Los Angeles. Unfortunately, the Friends star made the grave mistake of introducing the singer to her Amazon Alexa, and now he won't stop ordering NSFW items and planting them around her house.
The massive prank first started when Cox bragged to Sheeran about being able to buy anything she wants directly from her Alexa. The musician then tested out the device by ordering what he referred to as an "S&M leather gimp mask." Unfortunately, when the item arrived, it wasn't Sheeran or Cox who opened the box. "Unbeknownst to me, Courteney's assistant opened the post, and she finds this mask and instantly goes, 'Oh, I don't think I was meant to see that,' and leaves it on Courteney's bed," Sheeran recalled.
Courteney was understandably confused when she saw the mask, which she never ordered, sitting on her bed. "Anyway, she found out the story, and now every time I go back there, I order her another gimp mask," he explained, adding that she probably has 12 masks by now. "I hide them in people's bedrooms. So they'll go in a drawer, and they'll just find this leather S&M mask. And she had two people look at her piano to try and buy it, two absolute strangers going into her house that I found out about, so I left a couple of masks on the piano as well."
Fortunately, Sheeran and Cox both love to laugh. In fact, last month they joined forces to recreate Ross and Monica's iconic choreographed dance from a Season 6 episode called "The One With The Routine." In the episode, the sibling duo tries to get the attention of the camera crew on the set of Dick Clark's New Year's Rockin Eve by performing a dance number they made up in middle school.
Cox and Sheeran's version of "The Routine" didn't go as smoothly as Ross and Monica's. Both stars took to Instagram on May 31 to share the clip, which showed them doing "The Chicken Dance" and "The Sprinkler" before failing to stick the landing at the very end. "Just some routine dancing with a friend..." Cox captioned the clip on Instagram. Sheeran shared the hilarious video on his feed as well. "Had a reunion of our own this weekend," he wrote before adding the hashtags "#friends4eva" and "#obviouslybetterthanross."
The dynamic duo released the clip just days after the Friends reunion special hit HBO Max. But recreating "The Routine" wasn't the only thing they had up their sleeves. Earlier this month, Cox and Sheeran linked up with Elton John and Brandi Carlile for an unforgettable rendition of "Tiny Dancer" that they dedicated to Lisa Kudrow. Kudrow, who played Phoebe Buffay on the hit sitcom, notoriously mistook the lyrics to be a tribute to actor Tony Danza.
In the video, the quartet decided to sing Phoebe's alternate lyrics, "Hold me closer Tony Danza." Cox called the mega-collaboration "one of the greatest moments of my life" in the caption. "This one's for you @lisakudrow," she wrote. Kudrow couldn't believe her eyes. "Whaaaaaat??? That's the most exciting thing ever!!!!" she commented.
Kudrow wasn't the only one stoked about the collab. "Oh wow now that's a line-up," David Beckham wrote in the comments. Several fans echoed the soccer star's sentiment. "You've won the internet for the next 3 years," one person wrote. "This might be the greatest moment of my life too and I wasn't even there," said another.