Ed Sheeran's Daughter Lyra Cries When He Sings: "She's Not My Biggest Fan"
Most fans cry tears of joy when Sheeran performs. Lyra just cries to make it stop.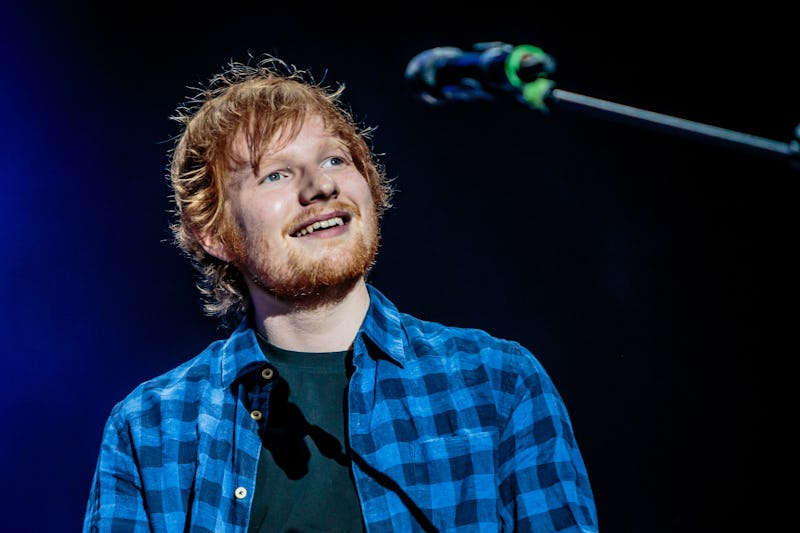 Sergione Infuso - Corbis/Corbis Entertainment/Getty Images
Ed Sheeran sold out stadiums around the world on his 2-year-long Divide Tour, which saw him perform for nearly nine million people, setting a record for the most tickets ever sold for a single tour. However, there is at least one person in this world that he can't dazzle with his musical chops: his own daughter. Ed Sheeran's baby girl is apparently not a fan of his singing, as he revealed in a new interview.
While appearing at Radio 1's Big Weekend on Saturday, May 29, the Grammy-winning singer revealed that he's been working on new music, and his 8-month-old daughter, Lyra Antarctica Seaborn Sheeran, is getting an exclusive sneak peek, which would make most fans jealous. However, she doesn't exactly seem to be appreciating the opportunity. "I'll sing [my new songs] to my daughter, who's not my biggest fan," he quipped, as per US Weekly. "She just cries."
However, when his new music fails, he actually can count on one of his biggest hits to perk Lyra up again. "No, I've got some she likes," he clarified. "She really likes 'Shape of You.' The marimba sound is good, but she doesn't like anything loud or anything belt-y."
In August 2020, The Sun reported that he and wife Cherry Seaborn were expecting their first child together and managed to keep it mostly secret during the COVID-19 pandemic. A couple weeks later, on Sept. 1, Sheeran surprised fans when he announced the birth of their daughter on Instagram, sharing an adorable photo of her first baby socks. "Last week, with the help of an amazing delivery team, Cherry gave birth to our beautiful and healthy daughter," he wrote. "We are completely in love with her. Both mum and baby are doing amazing and we are on cloud nine over here... Lots of love and I'll see you when it's time to come back, Ed x."
Prior to welcoming his new addition during the pandemic, Sheeran already announced that he would be taking a career and social media hiatus after his worldwide trek. "The Divide era and tour changed my life in so many ways," he wrote in December 2019. "I've been a bit non stop since 2017 so I'm just gonna take a breather to travel, write and read." Now, with the December release of his new single "Afterglow," it seems his comeback is imminent. But perhaps it would be best to leave Lyra at home when he performs his new music.