Elijah Wood & Mette-Marie Kongsved's Love Story Is Worthy Of A Rom-Com
And now the pair have expanded their family.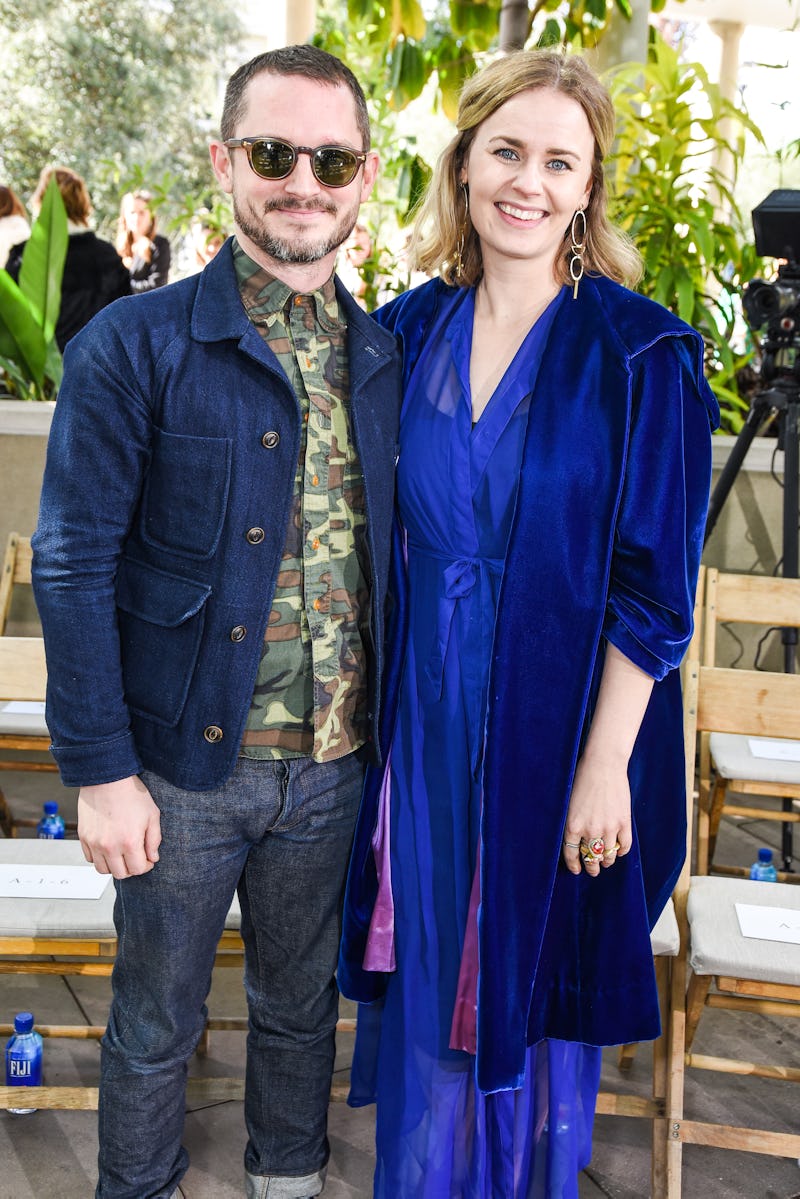 Presley Ann/Patrick McMullan/Getty Images
While Elijah Wood has been busy promoting his role in Yellowjackets Season 2, he casually revealed that he and his partner, Danish film producer Mette-Marie Kongsved, secretly welcomed a second child in 2021. The pair had their first baby together in 2019, after learning they were expecting on Christmas Eve. But the couple kept the announcement of their second child quiet until now. The Lord Of The Rings star and Kongsved have been together for around seven years, and first connected whilst working on a film in 2016. Wood was previously in a relationship with actor and musician Pamela Racine, while Kongsved was married to director Evan Louis Katz from 2011 to 2017. Here's everything we know about Wood and Kongsved's relationship, including their experience as parents.
May 2016: Meeting On Set
Wood and Kongsved met on the set of I Don't Feel At Home In This World Anymore, which started filming in May 2016. A work meet cute? We like to see it. The Netflix original film also starred the actor's future Yellowjackets co-star Melanie Lynskey, who recently portrayed Kathleen in The Last Of Us.
January 2018: Holding Hands
The pair officially started dating in January 2018 after being photographed holding hands in Pasadena, California.
February 2019: First Appearance In Public
Wood and Kongsved made their first public appearance together as a couple at the Rodarte FW19 fashion show in San Marino, California, and even posed for the cameras whilst sitting in the front row.
July 2019: Engagement Rumours
Kongsved was spotted with a baby bump for the first time, and speculations arose that the pair were engaged thanks to a ring on her left hand.
February 2020: Their First Child
Appearing on Late Night With Seth Meyers, the Yellowjackets star revealed that he and Kongsved had welcomed their first child, Evan Kongsved-Wood, to the world sometime in late 2019. The actor mentioned how they were given the ultimate surprise on Christmas Eve in 2018, discovering they were expecting.
May 2020: New Parents
The new parents were spotted with baby Evan for the first time while walking out in Los Angeles with Dominic Monaghan, Wood's Lord Of The Ring's co-star and real-life close pal. Reflecting the sign of the pandemic times, all three adults could be seen wearing masks as they enjoyed some fresh air.
March 2023: Second Child
Since welcoming their first child, Wood and Kongsved have maintained their relationship largely outside of the public eye. However, in an interview with The Wall Street Journal on March 27, Wood revealed that he and Kongsved had a second child when discussing his morning routine. "We've got a 3-year-old son and a 14-month-old daughter, and she wakes up pretty early," he explained, adding that being a parent has been a constant challenge "in the best way. It's as much my own personal growth as it is about my child's growth."
Wood also explained that while he's active on Instagram, he keeps his account private. "I wanted to be able to share photos that I didn't necessarily want to share with the world," the actor admitted. "An account that's public-facing would really change what I share. It's not like I'm sharing anything that I wouldn't want to go out, but I'm a relatively private person."