ITV's New Dating Show Sounds Like Love Is Blind, But Make It Cosy
The Cabins begins on January 4.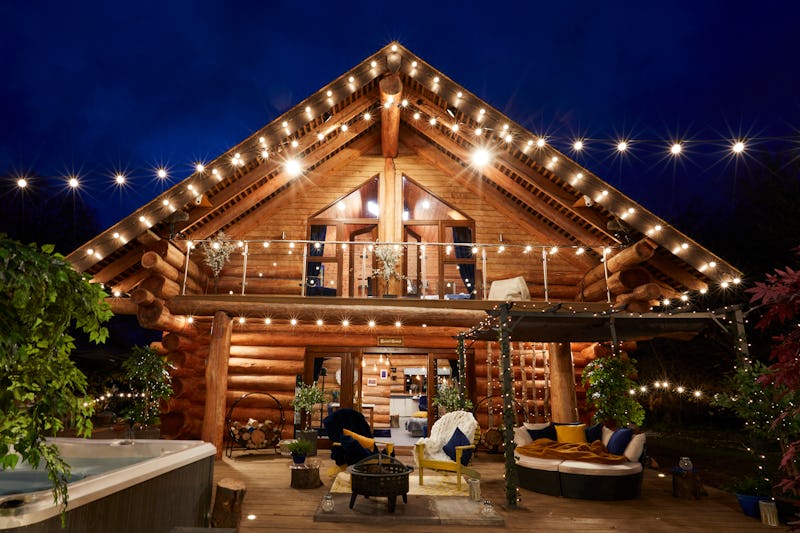 12 Yard/ITV2
I'm not ashamed to admit that when the news broke we would not be seeing another series of Love Island until summer 2021 at the earliest, I was pretty devo'd. Love Island shapes my summer (and now winter) TV schedule, and it's the light, compelling bit of fun I need in my life. But fear not; ITV has cooked up an alternative dating show that sounds every bit as thrilling as our beloved Love Island. Here's everything we know about The Cabins, ITV's new dating show.
What is The Cabins about?
As per the Radio Times, ITV2's latest offering will see singletons on the lookout for love couple up and move straight into their very own cosy log cabin. Upon their arrival, the couples first official date will officially commence, and participants will spend 24 hours of quality time getting to know one another. At the end of their whistlestop romantic getaway, the couples must then decide whether or not to spend more time together or call it a day – "lovestruck or lovelorn," say the show notes.
An ITV synopsis reads: "Nestled together in their intimate cabins, the singletons will have quality time to really get to know their date. From heartfelt moments or declarations of love, to awkward silences and difficult dating conversations, viewers will be able to follow all the antics and find out if the sparks fly or quickly fizzle out."
When will The Cabins air?
As teased in the show's recently released trailer, ITV2's The Cabins is set to begin in January. More specifically, Jan. 4, 2021 at 9 p.m.
In the teaser, viewers are given a first glimpse of the romantic cabins, which are decked out with atmospheric lights, comfy sofas, and their very own jacuzzi.
How can you apply for The Cabins?
Unfortunately, applications for The Cabins are currently closed. However, a previously available application form revealed that hopefuls must be over the age of 18 and a permanent legal resident of the United Kingdom.
The Cabins starts Monday, January 4 at 9 p.m. on ITV2.
This article was originally published on