What F9: The Fast Saga's Post-Credits Scene Really Means
"There's a lot more to come," teases director Justin Lin.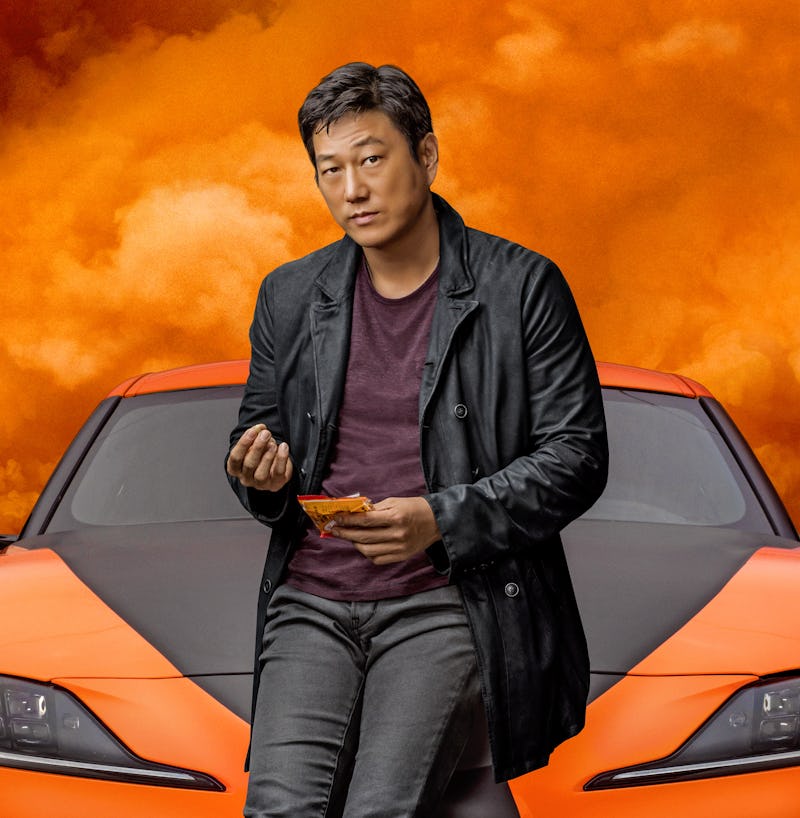 Universal Pictures
Spoilers for the ending of F9: The Fast Saga. Fans who were patient enough to sit through the credits of the latest Fast and Furious movie were not disappointed. In a post-credits scene, Deckard Shaw (Jason Statham) is seen doing what he does best — beating someone up — when he gets a knock at the door. Surprise, surprise: It's Han (Sung Kang), who was revealed to be alive in F9 after faking his own murder in Fast & Furious 6 (Han's supposed death was also featured The Fast and The Furious: Tokyo Drift). Shaw, who believed he'd killed Han, looks shocked. And scene.
Confused? Director Justin Lin spoke to The Hollywood Reporter about how this sequence teases what's to come in the two forthcoming Fast movies — and how it relates to the #JusticeforHan movement.
For context, Han was supposed to have left the series after his character was apparently killed in Fast 6. In Fast 7, fans learned who murdered Han: Deckard Shaw. (Shaw, it was explained, did this with the goal of avenging his brother, Owen, who was the villain in Fast 6.)
Later on in the franchise, Shaw's character evolved, and he even became one of the "good guys" in Fast 8. His character also starred in a spinoff, Hobbs & Shaw, with The Rock. Fans were upset to see Han's murderer get treated as a hero, and the Justice for Han movement was born. Producers listened and rectified the situation by bringing back Han's character in Fast 9.
Lin told THR that F9's post-credits scene hints at how the franchise will treat Han and Shaw going forward. The pair are going to work out their differences — or maybe they won't — but however their relationship turns out, it will be a plot point in future movies. "A lot of people assume when Han comes back in 9, that's Justice for Han. I never felt like that's the case," Lin said. "The issue with Justice for Han is not, 'Hey, he's gone, we want him back.' It was that something was not right and we need to figure out how to correct that."
He added, "The most critical element of this is the treatment of this character. So Justice for Han, really, is how we treat Han as he comes back and as we move forward. There is definitely a lot to explore and to unpack and that is just a moment I wanted to share with the audience — that there's a lot more to come."
F9: The Fast Saga is now in theaters.