RHOA's Falynn Guobadia Shut Down Rumors About Her Marriage
Fellow RHOA star LaToya Ali claimed on Twitter that Falynn and her husband split up.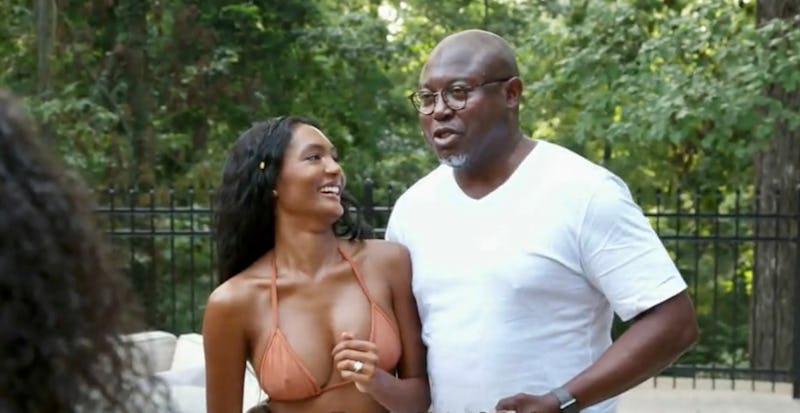 Bravo/screenshot
Ever since Falynn Guobadia brought her husband Simon Guobadia along for the "girls trip" to South Carolina on Real Housewives of Atlanta, tensions have been brewing between her and LaToya Ali. The drama finally bubbled over at Falynn's Halloween party, but their hostilities continued well after Bravo's cameras stopped rolling. After Falynn tweeted that she would not be at the RHOA Season 13 reunion on March 24, LaToya alleged that Falynn and Simon had broken up, writing, "Hubby kicked her out the empire and can't afford a flight."
Rumors about the status of Falynn and Simon's marriage had already begun swirling after the couple reportedly unfollowed each other on Instagram for a brief period of time and deleted several photos. (They currently do follow each other.) Though Falynn didn't reply to LaToya directly on social media, she did address the speculation about her relationship during an interview with The Jasmine Brand on March 31.
"That rumor came from a miserable person," she said, presumably referencing LaToya. "Simon and I, we go through our marital issues, just like everyone else. Everybody has their own sh*t. Whether we unfollow and we follow back…and we delete our stuff or whatever the case is, just let us go through our stuff. We're just like everyone else. We're normal people." Some commenters pointed out that Falynn didn't explicitly answer the question, but when interviewer Robin Ayers chimed in to say that the couple is still together and people should "stop looking so deeply into it," Falynn replied with confirmation.
The separation rumors certainly didn't jibe with how the couple introduced themselves when castmates Porsha Williams, Tanya Sam, and Lauren Williams came to their home for a pool party in RHOA Season 13's third episode. After Simon, an Atlanta businessman, remarked that the backyard set-up made him "want to get married all over again," Falynn joked that they should renew their vows — and that she should get a "ring upgrade." Simon added that he's "well trained" and that Falynn, who referred to herself as "the queen," gets whatever she wants from him.
While the few family photos Falynn has on Instagram now only include their children, Simon's account still has pictures of him and Falynn with loving captions, though the most recent one is from February. "It took me a life time to learn how to love someone unconditionally even when I did not have examples of that growing up," Simon captioned a Feb. 11 shot in part, admitting that the road to love "does get bumpy." In an earlier post on Jan. 21, Simon called Falynn his best friend and soulmate, listing seven reasons why that's the case. "We far from perfect," he added. "I just want the world to know I adore her and got nothing but love for her for life."
Since Falynn won't be at the RHOA reunion, fans will have to keep an eye on social media for more updates. Or better yet, maybe she'll be back for RHOA Season 14.