Twitter Is Just As Enraged About Britney Spears' Court Hearing As You Are
"The Britney Spears IUD is where pro-choice and pro-life America come together. It's a human rights horror."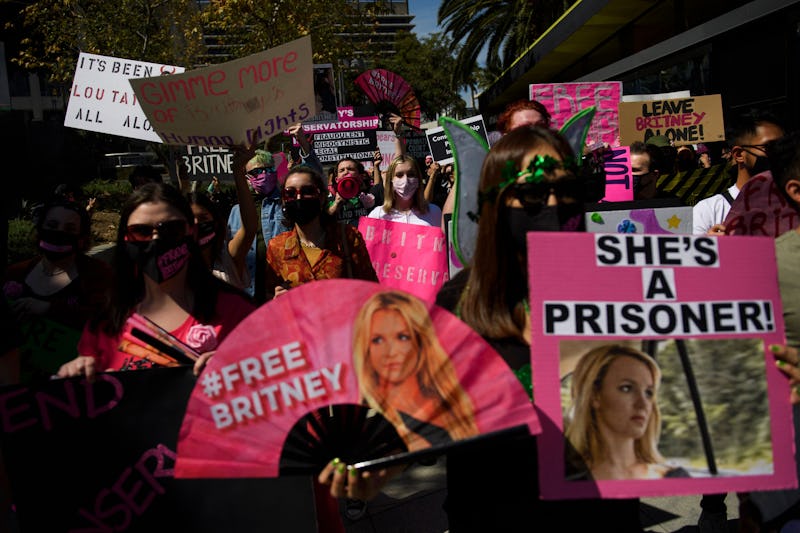 PATRICK T. FALLON/AFP/Getty Images
Britney Spears has spoken, and the whole world is listening. As Spears spoke out against her controversial conservatorship in court on June 23, her fans grew more enraged about the treatment and limitations that she revealed she's been subjected to under her legal arrangement, and took to Twitter to voice their support for the artist — and rip her conservator, father Jamie Spears, a new one.
During the hearing, Spears made some shocking revelations about her conservatorship that even the earliest #FreeBritney supporters couldn't have predicted. According to the "Piece of Me" singer, she was allegedly held in a mental health facility against her will after objecting to a dance move during rehearsals for her now-cancelled Las Vegas show Domination. "Ma'am, I'm not here to be anyone's slave, I can say no to a dance move," she told Judge Brenda Penny. At the end of her testimony, Spears also shared that she was being forced to wear an IUD that disables her from getting pregnant. "I wanted to take the IUD out so I could start trying to have another baby," she said. "But this so-called team won't let me go to the doctor to take it out because they don't want me to have any more children."
According to the social network, Spears' hearing garnered more than 1 million tweets within 24 hours, making it clear that the whole world was invested in what she had to say. At least half of those tweets used the #FreeBritney hashtag, while nearly 150,000 posts also used a more recent hashtag created by fans, #BritneySpeaks. And literally all of those million tweets were fully in support of Spears, wishing for her to regain her freedom and happiness.
Of course, Twitter showed huge contempt for Spears' father, who Spears claims takes joy in controlling her to the point of losing her autonomy. "The control he had over someone as powerful as me," she said, "he loved the control to hurt his own daughter 100,000%. He loved it." Let's hope the Britney Army doesn't catch him outside.
Many fans were even more dismayed at Spears' revelation that she is forced to wear an IUD that prevents her from getting pregnant, with many considering it a bi-partisan political issue concerning women's reproductive health and the government's control over their bodies.
Some fans also made comparisons to TV shows and music videos that explored eerily similar situations as Spears' harrowing conservatorship, including Miley Cyrus' episode of Black Mirror, in which she played a popstar who was drugged by her own aunt and manager when she wanted to deviate from her signature pop sound.