Britney Spears' New Las Vegas Residency Will Fulfill Every '90s Kids' Dreams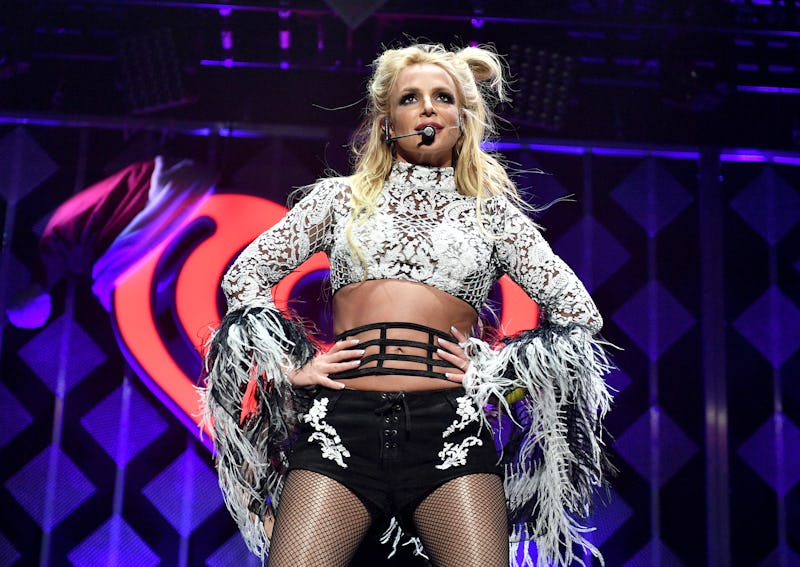 Mike Windle/Getty Images Entertainment/Getty Images
Here's some news that's bound to make '90s pop fans everywhere feel very lucky: the princess of pop herself, Britney Spears, has announced a new Las Vegas residency show, called Domination, with performances to begin in February 2019. The singer announced her new show with a Vegas-appropriate over-the-top parade, that was live streamed on Ellen DeGeneres' YouTube channel. (DeGeneres offered up her channel for Spears' takeover last week, when the singer appeared on The Ellen DeGeneres Show to tease her big announcement.)
Britney Spears: Domination is the follow-up to Spears' hugely successful Piece of Me residency, which began in 2013 and ended on New Year's Eve in 2017. Spears then embarked on the Piece of Me World Tour, so it's not surprising that after traveling all year she'd want to settle back down in one city.
Spears' residency announcement also has extra significance as October 2018 marks the 20th anniversary of "... Baby One More Time," her iconic debut single. With a new Las Vegas residency on the way, it's clear that Spears' time in the spotlight isn't coming to an end any time soon. And for me, and many other '90s kids and fans, that's a good thing.
For one thing, Britney Spears: Domination might finally be fans' chance to live their lifelong dream of seeing the pop star live and in concert. Even though she recently completed her world tour, Spears hasn't released any new music since Glory in 2016, which means that the possibility of another tour seems far away. And since Spears' most iconic songs were released back in the late '90s and early 2000s anyway, a show where she plays all of her greatest hits in new and inventive ways is obviously enticing. (Spears has yet to reveal what songs and numbers, exactly, her new residency will include, but she did include many of her biggest hits in her Piece of Me show.)
Spears has come under a lot of fire for allegedly lip syncing her way through her Piece of Me residency. (When the show was first announced, some outlets reported that the singer planned to rely on playback for the entire run, though Spears' reps denied this.) But when fans see the singer in Vegas, they're signing up for a show, a spectacle that lives up to all of the other crazy, glittery and over-the-top things that one can see along the Vegas Strip. Seeing an artist in concert implies that you're looking to see someone really sing; but Spears's residency is truly a show, rather than a straightforward concert.
However, fans who grew up with Spears have loved her for reasons other than her vocal quality — her personality, her dance moves, or maybe just the memories of tying up our shirts and dancing along with her music videos on TRL. And if you were never able to get concert tickets to see her during those crop-top rocking days of yore, a new Vegas residency feels like the perfect way to live out those childhood dreams as an adult, and to recreate that choreography with Spears live and in person.
Britney Spears: Domination will also excite pop music fans with its new location, the Park Theater at Park MGM, as the singer will be performing alongside fellow pop icons like Lady Gaga, Bruno Mars and her onetime Super Bowl performance partners, Aerosmith, all of whom have residencies at the Park Theater.
Spears' new residency is basically a '90s kid dream — and I, for one, can't wait for the singer to gimme, gimme more chances to live out those childhood dreams of seeing her perform.