Florence Pugh Returns To Music On New Duet With Brother Toby Sebastian
The siblings headed back to their family restaurant for their new "Midnight" music video.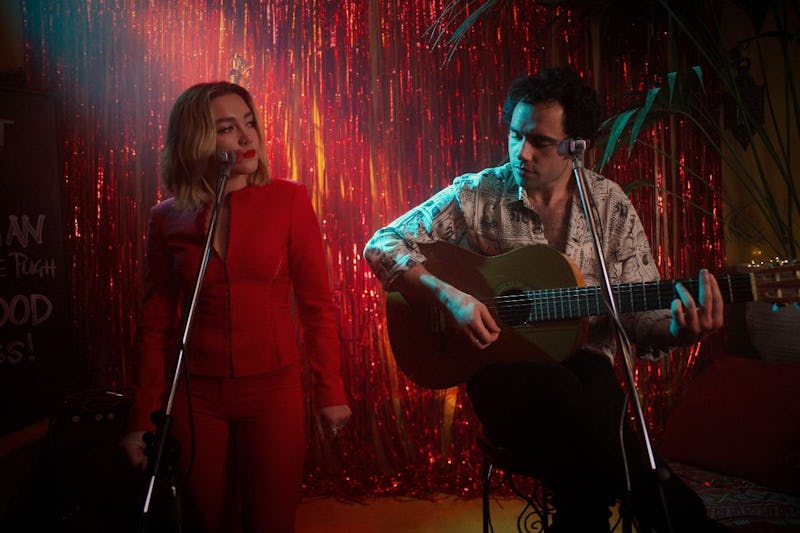 Toby Sebastian
When she's not leading films like Don't Worry Darling and The Wonder, Florence Pugh is apparently a low-key pop star. On March 1, Pugh's musician brother Toby Sebastian released the music video for his new single "Midnight," which features the Oscar nominee on backing vocals. The siblings teamed up for the new video by filming it at their family's restaurant Kazbar in their hometown of Oxford, England, giving their collab an even more sentimental feel.
In a statement, Sebastian says "Midnight" was just his latest creative endeavor with Pugh, explaining that they've "always grown up collaborating" as a family. "When I was writing the song I was literally walking out the door to go and do the final edit and my mum was like, 'Floss why don't you sing some backing vocals?'" he recalled. "So we jumped in the car and with no rehearsal and about 20 minutes of studio time, Florence added her magic to the track."
The clip sees Sebastian and Pugh taking the stage at Kazbar as they wait for lovers to fill up the dancefloor. To add to the familial atmosphere, the singer hired a cast and crew of family and friends to make the video. "We had so much fun filming in our family restaurant, a place that my sisters and I all grew up in," he said. "The restaurant has an amazing vibe so we knew it would be the perfect setting for the music video."
Eagle-eyed fans of Pugh will know that this is not her first foray into music. In 2013, long before gaining movie stardom, the actor posted videos of her singing on her YouTube channel, including self-written songs under her moniker Flossie Rose and covers of hits like Oasis' "Wonderwall" and Bob Dylan's "Make You Feel My Love." She also collaborated with her Don't Worry Darling co-star Harry Styles on a very creepy song for the film, "With You All the Time," sung by Pugh and written by the One Direction alum.
While Sebastian's music career is on a roll as he embarks on his first UK headline tour in April 2023, his sister is aiming to follow suit. On the Jan. 26 episode of Vogue's podcast The Run-Through, Pugh revealed that she will be releasing original music this year as part of her upcoming film with ex-boyfriend Zach Braff, The Good Person.
"That's been a whole exciting experience that I've been desperate to do for years," she said. "[Music] is one of those things that can mean so much to you, and the less you do it, the less confidence you have and you end up losing your heart in it. For years I was so scared of how to do it. And eventually, this opportunity arose and I read Zach's script and I said 'I've been inspired to write a song.' And we put them in the movie."