Domhnall Gleeson's Newest TV Show Is A Family Affair
He and his brother star in the new Amazon Studios sitcom Frank of Ireland.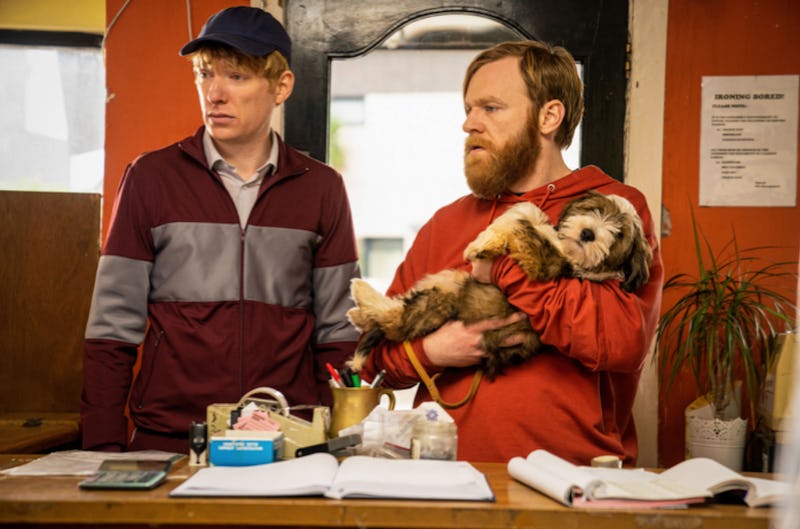 Pat Redmond
Frank Marron is 32 years old, unemployed, mostly inappropriate, and still living at home with his mother. A misanthrope and a failure, he's not so different from TV's other man-children. But what sets Frank of Ireland is its setting, as well as its provenance. Frank and his best friend, Doofus, fumble their way around suburban Dublin in this six-episode first season from Amazon Studios and Channel 4. And they're played by their creators, real life brothers Brian and Domhnall Gleeson. Frank of Ireland Season 1 is available to stream on Amazon Prime starting on April 16, the day after the show's UK premiere. Here's everything else you need to know about Frank of Ireland and the chance for a potential Season 2.
What is Frank of Ireland about?
Frank is a hapless musician or, put more accurately, a guy who calls himself a musician but hasn't played a gig in years. His buddy Doofus works at a mini-mart, a job that's imperiled by Frank's need of constant rescuing. The animating question across six episodes is "Will Frank completely mess up [insert problem of the week]?" and the answer is basically always ABSOLUTELY.
Who created Frank of Ireland?
Frank of Ireland was created and written by the brothers Gleeson, the children of actor Brendan Gleeson (Mad-Eye Moody from the Harry Potter films). You'll recognize Domhnall Gleeson from About Time, Ex Machina, and the most recent Star Wars trilogy. His younger brother Brian plays Jimmy McCavern on Peaky Blinders. Their co-writer is Michael Moloney, a comedy writer Domhnall's known since childhood. Rounding out the producing team are Catastrophe's Sharon Horgan and her partner Clelia Mountford.
Who's in the cast of Frank of Ireland?
While the Gleeson brothers take the leads in season one, the cast is rounded out by a group of Frank's friends and family who alternately try to assist and avoid him. Frank's long-suffering mother, Mary, is played by Pom Boyd. Áine, played by Sarah Greene, is Frank's long-suffering ex, who is still mixed up with Frank six years after their break-up. Greene played Lorraine in last year's hit Hulu series Normal People. Finally, the Gleeson patriarch, Brendan, makes an appearance as Liam.
Will there be a Frank of Ireland Season 2?
There's no word yet whether the show will be renewed for a second season of arrested development. But after a short six-episode season, perhaps the Gleesons will be game to create more if they're given the green light.