Joss Whedon Allegedly Threatened To Harm Gal Gadot's Career On The Justice League Set
New allegations have been made about the director's behavior on set.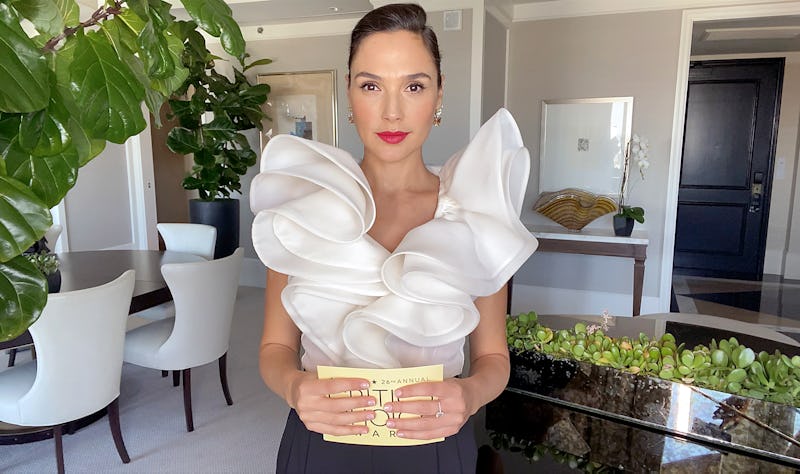 Getty Images/Getty Images Entertainment/Getty Images
The actors of Justice League are still looking for justice for how they were treated on set. Justice League director Joss Whedon allegedly threatened to harm Gal Gadot's career, according to a bombshell report by The Hollywood Reporter on Tuesday, April 6. Whedon took over the 2017 film from original director Zach Snyder, who stepped down for a family emergency, and has faced accusations of mistreatment from some of the film's stars, including Gadot, Ray Fisher, and Jason Momoa. (Bustle has reached out to Whedon's reps for comment but did not receive an immediate response.)
A source told THR that Gadot initially had multiple concerns about Whedon's rewritten version of Justice League, specifically that her character seemed "more aggressive" than her portrayal in 2017's Wonder Woman. "She wanted to make the character flow from one movie to the next," the source said. Apparently, Whedon was offended by these questions.
According to the outlet's sources, the filmmaker made threats about harming Gadot's career and derided her Wonder Woman director, Patty Jenkins, when the actor pushed back about recording record lines that she didn't like. After one particular clash, Whedon was "bragging" about fighting with Gadot, per a witness on set. "He told her he's the writer and she's going to shut up and say the lines and he can make her look incredibly stupid in this movie," the source told THR.
Apparently, their back-and-forth culminated in both Gadot and Jenkins taking their grievances to a meeting with then-Warner Bros. Chairman Kevin Tsujihara and film studio chief Toby Emmerich. "I had my issues with [Whedon] and Warner Bros. handled it in a timely manner," Gadot said in a statement to THR.
In June 2020, Ray Fisher retracted his previous public support of Whedon, writing on Twitter that the filmmaker's treatment of the Justice League cast and crew was "gross, abusive, unprofessional, and completely unacceptable." Warner Bros. launched an investigation into Whedon soon after, but later accused Fisher of not participating in the investigation multiple times, a claim Fisher refutes. Whedon has since faced accusations of misconduct and fostering toxic workplaces on the sets of other projects, including Buffy the Vampire Slayer and Angel. (His reps did not respond to Bustle's request for comment at the time.)
In a December interview with the Los Angeles Times, Gadot said she had her own problems with Whedon, without expanding on them, and supported Fisher speaking out. "I had my own experience with [Whedon], which wasn't the best one," she said. "I took it to the higher-ups and they took care of it. But I'm happy for Ray to go up and say his truth." She later told Variety that she was interviewed as part of Warner Bros.' investigation, but much like Fisher, she wasn't aware of its findings. "I don't know what that means either," she said. "I'm curious to know what's going to be the outcome."